school links
Get flash to fully experience Pearltrees
So you've done the ground work. You've talked to the teachers and convinced them that you can help them out. They want to meet to plan out library time with you. You have your curriculum, they have theirs.
YouTube Videos for Students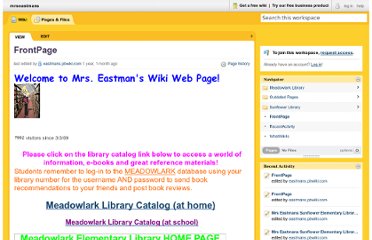 visitors since 3/3/09 Please click on the library catalog link below to access a world of information, e-books and great reference materials! Students remember to log-in to the MEADOWLARK database using your library number for the username AND password to send book recommendations to your friends and post book reviews.
Meadowlark Elementary School Home of the All Stars! 1411 N. Main Andover, KS 67002 (316) 218-4630 Fax:(316) 218-1000 Principal: Jody Baker Email: bakerj@usd385.org School Hours 8:35-3:35