Organic
Agriculture-Colorado:Organic Program
The Online Organic Gardening Superstore - Garden IQ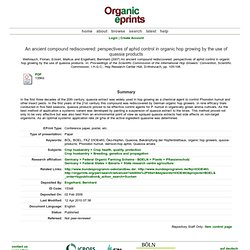 An ancient compound rediscovered: perspectives of aphid control in organic hop growing by the use of quassia products
Weihrauch, Florian ; Eckert, Markus and Engelhard, Bernhard (2007) An ancient compound rediscovered: perspectives of aphid control in organic hop growing by the use of quassia products. In: Proceedings of the Scientific Commission of the International Hop Growers´ Convention , Scientific Commission, I.H.G.C., Hop Research Center Hüll, D-Wolnzach, pp. 105-108. In the first three decades of the 20th century, quassia extract was widely used in hop growing as a chemical agent to control Phorodon humuli and other insect pests. In the first years of the 21st century this compound was rediscovered by German organic hop growers. In nine efficacy trials conducted in five field seasons, quassia products proved to be effective control agents for P. humuli in organically grown aroma cultivars. As the best method of application a systemic variant was developed by painting a suspension of quassia extract to the bines.
The National Organic Program (NOP) oversees USDA-accredited certifying agents and their certification of organic production and handling operations. In January of each year, the NOP receives information on certified operations from certifying agents. The list below shows all certified operations as reported to the NOP on January 2, 2013. You may search the list by name, location, or product produced.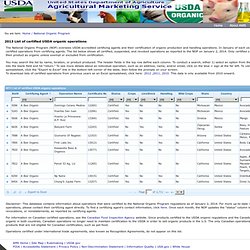 Agricultural Marketing Service - Home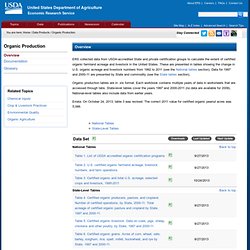 ERS collected data from USDA-accredited State and private certification groups to calculate the extent of certified organic farmland acreage and livestock in the United States. These are presented in tables showing the change in U.S. organic acreage and livestock numbers from 1992 to 2008 (see the National tables section).
USDA Data - Organic Production
USDA Briefing Room - Organic Agriculture: 2008 Farm Act Provisions

Consumer demand for organically produced goods has shown double-digit growth for well over a decade, providing market incentives for U.S. farmers across a broad range of products. Organic products are now available in nearly 3 of 4 conventional grocery stores, and enjoy substantial price premiums over conventional products. Organic sales account for over 3 percent of total U.S. food sales, though organic products account for a much larger share in some categories, like produce and dairy (see Organic market overview ).
Press release from Ali Hamm and Glen Fuller in Colorado. With increasing interest in growing hops locally from both farmer and brewer's perspective, Organic hops has taken a foothold as a nascent new industry in Colorado. Years of state wide interest and research by Colorado State University culminated last weekend in the first "Sustainable Hops Growing Workshop" held in Hotchkiss, Colorado. Put on by Dr. Ed Page of CSU Extension and Ron Godin of the Agricultural Experiment Station at Rogers Mesa, the workshop saw over 70 attendees, about a third of which were Colorado brewers eager to see the interest from farmers in growing hops in Colorado.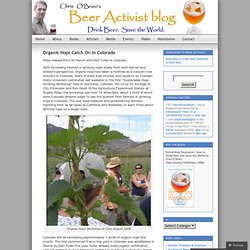 Organic Hops Catch On in Colorado « Beer Activist
USDA Briefing Room - Organic Agriculture: Organic Production and Costs
Although we cannot cover every detail about growing hops here on this page, the following information should help you to get started on the right foot. Also, there are some really good information resources on the subject in print: Book: The Homebrewer's Garden , By Joe Fisher & Dennis Fisher ($15.50) Book: Homegrown Hops , by David R. Beach ($12.90) These are good websites to visit for more information: Brew Your Own Magazine: 10 Tips for Growing Your Own Hops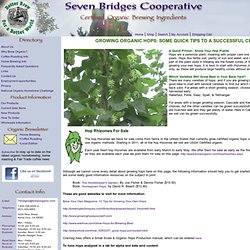 Organic Home Brewing Tips: Growing Organic Hops
U.S. producers are turning to certified organic farming systems as a potential way to lower input costs, decrease reliance on nonrenewable resources, capture high-value markets and premium prices, and boost farm income. Organic farming systems rely on ecologically based practices such as cultural and biological pest management, exclusion of all synthetic chemicals, antibiotics, and hormones in crop and livestock production.
Organic Certification