Acteurs
We make and market a wide range of prescription medicines, vaccines and consumer healthcare products.To find a product, visit our products page or click on a link below. Our prescription medicines Our prescription medicines include treatments for a wide range of conditions such as infections, depression, skin conditions, asthma, heart and circulatory disease and cancer. Our vaccines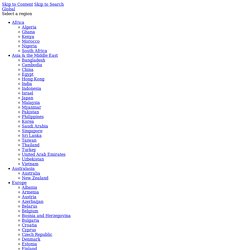 The Merck Group - Home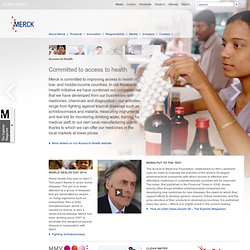 The Access to Medicine Foundation, established by Wim Leereveld, uses an index to evaluate the activities of the world's 20 largest pharmaceutical companies with which access to effective and affordable medicines in underdeveloped countries will be improved. The index, first published in the Financial Times in 2008, shows among other things whether pharmaceutical companies are developing new medicines for rare diseases, the extent to which they support efforts to develop generic versions of their medicines, and the price structure of their products in developing countries. It is published every two years – Merck is in eighth place in the current ranking.
CSL Limited is a global biotherapy industry leader.
Amgen Homepage
Takeda Pharmaceuticals International GmbH - Nycomed
Kyowa Hakko Kirin Co., Ltd.
Lucien Pharma - Accueil
Bayer HealthCare France - Bayer HealthCare France
Omega Pharma France - santé familiale, hygiène et bien-être - cryopharma, paranix, eau précieuse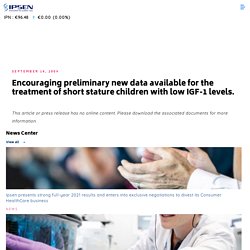 Ipsen
04 April 2014 - 15:35 - IPN.PA 29.99€ (0.36) | Français PrevNext Ipsen at a glance Innovation for patient care Ipsen, the Group
Janssen
GSK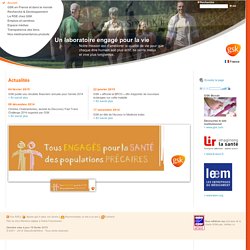 Actualités 2 janvier 2014 GSK crée un consortium de recherche clinique avec six centres de recherche internationaux, renommés dans le domaine du cancer. L'objectif est de développer de nouveaux médicaments contre le cancer, incluant les thérapies ciblées et de nouvelles stratégies en immunothérapie. > Pour en savoir plus 2 janvier 2014 Huit soirées d'information et de sensibilisation à l'importance de la qualité de l'air intérieur organisées en Bretagne par les partenariats institutionnels de GSK. > Pour en savoir plus
Lilly France
Attention : Vous quittez le site web de Lilly France. NOTE: Nous vous rappelons que Lilly France ne dispose d'aucun moyen de contrôle et n'exerce aucune influence sur le contenu du site tiers auquel vous allez accéder, lequel demeure totalement indépendant de Lilly France et du groupe Eli Lilly & Co. Par ailleurs, l'existence d'un lien hypertexte entre le site de Lilly France et un site tiers ne saurait être assimilée à une adhésion de Lilly France au contenu de ce site ou à l'usage qui pourrait en être fait. De ce fait, la responsabilité de Lilly France ne saurait être engagée au titre des conséquences dommageables pouvant découler de l'accès à un site tiers ou de l'utilisation par vous d'informations diffusées sur ce site tiers.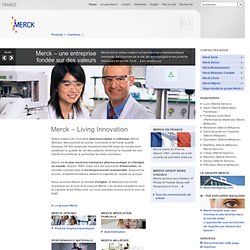 Merck est un acteur majeur sur les marchés pharmaceutiques innovants, les sciences de la vie, les technologies et les produits chimiques de pointe. Forts...en savoir plus Merck est un acteur majeur sur les marchés pharmaceutiques innovants, les sciences de la vie, les technologies et les produits chimiques de pointe. Forts d'une tradition de près de 350 ans, nous avons recours à des technologies à forte valeur ajoutée, au service des patients et de nos clients. Notre action est guidée par nos valeurs d'entreprise : sens des responsabilités, respect, intégrité, transparence, courage et performances.
Merck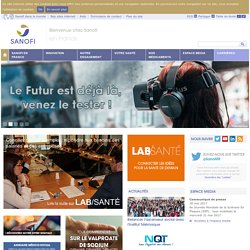 Découvrez "MA VIE A DEUX BALLES" le web-documentaire de la débrouille des jeunes en temps de crise, soutenu par La Fondation Sanofi Espoir Les jeunes subissent de plein fouet les effets de la crise économique et sociale. Mais la génération des 18-25 ans regorge d'imagination pour surmonter les obstacles.
Pfizer
50% des médicaments circulant sur Internet sont falsifiés La contrefaçon de médicaments peut prendre des formes diverses : elle peut toucher le conditionnement extérieur du médicament (la boîte et les différentes mentions obligatoires), l'emballage primaire qui enveloppe le produit ou encore le médicament lui-même. Un médicament contrefait trompe ainsi sur sa source, sur son identité, sa marque, sa composition, son historique, et il peut ne pas avoir de principe actif. Les faux médicaments ne sont donc pas des malfaçons dues à des mauvaises conditions de fabrication, mais bien des produits destinés à tromper l'utilisateur…
Roche
The product-specific Internet site that you have requested is intended for the residents of a particular country or countries, as noted on that site. As a result, the site may contain information on pharmaceuticals, medical devices and other products or uses of those products that are not approved in other countries or regions. If you are a resident of a country other than those to which the site is directed, please return to Abbott.com or contact your local Abbott affiliate to obtain the appropriate product information for your country of residence.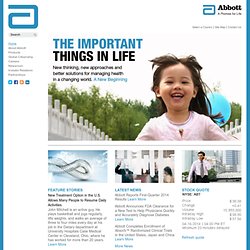 © Hospira, Inc. This website and its information is intended for use by United States residents only. Regulatory requirements, data requirements or medical practices may differ between countries. Therefore, information on this site may be inappropriate for use outside of the United States. Site contents are intended for informational purposes only and not intended to replace discussion with a healthcare provider.
Hospira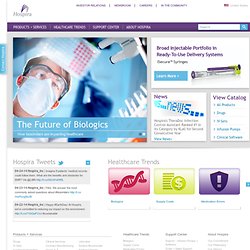 Dainippon Sumitomo Pharma
Novartis
Contact U.S. Administrative Headquarters Actavis
Watson Pharmaceuticals | Welcome to Watson!
Welcome to H. Lundbeck A/S global site
Servier