Optics
An optical cavity or optical resonator is an arrangement of mirrors that forms a standing wave cavity resonator for light waves . Optical cavities are a major component of lasers , surrounding the gain medium and providing feedback of the laser light. They are also used in optical parametric oscillators and some interferometers .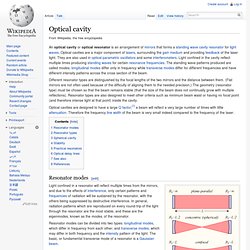 Optical cavity
stamp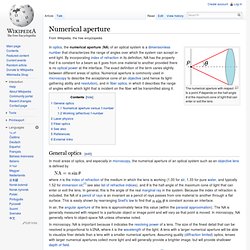 The numerical aperture with respect to a point P depends on the half-angle θ of the maximum cone of light that can enter or exit the lens. In optics , the numerical aperture ( NA ) of an optical system is a dimensionless number that characterizes the range of angles over which the system can accept or emit light.
Numerical aperture
s06p257.pdf (application/pdf Object)
Model of an axially strained weakly guiding optical fiber modal pattern | Publications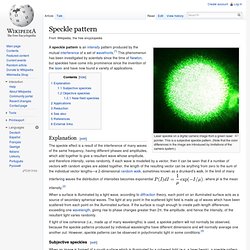 Speckle pattern
Laser speckle on a digital camera image from a green laser pointer. This is a subjective speckle pattern.
Computer generated intensity pattern formed on a screen by diffraction from a square aperture. Generation of an interference pattern from two-slit diffraction. Computational model of an interference pattern from two-slit diffraction.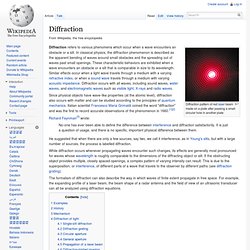 Diffraction
A TOSLINK optical fiber cable with a clear jacket. These cables are used mainly for digital audio connections between devices.
Optical fiber cable
Interference caused by the reflection on a CD In physics , interference is a phenomenon in which two waves superimpose to form a resultant wave of greater or lower amplitude .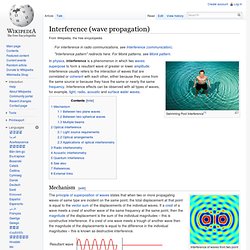 Interference (wave propagation)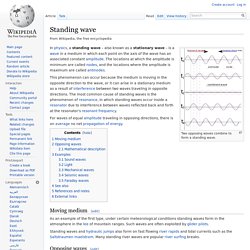 In physics , a standing wave – also known as a stationary wave – is a wave that remains in a constant position. Two opposing waves combine to form a standing wave. This phenomenon can occur because the medium is moving in the opposite direction to the wave, or it can arise in a stationary medium as a result of interference between two waves traveling in opposite directions.
Standing wave
Optics java applets and animations, Fiber technology
Links to optics-related applets, tutorials and web sites of interest.
Optics on the Web