Fonts
Qabalah type on the Behance Network. 20 Fresh High Quality Free Fonts. Advertisement Every now and again we take a look around, select "fresh" high-quality free fonts and present them to you in a brief overview.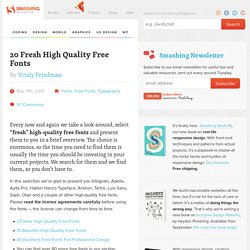 The choice is enormous, so the time you need to find them is usually the time you should be investing in your current projects. We search for them and we find them, so you don't have to. In this selection we're glad to present you Kilogram, Adelle, Ayita Pro, Hattori Hanzo Typeface, Andron, Tertre, Luxi Sans, Sapir, Otari and a couple of other high-quality free fonts. 40+ Excellent Freefonts For Professional Design. Advertisement The importance of typography in design can't be overestimated.
The accuracy, precision and balance of geometric forms can give letters the elegance and sharpness they deserve. Matilde Free Font. Siruca Pictograms™ Free Font Amaranth by Gesine Todt. This license can also be found at this permalink: Copyright (c) 2011, Gesine Todt (hallo@gesine-todt.de), with Reserved Font Name Amaranth.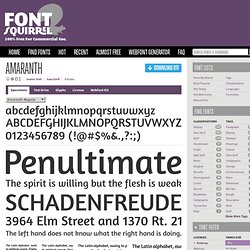 This Font Software is licensed under the SIL Open Font License, Version 1.1. This license is copied below, and is also available with a FAQ at: Browse Fonts.
---