FUNNY
Send us your contribution! I brake for Manti Te'o's girlfriends. (thanks to Jim Bob Williams) If your child is an honor student could he or she teach you how to use turn signals? (thanks to Janice Hough) Dyslexics poets write inverse.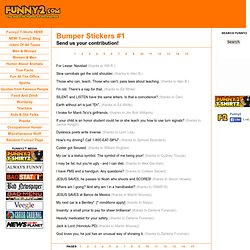 Funny Pictures and Funny Videos | Black and White Facebook Fail
Dear Twilight fans, Please realize that because vampires are dead and have no blood pumping through them, they can never get an erection. Enjoy fantasizing about that. Sincerely, Logic
You know you're in college when - That was funny
If there is one thing college kids neglect the most, besides basic diet and hygiene, it's the homework assignment essay. Hastily written and utterly unedited the night before it's due, the modern essay has become something of a nightmare for lackadaisical college students. But writing an essay that seems like it was written by someone with more than a double-digit IQ is not nearly as difficult as it seems, I assure you.