Reading and Literature
Shift My Gift: Convert Your Holiday Haul Into Charitable Giving - Lifestyle - GOOD
Last fall, Blair Souder was hiking through the Himalayas when he realized that something was missing.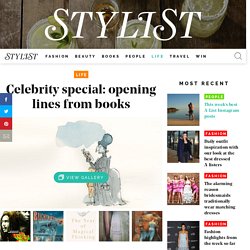 "ABANDON ALL HOPE YE WHO ENTER HERE is scrawled in blood red lettering on the side of the Chemical Bank near the corner of Eleventh and First and is in print large enough to be seen from the backseat of the cab as it lurches forward in the traffic leaving Wall Street and just as Timothy Price notices the words a bus pulls up, the advertisement for Les Miserables on its side blocking his view, but Price who is with Pierce & Pierce and twenty-six doesn't seem to care because he tells the driver he will give him five dollars to turn up the radio, 'Be My Baby' on WYNN, and the driver, black, not American, does so." American Psycho , Bret Easton Ellis Click here to see our selection of the 50 best children's books
You really need to upgrade Internet Explorer to be here... Download it now... The Book Seer β — Another literary web project by Apt Labs // Updates on Twitter →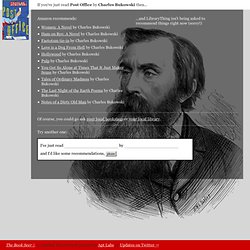 The Book Seer | What should I read next | Post Office
February 1, 2009 The Sky Isn't Visible from Here - Felicia Sullivan I can imagine, that if you worked on Wall St. or in high tech, in some high profile, well-paid job, and your friends summered in the Hamptons and settled in Connecticut suburbs, and you found yourself losing friends, losing your grip, tormented by demons that you couldn't even name, because to you they seemed like nothing compared to the demons you dealt with growing up, I can imagine that like Felicia Sullivan, the author of The Sky Isn't Visible from Here: Scenes from a Life , that you too would be compelled to write, to somehow make sense of it all. I sat down to read this book one night and couldn't put it down until I finished it at 2 in the morning. No child should have to endure what Felicia grew up with in an environment of neglect, sexual abuse, and drug addiction.
Ex Libris Book Reviews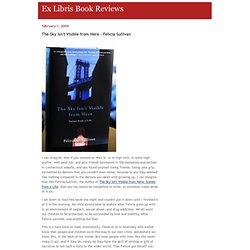 Literary Chicago Presented by the Chicago Bar Project
Writers and Pubs Mike Royko & Rick Kogan Mike Royko grew up above his parents' Blue Sky Tavern, where he actually bartended, along with a few other spots in the neighborhood also owned by his father. Royko summed his tavern experience in this way (in 1979): "Saw a one-legged man dance on a bar in Munich. Got winked at by a one-eyed woman in Marseille.