Blogs
Almond Joy Martini – Sometimes You Feel Like a Nut. There's no denying that I have a massive sweet tooth.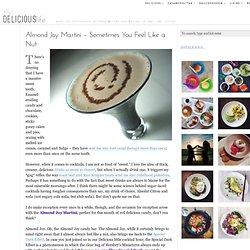 Enamel-eroding candy and chocolate, cookies, sticky gooey cakes and pies, oozing with melted ice cream, caramel and fudge – they have sent me into root canal therapy more than once; even more than once on the same tooth. However, when it comes to cocktails, I am not so fond of "sweet." I love the idea of thick, creamy, delicious drinks as sweet as dessert, but when I actually drink one, it triggers my *gag* reflex the way roast beef and Rice Krispies treats send me into childhood pukedom. Perhaps it has something to do with the fact that sweet drinks are always to blame for the most miserable mornings-after. Wedding. Dishin' it Up Family Style — Leah is 4 months old today!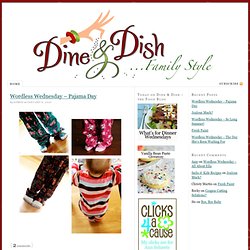 Cliche as it may sound, I can't believe that she is 4 months already. Where has the time gone? I watch the slideshow from when she was born and it seriously seems like yesterday. When the kids woke up this morning, I said "make sure you tell Leah Happy Birthday! She's 4 months old today!" Aged Gouda and Dried Pear Scones. [Scones au Gouda Vieux et Poires Séchées] Before we begin, I would like to address the scone/biscuit question.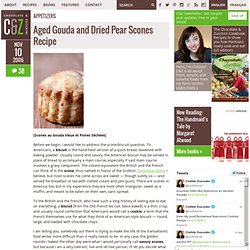 To Americans, a biscuit is the hand-held version of a quick bread, leavened with baking powder. Usually round and savory, the American biscuit may be served in place of bread to accompany a main course, especially if said main course involves a gravy component. The closest equivalent the British and the French can think of is the scone, thus named in honor of the Scottish Coronation Stone I believe, but most scones I've come across are sweet — though subtly so — and served for breakfast or tea with clotted cream and jam (yum). Food Blog Search. Theme Party Menus. Recipes. Bars · blondie · bread pudding · brownie · bundt · buttercream · butterscotch · cake · candy · caramel · cheesecake · chocolate · chocolate chip · cinnamon roll · cobbler · cookie · crepe · cupcake · danish · doughnut · dulce de leche · eclairs · frosting · galette · ganache · gingerbread · gingersnap · girl scout · graham cracker · ice cream · icing · jam · jelly · layer cake · m&ms · malt · marhsmallow · marmalade · muffin · pastry · pastry cream · peppermint · pudding · Reeses · royal icing · s'mores · samoas · scones · strawberry · streusel · thin mint · toffee · vanilla bacon · beef · bone marrow · brisket · chicken · chorizo · clam · cod · crab · duck · egg · fish · ground beef · ground pork · ham · lamb · meat · mussels · octopus · oyster · pork · poultry · prosciutto · ribs · roast · salmon · sausage · scallop · shrimp·sopressata ·steak · turkey · veal · wings.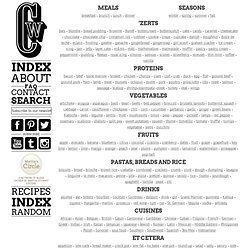 Baked Eggs in Bread Bowls. This was our breakfast Sunday morning.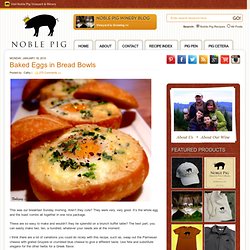 Aren't they cute? They were very, very good. It's the whole egg and the toast combo all together in one nice package. These are so easy to make and wouldn't they be splendid on a brunch buffet table? The best part, you can easily make two, ten, a hundred, whatever your needs are at the moment. More about Rachael of La Fuji Mama. Have you heard the phrase, "Variety is the spice of life"?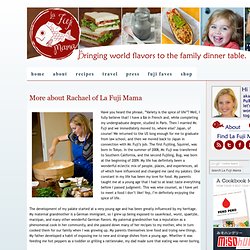 Well, I fully believe that! I have a BA in French and, while completing my undergraduate degree, studied in Paris. The Pastry Affair - Home - Garlic Parmesan Pull-Apart&Bread. I once made the driest pancake in the world.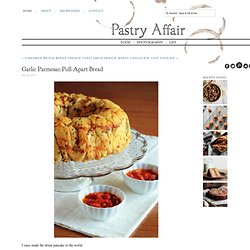 I can see you sitting at home, staring at your computer screen, and scoffing at my bold statement. Driest pancake in the world? Yeah, right. Dashing Dish, Healthy Alternatives to the Food you Crave. Calzone! - StumbleUpon. Uh-oh…this calzone shouldn't be a calzone.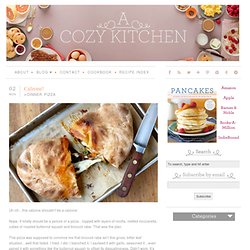 Nope. It totally should be a picture of a pizza…topped with layers of ricotta, melted mozzarella, cubes of roasted butternut squash and broccoli rabe. That was the plan. This pizza was supposed to convince me that broccoli rabe isn't this gross, bitter leaf situation…well that failed. I tried. Easy As 1, 2, 3 | Churros with Chocolate Dipping Sauce & toasty biscuit - StumbleUpon.
The other day my friend sent me a text and asked, "I want to try making doughnuts and want to make churros but they look difficult.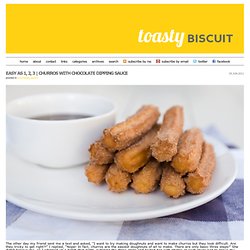 Are they tricky to get right?!" I replied, "Nope! Fundamentals. How to Bring Butter and Eggs to Room Temperature August 31, 2011 A simple guide on how to bring butter and eggs to room temperature.
Read the full article → Homemade Cherry Pie Filling May 30, 2011. About Béa. I am Béa (short for Béatrice), a food writer, stylist and photographer based in Boston where I live with my husband and daughter Lulu. I am obsessed with beautiful foods. And I am a lover of nature and the outdoors. I was born and raised in the countryside in northeastern France, and have lived in New Zealand and now the United States.
Two Peas & Their Pod. Apartment Therapy The Kitchn. Monkey Bread with Bourbon Crème Anglaise | Apartment Therapy The Kitchn. It didn't totally blow up my radar, however, until only a few weeks ago. I was celebrating a bachelorette with some of my favorite girlfriends at a too-cool-for-school Atlanta restaurant. We had already overindulged in one too many courses of food, but our waiter gently encouraged us to order the sampler platter of desserts. Never one to say no to sweets, I caved against my (stomach's) better judgement. I couldn't begin to tell you what else was on that giant tray of desserts.
It was the monkey bread that took it all home for the gold. Orangette. Leite's Culinaria | Recipes, Food, and Cooking Blog. Cookin Canuck — easy, innovative recipes. Homemade Protein Bars « askGeorgie.com. There are plenty of reasons to make your own protein bars. First, it's economical ! You'll save a lot of money, particularly if you have a habit of buying single bars one a time. Even better, you can customize your bars to your taste preferences, avoid any allergens, and leave out ingredients you don't want. RecipeRelay. Chicago Guide. About this guide: Chicago is a city of neighborhoods, and we tend to stick to our own. This is by no means a comprehensive review of the Chicagoland dining options.
These are simply the places I love and think you might too. I will add to this guide as I discover new restaurants or remember ones I forgot. Closet Cooking. About Pioneer Woman | Confessions of a Pioneer Woman. Skinnytaste. Better-Than-Crack-Brownies.
---