Digital Literacy
Universities must rethink their approach to student digital literacy | Higher Education Network | Guardian Professional. It's all about the conversation: Mark Zuckerberg speaks at the Facebook f8 Developer Conference at the San Francisco Design Center.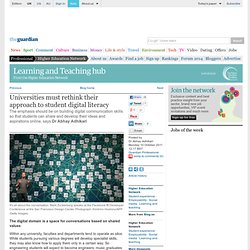 Photograph: Kimihiro Hoshino/AFP/Getty Images The digital domain is a space for conversations based on shared values Within any university, faculties and departments tend to operate as silos. While students pursuing various degrees will develop specialist skills, they may also know how to apply them only in a certain way. So engineering students will expect to become engineers; music graduates will become musicians and so on. Libraries and Transliteracy.
Developing digital literacies. Overview Many learners enter further and higher education lacking the skills needed to apply digital technologies to education.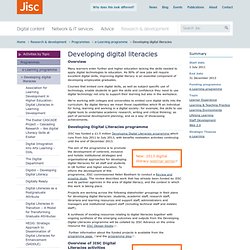 As 90% of new jobs will require excellent digital skills, improving digital literacy is an essential component of developing employable graduates. Courses that embed core digital skills, as well as subject specific use of technology, enable students to gain the skills and confidence they need to use digital technology not only to support their learning but also in the workplace. Digital Visitors and Residents [OCLC - Activities] The University of Oxford and OCLC Research, in partnership with the University of North Carolina, Charlotte, are collaborating on a JISC-funded study to investigate the theory of digital residents and visitors with learners in the educational stages: Emerging (Late stage secondary school-first year undergraduate); Establishing (Second/third year undergraduate); Embedding (Postgraduates, PhD students); and Experienced (Scholars).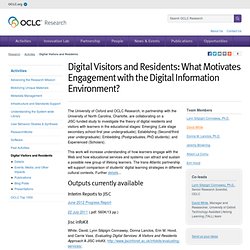 This work will increase understanding of how learners engage with the Web and how educational services and systems can attract and sustain a possible new group of lifelong learners. The trans-Atlantic partnership will support comparison of students' digital learning strategies in different cultural contexts. Further details...
3_JISC_EmPDA_Wolverhampton.pdf. Developing digital literacy in higher education: live chat | Higher Education Network | Guardian Professional. The popularity of the Guardian's digital literacy campaign shows not only how much interest there is in this topic but also how much misunderstanding there is about what digital literacy is, or what purpose it serves.
So what is digital literacy? In a blog for the us, JISC InfoNet researcher Doug Belshaw, describes the digitally literate as knowing how the web works, understanding how ideas spread through networks and able to use digital tools to work purposefully towards a pre-specified goal. But he then laments that digital literacy goes beyond mere computing skills such as using a word-processor or a database: "The digital world is not a single, homogeneous space and, as a result, the literacies we require to traverse and interact in this space vary enormously.
The digital landscape changes rapidly meaning that young people require not a static functional literacy, but a critical and creative set of attributes that help them to navigate various networks. " Tour/Analyze · dscout. Map It Since snippet data is geo-tagged, you can see exactly where a given snippet took place, allowing you to identify location and surroundings.
Filter and search Quickly find patterns with dscout's built in analysis tools including the ability to filter by scout, group, tags, answers to single or multiple choice questions, "likes" and word search. 20 ways of thinking about digital literacy in higher education | Higher Education Network | Guardian Professional. Josie Fraser, social and educational technologist, Leicester City Council First define what you mean by digital literacy: The definition I most frequently use is this one: digital literacy = digital tool knowledge + critical thinking + social engagement.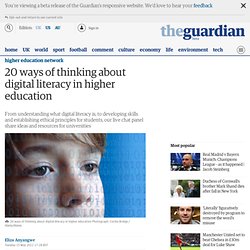 Then it's worth knowing its main characteristics: • It supports and helps develop traditional literacies• It's a life-long practice• It's about skills, competencies and critical reflection on how these skills and competencies are applied• It's about social engagement Top tips for developing the digital literacy of non-traditional students: Begin by exploring the ways in which the group are already using mobile and web based technologies.
Using social media for training by Joe Nicholls on Prezi. Using Social Media and Digital Technologies to Support Career Building. Transliteracy Research Group. At 3Ts 2013: Transliteracy from Cradle to Career in Saratoga Springs this week I learned some new things about transliteracy. 1.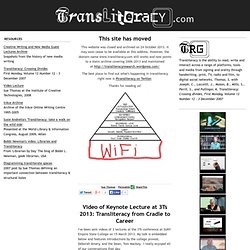 In What I Want, When I Want to Watch It: Brief Thoughts on Television Literacy in the Streaming World with Hollie Miller & Michele Forte, Hollie aka @theotherinside showed us a feature on Hulu Plus which allows you to choose between adverts. That means that when the ads come on - as they invariably do - if you don't like the one they're showing, you can choose a different ad from several on offer. Very interesting ad-based literacy - I've never been asked to consciously choose my own ads before, even though I know I'm already trading off that information on many of my social media platforms.
---