Mobile Learning
Educational Technology and #Mobile #Learning: A List of 20 Free Tools for Teachers to Create Awesome Presentations and Slideshows | #mLearning #mobilelearn | Best Practices in Instructional Design … | The 21st Century. 4G is coming – here's what you can do with it… | The 21st Century. Mobile Learning Toolkit - Jenni Parker. Mobile Learning Toolkit | The 21st Century.
Mobile Learning and The Flipped Classroom: The Full Picture | The 21st Century. Mobile-Enhanced Inquiry-Based Learning: A Collaborative Study (EDUCAUSE Quarterly) | The 21st Century. Using Mobile Technology to Enhance Students' Educational Experiences | EDUCAUSE | The 21st Century | Scoop.it | Social Media Research. 25 Ways To Use iPads In The Classroom. In case you haven't heard the news, we're putting out a special mini-issue early next week.
It'll be available in the Edudemic Magazine iPad app and, best of all, FREE to subscribers! If you're not (yet) a subscriber, it'll be just $0.99. The following is an excerpt from just one of the articles in the mini-issue. It's all about iPads in education, Apple's role in the future of learning, and much more than that. Want to get the mini-issue free when it comes out? Mobile apps reshape toys and learning | Cutting Edge. CAMBRIDGE, Mass.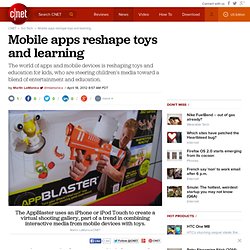 --While older generations simply had to memorize facts at school, today's children and young adults learn best by playing, often with digital gadgets, according to experts at the Sandbox Summit. Held at the MIT Media Lab, the conference brings together educators and technologists seeking ways to better reach Generations Y and Z--groups ranging from toddlers to 20 somethings--and equip them with skills for the digital lifestyle of the 21st century. In additional to making compelling online games and educational content, they are also trying to design toys which bridge offline play with online apps.
New technology, particularly multi-touch tablets, has brought interactive media and games to infants barely able to sit up by themselves. BYOD (Bring Your Own Device) and the Classroom | Educational Technologies Center | The 21st Century. Millennials: They Aren't So Tech Savvy After All - Surprise, surprise! I've been saying this for years! | The 21st Century. BYO - next wave in the eRevolution | Transformational Leadership. Bring Your Own Device (BYOD) – Being Practical About Mobile Learning | The 21st Century. IQ, EQ and now VQ – Vision Intelligence | Technology Story | Transformational Leadership.
Wireless Technology for Social Change: Trends in NGO mobile use | The 21st Century. Web News : What Makes Educational Technology Successful in the Developing World? Mobile Learning On The Interwebs | Leadership in Distance Education. Learnlets » elearning versus mlearning | Leadership in Distance Education. Africa's Top Ten countries with fastest internet speeds | The 21st Century. mEducation: How Mobile Phones Can Empower Education in the Developing World « Educational Technology Debate | Leadership in Distance Education. Cell Phones in Social Transformation in Africa: Insights from Ongoing Research in Some African Countries - UCT OpenContent | Leadership in Distance Education.
Mobile Learning Initiatives « Educational Technology Debate | The 21st Century. The Transition from Distance to Online Education: Perspectives from the Educational Management Horizon « Online Learning Update | Leadership in Distance Education. How the iPad Is Changing Education | Transformational Leadership. Weekly iPad Resources and Suggestions from EdTechTeacher (4/9) | Leading Change in Changing Times | Transformational Leadership. Elearning versus mlearning. Mayra Aixa Avilar (who I hope to meet someday, maybe at mLearnCon?)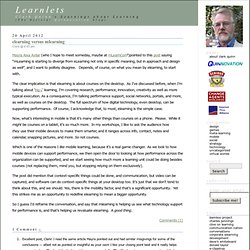 Pointed to this post saying "mLearning is starting to diverge from eLearning not only in specific meaning, but in approach and design as well", and I want to politely disagree. Depends, of course, on what you mean by elearning, to start with. The clear implication is that elearning is about courses on the desktop. As I've discussed before, when I'm talking about 'big L' learning, I'm covering research, performance, innovation, creativity as well as more typical execution.
Using mLearning and MOOCs to understand chaos, emergence, and complexity in education - Stian's PhD wiki | Leadership in Distance Education. Using mLearning and MOOCs to understand chaos, emergence, and complexity in education - Stian's PhD wiki | Connectivism. Mobile Learning: A 5th Reading List. Here are 10 of the more recent articles and blog posts that I have read concerning mobile learning.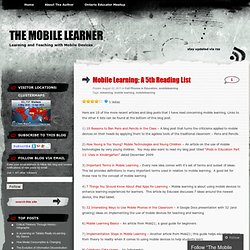 Links to the other 4 lists can be found at the bottom of this blog post. 1) 10 Reasons to Ban Pens and Pencils in the Class – A blog post that turns the criticisms applied to mobile devices on their heads by applying them to the ageless tools of the traditional classroom – Pens and Pencils 2) How Young is Too Young? Mobile Technologies and Young Children – An article on the use of mobile technologies by very young children. Educational Technology and Mobile Learning.
Technology advancements have touched every facet of life including education.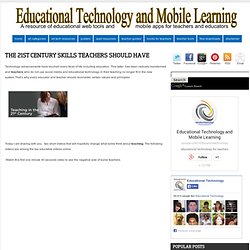 This latter has been radically transformed and teachers who do not use social media and educational technology in their teaching no longer fit in the new system.That's why every educator and teacher should reconsider certain values and principles . Today I am sharing with you two short videos that will hopefully change what some think about teaching. The following videos are among the top educative videos online . Mobile Nomads- Opportunities for Universities to Harness the Power of Community | Communication, Learning and Coaching to Drive Behavioral and Organizational Change. What is a mobile nomad?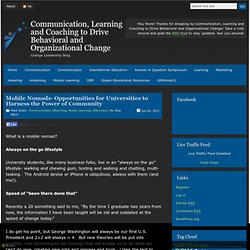 Always on the go lifestyle University students, like many business folks, live in an "always on the go" lifestyle- walking and chewing gum, texting and walking and chatting, multi-tasking. The Android device or iPhone is ubiquitous, always with them (and me!). Speed of "been there done that" Recently a 20 something said to me, "By the time I graduate two years from now, the information I have been taught will be old and outdated at the speed of change today." Mobile Curation is now Easier than Ever with Scoop.it for AndroidScoop. In today's world, everything is mobile.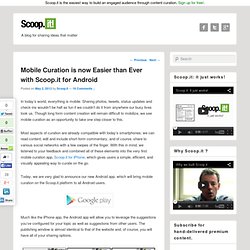 Sharing photos, tweets, status updates and check-ins wouldn't be half as fun if we couldn't do it from anywhere our busy lives took us. Though long form content creation will remain difficult to mobilize, we see mobile curation as an opportunity to take one step closer to this. Most aspects of curation are already compatible with today's smartphones; we can read content, edit and include short-form commentary, and of course, share to various social networks with a few swipes of the finger. With this in mind, we listened to your feedback and combined all of these elements into the very first mobile curation app, Scoop.it for iPhone, which gives users a simple, efficient, and visually appealing way to curate on the go.
---