Novel and Writing
Doris Lessing's The Golden Notebook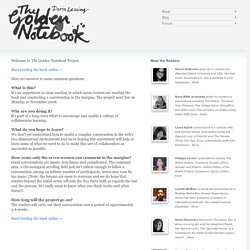 Welcome to The Golden Notebook Project. Start reading the book online → Here are answers to some common questions: What is this? It's an experiment in close-reading in which seven women are reading the book and conducting a conversation in the margins.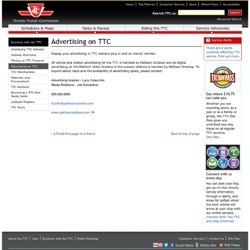 Display your advertising in TTC stations plus in and on transit vehicles. All vehicle and station advertising for the TTC is handled by Pattison Outdoor and all digital advertising on the Platform Video Screens in the subway stations is handled by Pattison Onestop. To inquire about rates and the availability of advertising space, please contact: Advertising Inquires - Lucy Colecchia Media Relations - Joe Donaldson
Advertising on TTC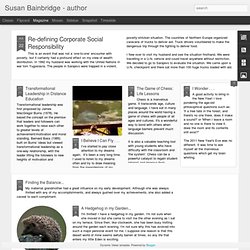 Susan Bainbridge - author
I'm struggling with my own humanity these days. A few weeks ago I was sitting with a couple of friends, and I said something appropriately outrageous to stimulate the conversation, and one of the group groaned and said, "Ah, Susan's mind. It's a nice place to visit, but you wouldn't want to live there!" That's the way I'm feeling at the moment.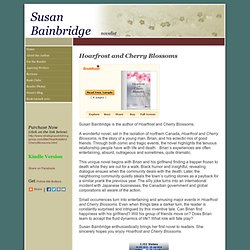 hoarfrost and cherry blossoms novel Susan Bainbridge novelist Home
Susan Bainbridge is the author of Hoarfrost and Cherry Blossoms. A wonderful novel, set in the isolation of northern Canada, Hoarfrost and Cherry Blossoms, is the story of a young man, Brian, and his eclectic mix of good friends. Through both comic and tragic events, the novel highlights the tenuous relationship people have with life and death.
Welcome!
Susan Bainbridge is a popular novelist and educator. She is currently Lead Faculty, Business at The Higher Colleges of Technology in the United Arab Emirates. She is a doctoral student at Athabasca University, in the Doctor of Distance Education program. Susan is also the author of Hoarfrost and Cherry Blossoms. Previously, Ms Bainbridge was Director of Education for more than a decade, with an English Language School in Japan before moving on to Director of MapleBear English Immersion Pre-Schools in Korea (a project developed by CECN (Canadian Education Centre Network)).