Novel and Writing
Reviews. Doris Lessing's The Golden Notebook.
Book Clubs
Advertising on TTC. Display your advertising in TTC stations plus in and on transit vehicles.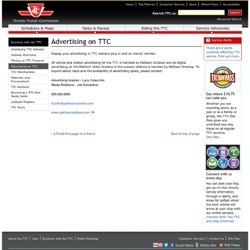 All vehicle and station advertising for the TTC is handled by Pattison Outdoor and all digital advertising on the Platform Video Screens in the subway stations is handled by Pattison Onestop. To inquire about rates and the availability of advertising space, please contact: Advertising Inquires - Lucy Colecchia Media Relations - Joe Donaldson. Susan Bainbridge - author. Hoarfrost and cherry blossoms novel Susan Bainbridge novelist Home. Welcome!
---