Financial Aid
The Baccalaureate and Beyond Longitudinal Study (B&B) examines students' education and work experiences after they complete a bachelor's degree, with a special emphasis on the experiences of new elementary and secondary teachers. DataLab Under law, public use data collected and distributed by the National Center for Education Statistics (NCES) may be used only for statistical purposes.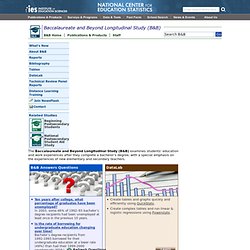 Baccalaureate and Beyond Longitudinal Study (B&B) - Overview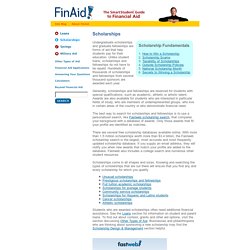 Scholarships Generally, scholarships and fellowships are reserved for students with special qualifications, such as academic, athletic or artistic talent. Awards are also available for students who are interested in particular fields of study, who are members of underrepresented groups, who live in certain areas of the country or who demonstrate financial need.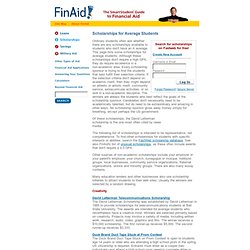 Avg
Ordinary students often ask whether there are any scholarships available to students who don't have an A average. This page lists some scholarships for average students. Although these scholarships don't require a high GPA, they do require excellence in a non-academic area.
Unusual
This page lists some of the more interesting, esoteric and unusual scholarships FinAid has encountered. The scholarship for left-handed students is the one most frequently mentioned by news media, but the duct tape contest is gaining in popularity. To find other scholarships for students with specific interests or abilities, see the profile-based aid section of FinAid or search the FastWeb scholarship database. See also the list of cancer scholarships. The list of scholarships is organized according to some of the more common subcategories of unusual scholarships, such as physical characteristics, creativity, last name, sports, field of study, the final frontier, animal appreciation, food-related, activity-related, good works, what you don't do, twins and legacies.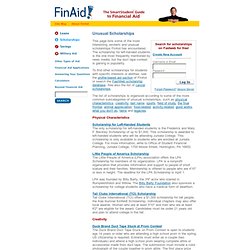 Scholarships & Grants | Student Loans
This valuable scholarship search tool allows you to search the Scholarships 101 online database of more than 76,000 college funding sources comprised of more than 6.2 million individually awarded scholarships valued at over $16 billion. Using the Scholarships 101 database to find money for college is fast, easy, and totally free of charge. Simply enter your (or your student's) personal and academic information, and the NextStudent Scholarship Search Engine will select those awards that match your profile.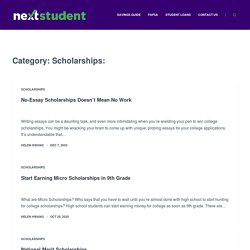 NACME
CollegeBoard
The Apprentice Ecologist Initiative™ (officially recognized by the U.S. EPA) has engaged tens of thousands of young volunteers (kids, teens, and college-age youth) from around the world in environmental cleanup and conservation projects since 1999. This program has received multiple awards from the City of Albuquerque, a "Best Community Impact" award from Eastern Kentucky University, and is featured on thousands of web sites. View recent Apprentice Ecologist Projects and past Apprentice Ecologist Awards to get ideas for your own environmental stewardship project. The goals of the Apprentice Ecologist Initiative™ are to: Elevate youth into leadership roles by engaging them in environmental cleanup and conservation projects, Empower young people to rebuild the environmental and social well-being of our communities, Improve local living conditions for both citizens and wildlife through education, activism, and action.
Nicodemus Wilderness Project -- Apprentice Ecologist Initiative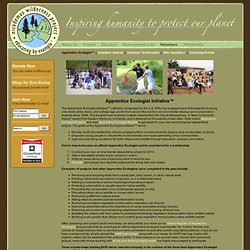 Evaluating the Short-and Long-Term Effects of Manufactured Nanomaterials on Freshwater Ecosystems Read more Charles Augustus Lindbergh was born in his grandmother's home in Detroit, Michigan, on February 4, 1902. Read more Comparing the Anticancer Properties of Extracts from Wild vs.
The Charles A. and Anne Morrow Lindbergh Foundation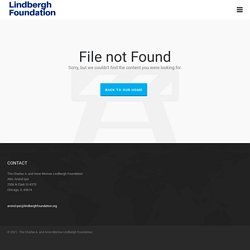 Graduate Program Listings
Graduate Program Listings
Fastweb
WinningaScholarship.pdf (application/pdf Object)
Scholarship search | Arizona State University
Scholarships
Home | explorehealthcareers.org
Home - The Society of Women Engineers
Dr. Moshe Kam Dr. Kam is the Department Head and Robert Quinn Professor of Electrical and Computer Engineering at Drexel University. He also serves as Director of the Drexel University National Security Agency Center for Excellence in Information Assurance Education, and as Director of the Data Fusion Laboratory.
Home: American Society for Engineering Education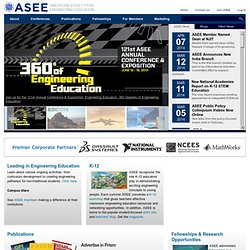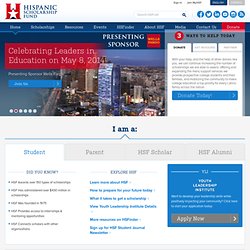 With your help, and the help of other donors like you, we can continue increasing the number of scholarships we are able to award, offering and expanding the many support services we provide prospective college students and their families, and mobilizing the community to make college education a top priority for every Latino family across the nation. Donate Today! There is much we can do together! Be an active member of our alumni network so scholars can learn from you and your experience.