DIPS
It seems that I may be a little addicted to hot cheesy dips. Last week I made a hot sweet onion dip and while I was looking for recipes for it I came across some recipes for hot spinach and artichoke dip. This new dip filled with cheese, cream cheese and mayonnaise sounded so good that I had to try it right away. But, with both spinach and artichokes in it, it is just a little bit healthier. ;) One of the things that I liked about this recipe was that I would get to use artichokes again and I had been looking forward to doing so. The last time I used fresh artichokes and this time I got to try canned ones.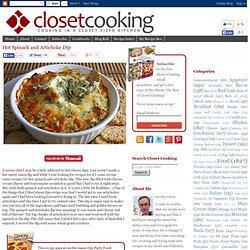 I had heard of this dip about a thousand times – originally called Buffalo Chicken Dip, it's been nicknamed "crack dip" because its supposedly quite addicting. I thought, "hmm, anything with that title must be good!", and then I read the ingredient list – canned chicken, buffalo sauce, blue cheese, ranch dressing….? BLECH! I'm sorry but that does NOT sound like something I would want to put in my mouth.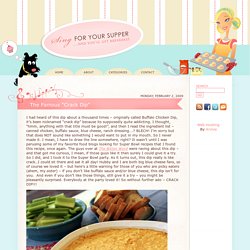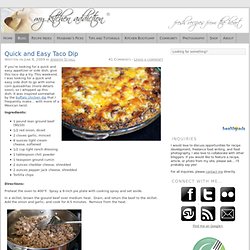 If you're looking for a quick and easy appetizer or side dish, give this taco dip a try. This weekend, I was looking for a quick and easy side dish to go with some corn quesadillas (more details soon), so I whipped up this dish. It was inspired somewhat by the buffalo chicken dip that I frequently make… with more of a Mexican twist.
Quick and Easy Taco Dip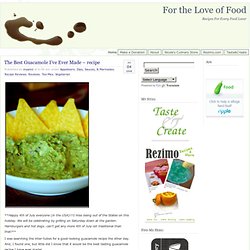 Jul 04 2008 **Happy 4th of July everyone (in the USA)!!!I miss being out of the States on this holiday. We will be celebrating by grilling on Saturday down at the garden. Hamburgers and hot dogs…can't get any more 4th of July-ish traditional than that!**