Suresh941
suresh babu
Founder, CEO - Web Marketing Academy providing training one on one training in Digital Marketing, SEO, PPC, Google Analytics in Bangalore, India
5 Essential Qualities of Irresistible Product Descriptions. Product descriptions aren't that hard: Just list a few features and move on, right?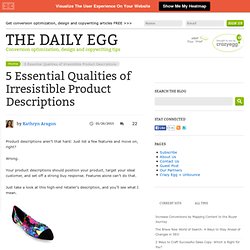 Wrong. Your product descriptions should position your product, target your ideal customer, and set off a strong buy response. Features alone can't do that. Just take a look at this high-end retailer's description, and you'll see what I mean. Trusting customers to buy based on a brand name and photo alone is like sending them on an ocean voyage in a rowboat. Social Media.
Face book. Avinash customer buying cycle content. SiteVisibilityKeane – Search Innovation Seminar Round-Up. We were very happy to have our first Search Innovation Seminar in Birmingham on 17th May.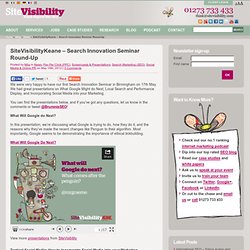 We had great presentations on What Google Might do Next, Local Search and Performance Display, and Incorporating Social Media into your Marketing. You can find the presentations below, and if you've got any questions, let us know in the comments or tweet @BrummieSEO! What Will Google do Next? In this presentation, we're discussing what Google is trying to do, how they do it, and the reasons why they've made the recent changes like Penguin to their algorithm.
Resources
Marketing Blue Print for Start ups. Search Tips & Tricks – Inside Search – Google. Conversocial | Social CRM and Social Media Customer Service Software. Livefyre | Powering the World's Conversations. Register - Wirenode. Infographic: Goldilocks SEO, Getting Search Engine Optimization "Just Right" Single Page Websites & SEO. Single page websites are quite popular right now; I see more and more each week on sites like The Latest and Product Hunt.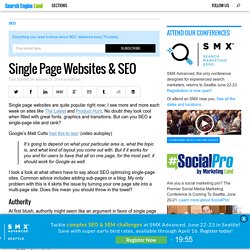 No doubt they look cool when filled with great fonts, graphics and transitions. But can you SEO a single-page site and rank? Google's Matt Cutts had this to say: (video autoplay) Single Page Websites & SEO. B2B Webinars: How HubSpot drew 25,000 sign-ups, almost 10,000 attendees, and more than 3,500 new leads. (As seen in the MarketingSherpa B2B Marketing newsletter.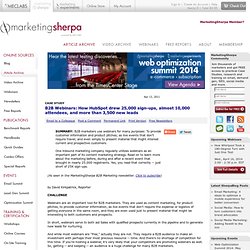 Click to subscribe)by David Kirkpatrick, ReporterCHALLENGEWebinars are an important tool for B2B marketers. They are used as content marketing, for product pitches, to provide customer information, as live events that don't require the expense or logistics of getting everyone in the same room, and they are even used just to present material that might be interesting to both customers and prospects. In short, webinars serve to both aid Sales with qualified prospects currently in the pipeline and to generate new leads for nurturing.And while most webinars are "free," actually they are not. They require a B2B audience to make an investment with perhaps their most precious resource -- time.
And there's no shortage of competition for this time. Marketing Whitepapers & eBooks. 11 Essential Elements of a Well-Designed Marketing Ebook. How many ebooks does your marketing team have in its content arsenal?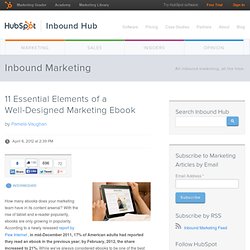 With the rise of tablet and e-reader popularity, ebooks are only growing in popularity. According to a newly released report by Pew Internet , in mid-December 2011, 17% of American adults had reported they read an ebook in the previous year; by February, 2012, the share increased to 21%. While we've always considered ebooks to be one of the best lead-gen content assets at a marketer's disposal, the fact that on-the-go content is only carving out more of a place in today's increasingly mobile world makes them an even smarter choice as a marketing offer .
FREE Facebook Timeline Cover Image Adobe Photoshop Template. PR examples, stunts and campaigns. Social Media Print Template Packages. A contemporary Print template package.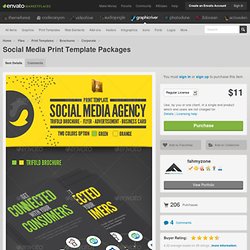 Very useful for social media print campaign. File Features: - Adobe illustrator CS3 or latest - Trifold Brochure A4 size - Advertisement A4 size Landscape - Two Sides Flyer 12×21 cm - Business Card 9×5.5 cm - Contemporary and professional style - Well Organized and Layered. - Editable Text and Layout. 11 Reasons Your LinkedIn Company Page Sucks. Up until recently, the value of a LinkedIn Company Page was minimal.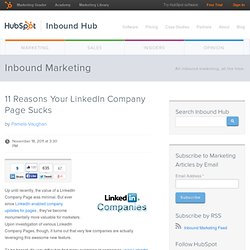 But ever since LinkedIn enabled company updates for pages , they've become monumentally more valuable for marketers. Upon investigation of various LinkedIn Company Pages, though, it turns out that very few companies are actually leveraging this awesome new feature. To be honest, it's very difficult to find many examples of companies using LinkedIn Company Pages to their fullest potential . 13 Brands Using LinkedIn Company Page Features the Right Way. Back in November, I set out to write a post to highlight businesses that were using LinkedIn's company page features effectively.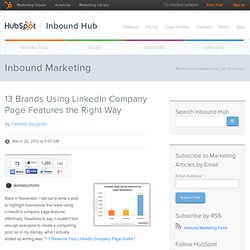 Needless to say, I couldn't find enough examples to create a compelling post, so in my dismay, what I actually ended up writing was, "11 Reasons Your LinkedIn Company Page Sucks. " What can I say? Social Media Marketing (SMM) Ad Specs Guide - YouTube Help. Jonathan Haidt: Religion, evolution, and the ecstasy of self-transcendence. Climb the staircase to self-transcendence: Jonathan Haidt at TED2012. Photo: James Duncan Davidason Author and UVA psychology professor Jonathan Haidt kicks off his TED2012 talk with a provocative question: "how many of you think of yourselves as religious?"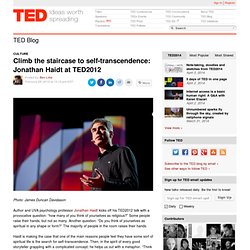 Some people raise their hands, but not so many. Another question: "Do you think of yourselves as spiritual in any shape or form?" The majority of people in the room raises their hands. Chel + Tech + Insight - Saving small business owner' sanity since 2007. Chel Wolverton (@chelpixie) sur Twitter. Untitled. Tom Webster (webby2001) Resources for Student or Teacher. From junior high to college and beyond, students and teachers can use BLS to aid in their homework and course planning.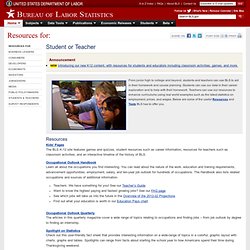 Students can use our data in their career exploration and to help with their homework. Teachers can use our resources to enhance curriculums using real world examples such as the latest statistics on employment, prices, and wages. Below are some of the useful Resources and Tools BLS has to offer you. Resources.
Advertisement
SEO Resources. Social for Education. Social Media for Education. Web Analytics. Pearltrees videos. Regina Dugan: From mach-20 glider to humming bird drone. YouTube. Daveharte.com.
---