Soul
Stevie Wonder. Stevland Hardaway Morris (born May 13, 1950, as Stevland Hardaway Judkins),[1] known by his stage name Stevie Wonder, is an American musician, singer-songwriter, record producer, and multi-instrumentalist.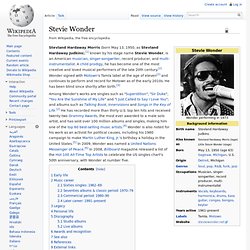 A child prodigy, he has become one of the most creative and loved musical performers of the late 20th century.[2] Wonder signed with Motown's Tamla label at the age of eleven[2] and continues to perform and record for Motown as of the early 2010s. He has been blind since shortly after birth.[3] Early life Stevie Wonder was born in Saginaw, Michigan, in 1950, the third of six children to Calvin Judkins and Lula Mae Hardaway. He was born six weeks premature, which, along with the oxygen-rich atmosphere in the hospital incubator, resulted in retinopathy of prematurity (ROP), a condition in which the growth of the eyes is aborted and causes the retinas to detach; so he became blind.[3][7] When Stevie Wonder was four, his mother left his father and moved to Detroit with her children.
Gil Scott-Heron. Besides influencing contemporary musicians, Scott-Heron remained active until his death, and in 2010 released his first new album in 16 years, entitled I'm New Here.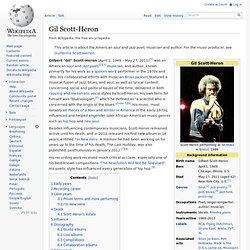 A memoir he had been working on for years up to the time of his death, The Last Holiday, was also published, posthumously in January 2012.[7][8] His recording work received much critical acclaim, especially one of his best-known compositions "The Revolution Will Not Be Televised". His poetic style has influenced every generation of hip hop.[9] Gene McDaniels. Biography[edit] Born in Kansas City, Kansas, United States,[1] McDaniels grew up in Omaha, Nebraska.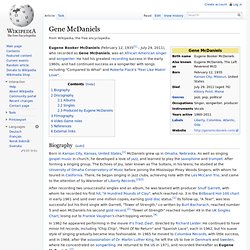 As well as singing gospel music in church, he developed a love of jazz, and learned to play the saxophone and trumpet. After forming a singing group, The Echoes of Joy, later known as The Sultans, in his teens, he studied at the University of Omaha Conservatory of Music before joining the Mississippi Piney Woods Singers, with whom he toured in California.
Eugene McDaniels - "Cherrystones" Donny Hathaway. Early career[edit] Hathaway, the son of Drusella Huntley, was born in Chicago but raised with his grandmother, Martha Pitts, also known as Martha Crumwell, in the Carr Square housing project of St.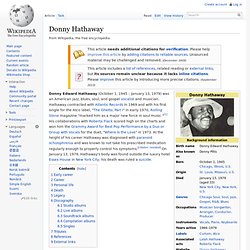 Louis. Hathaway began singing in a church choir with his grandmother, a professional gospel singer, at the age of three. Donny Hathaway - A Song For You. Minnie Riperton. Minnie Julia Riperton Rudolph[1] (November 8, 1947 – July 12, 1979),[1] known professionally as Minnie Riperton, was an American singer-songwriter best known for her 1975 single "Lovin' You".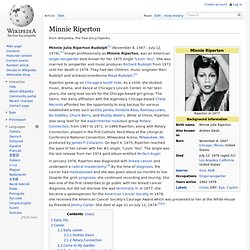 She was married to songwriter and music producer Richard Rudolph from 1972 until her death in 1979. They had two children: music engineer Marc Rudolph and actress/comedienne Maya Rudolph.[2] Riperton grew up on Chicago's South Side. As a child, she studied music, drama, and dance at Chicago's Lincoln Center. In her teen years, she sang lead vocals for the Chicago-based girl group, The Gems. Isaac Hayes.
On August 5, 2003, Hayes was honored as a BMI Icon at the 2003 BMI Urban Awards for his enduring influence on generations of music makers.[2] Throughout his songwriting career, Hayes received five BMI R&B Awards, two BMI Pop Awards, two BMI Urban Awards and six Million-Air citations.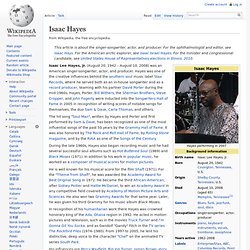 As of 2008, his songs generated more than 12 million performances.[3] Life and career[edit] Early years[edit] Isaac Hayes, Jr. was born in Covington, Tennessee, in Tipton County. He was the second child of Eula (née Wade) and Isaac Hayes, Sr.[4] Bill Withers. Early life[edit] Withers was born the youngest of six children in the small coal-mining town of Slab Fork, West Virginia.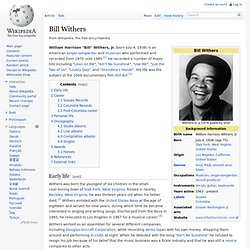 Raised in nearby Beckley, West Virginia, he was thirteen years old when his father died.[2] Withers enlisted with the United States Navy at the age of eighteen and served for nine years, during which time he became interested in singing and writing songs. Discharged from the Navy in 1965, he relocated to Los Angeles in 1967 for a musical career.[3] Career[edit] Sussex Records[edit] Bill Withers - Grandma's Hands (live at Carnegie Hall) [audio] Bill Withers - Ain't No Sunshine.
Roy Ayers. Roy Ayers (born September 10, 1940) is an American funk, soul, and jazz composer and vibraphone player.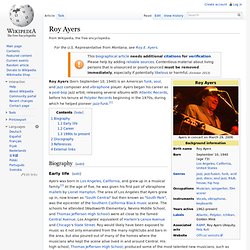 Ayers began his career as a post-bop jazz artist, releasing several albums with Atlantic Records, before his tenure at Polydor Records beginning in the 1970s, during which he helped pioneer jazz-funk.[1] Biography[edit] Early life[edit] Career[edit] Roy Ayers - Searchin. Shuggie Otis - Strawberry Letter 23. Teddy Pendergrass. Theodore DeReese "Teddy" Pendergrass (March 26, 1950[1] – January 13, 2010)[2] was an American R&B/soul singer and songwriter.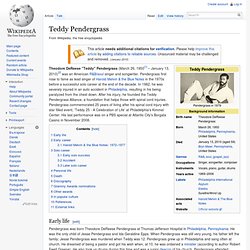 Pendergrass first rose to fame as lead singer of Harold Melvin & the Blue Notes in the 1970s before a successful solo career at the end of the decade. In 1982, he was severely injured in an auto accident in Philadelphia, resulting in his being paralyzed from the chest down. After his injury, he founded the Teddy Pendergrass Alliance, a foundation that helps those with spinal cord injuries. Pendergrass commemorated 25 years of living after his spinal cord injury with star filled event, 'Teddy 25 - A Celebration of Life' at Philadelphia's Kimmel Center. Teddy Pendergrass - Love TKO. Barry White. Barry White, born Barry Eugene Carter ((1944-09-12)September 12, 1944 – July 4, 2003(2003-07-04)), was an American composer and singer-songwriter.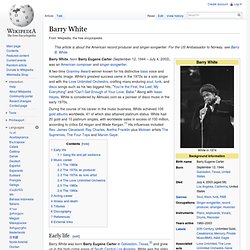 During the course of his career in the music business, White achieved 106 gold albums worldwide, 41 of which also attained platinum status. White had 20 gold and 10 platinum singles, with worldwide sales in excess of 100 million, according to critics Ed Hogan and Wade Kergan.[1] His influences included Rev. Barry White - Your Sweetness Is My Weakness. Barry White - Can't get enough of your Love, Babe. Mayer Hawthorne - Green Eyed Love. Nina Simone. Nina Simone /ˈniːnə sɨˈmoʊn/ (born Eunice Kathleen Waymon; February 21, 1933 – April 21, 2003) was an American singer, songwriter, pianist, arranger, and civil rights activist widely associated with jazz music.
Simone aspired to become a classical pianist while working in a broad range of styles including classical, jazz, blues, folk, R&B, gospel, and pop. Her musical style arose from a fusion of gospel and pop songs with classical music, in particular with influences from her first inspiration, Johann Sebastian Bach,[3] and accompanied with her expressive jazz-like singing in her characteristic contralto.
She injected as much of her classical background into her music as possible to give it more depth and quality, as she felt that pop music was inferior to classical.[4] Her intuitive grasp on the audience–performer relationship was gained from a unique background of playing piano accompaniment for church revivals and sermons regularly from the early age of six years old.[5] Nina Simone - Sinnerman full lenght. Nina Simone - For All We Know.
Nina Simone - Love Me Or Leave Me. Nina Simone - Ain't Got No...I've Got Life. Aretha Franklin. Franklin has won a total of 18 Grammy Awards and is one of the best-selling female artists of all time, having sold over 75 million records worldwide.[1] Franklin has been honored throughout her career including a 1987 induction into the Rock and Roll Hall of Fame, in which she became the first female performer to be inducted. She was inducted to the UK Music Hall of Fame in 2005.
In August 2012, Franklin was inducted into the GMA Gospel Music Hall of Fame.[2] Franklin is listed in at least two all-time lists on Rolling Stone magazine, including the 100 Greatest Artists of All Time, in which she placed number 9, and the 100 Greatest Singers of All Time in which she placed number 1.[3][4] Aretha Franklin - Respect / Dr. Feelgood / Think / Save Me - 7" EP Israel - 1968. The Weight - Aretha Franklin (1969) Otis Redding. Otis Ray Redding, Jr. (September 9, 1941 – December 10, 1967) was an American singer, songwriter, record producer, arranger and talent scout. He is considered one of the greatest singers in popular music and a major artist in soul and rhythm and blues. His singing style was powerfully influential among soul artists of 1960s and helped exemplify the Stax Sound.
Redding's premature death devastated Stax. Otis Redding - I've Got Dreams To Remember.wmv. Curtis Mayfield. Early years and The Impressions[edit] Two significant characteristics distinguish Mayfield's sound. First, he taught himself how to play guitar, tuning it to the black keys of the piano, thus giving him an open F-sharp tuning—F#, A#, C#, F#, A#, F#---that he used throughout his career.[3] Second, he primarily sang in falsetto register, adding another flavor to his music. This was not unique in itself, but most singers sing primarily in the modal register. Mayfield was a prolific songwriter in Chicago even outside his work for The Impressions, writing and producing scores of hits for many other artists. Curtis Mayfield - Superfly. Curtis Mayfield - So In Love. Curtis Mayfield ~ Freddies Dead. Sam Cooke. Sam Cooke[1] (January 22, 1931 – December 11, 1964), born Samuel Cook, was an American recording artist, singer-songwriter and entrepreneur.[4] He is commonly known as the King of Soul for his distinctive vocal abilities and influence on the modern world of music.
His pioneering contributions to soul music led to the rise of Aretha Franklin, Bobby Womack, Al Green, Curtis Mayfield, Stevie Wonder, Marvin Gaye, Billy Preston and popularized the likes of Otis Redding and James Brown.[5][6][7] On December 11, 1964, Cooke was fatally shot by Bertha Franklin, the manager of the Hacienda Motel in Los Angeles, California, at the age of 33. At the time, the courts ruled Cooke was drunk and distressed, and the manager had killed Cooke in what was later ruled a justifiable homicide. Since that time, the circumstances of his death have been widely questioned. Sam Cooke - You Send Me. Sam Cooke - Summer time (w/ Lyrics)
---