Soul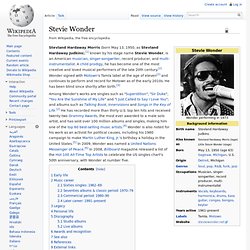 Stevie Wonder
Stevland Hardaway Morris (born May 13, 1950 as Stevland Hardaway Judkins ), [ 1 ] known by his stage name Stevie Wonder , is an American singer, songwriter, and multi-instrumentalist, a child prodigy who developed into one of the most creative musical figures of the late 20th century. [ 2 ] Blind since shortly after birth, [ 3 ] Wonder signed with Motown 's Tamla label at the age of eleven, [ 2 ] and continues to perform and record for Motown to this day. Among Wonder's best known works are singles such as " Superstition ", " Sir Duke ", " You Are the Sunshine of My Life " and " I Just Called to Say I Love You ". Well known albums also include Talking Book , Innervisions and Songs in the Key of Life . [ 2 ] He has recorded more than thirty U.S. top ten hits and received twenty-two Grammy Awards , the most ever awarded to a male solo artist. Wonder is also noted for his work as an activist for political causes, including his 1980 campaign to make Martin Luther King, Jr.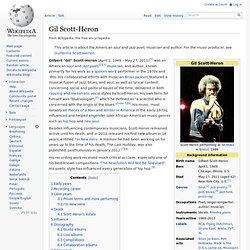 Gilbert "Gil" Scott-Heron (April 1, 1949 – May 27, 2011) [ 5 ] was an American soul and jazz poet , [ 2 ] [ 3 ] musician, and author, known primarily for his work as a spoken word performer in the 1970s and '80s. His collaborative efforts with musician Brian Jackson featured a musical fusion of jazz, blues, and soul, as well as lyrical content concerning social and political issues of the time, delivered in both rapping and melismatic vocal styles by Scott-Heron. His own term for himself was "bluesologist", [ 4 ] which he defined as "a scientist who is concerned with the origin of the blues." [ note 1 ] [ 6 ] His music, most notably on Pieces of a Man and Winter in America in the early 1970s, influenced and helped engender later African-American music genres such as hip hop and neo soul . Besides influencing contemporary musicians, Scott-Heron remained active until his death, and in 2010 released his first new album in 16 years, entitled I'm New Here .
Gil Scott-Heron
Gene McDaniels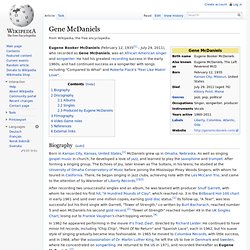 Gene McDaniels (February 12, 1935 [ 1 ] – July 29, 2011) was an American singer and songwriter , who had his greatest recording success in the early 1960s. [ edit ] Biography Born Eugene Booker McDaniels in Kansas City , Missouri , United States , [ 1 ] McDaniels grew up in Omaha , Nebraska . As well as singing gospel music in church, he developed a love of jazz , and learned to play the saxophone and trumpet .
Eugene McDaniels - "Cherrystones"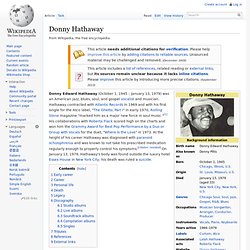 Donny Edward Hathaway (October 1, 1945 – January 13, 1979) was an American Jazz, Blues, Soul & Gospel singer-songwriter and musician. Hathaway contracted with Atlantic Records in 1969 and with his first single for the Atco label, " The Ghetto, Part I " in early 1970, Rolling Stone magazine "marked him as a major new force in soul music." [ 1 ] His collaborations with Roberta Flack scored high on the charts and won him the Grammy Award for Best Pop Performance by a Duo or Group with Vocal for the duet, " Where Is the Love " in 1973. His body was found outside the luxury hotel Essex House in New York City ; his death was ruled a suicide .
Donny Hathaway
Donny Hathaway - A Song For You
Minnie Riperton
Minnie Julia Riperton (November 8, 1947 – July 12, 1979) was an American singer-songwriter best known for her vocal range of five-and-a-half octaves, and her 1975 single " Lovin' You ". She was married to songwriter and music producer Richard Rudolph from 1972 until her death in the summer of 1979. They had two children: music engineer Marc Rudolph and actress/comedienne Maya Rudolph . [ 1 ] Riperton grew up on Chicago 's South Side . As a child, she studied music, drama, and dance at Chicago's Lincoln Center. In her teen years, she sang lead vocals for the Chicago-based girl group, The Gems.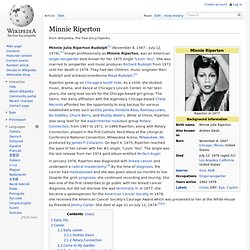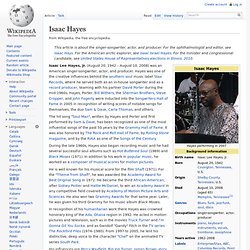 Isaac Hayes
Isaac Hayes 2007 Isaac Lee Hayes, Jr. (August 20, 1942 – August 10, 2008) was an American songwriter , musician , singer, actor , and voice actor . Hayes was one of the creative influences behind the southern soul music label Stax Records , where he served both as an in-house songwriter and as a record producer , teaming with his partner David Porter during the mid-1960s. Hayes, Porter, Bill Withers , the Sherman Brothers , Steve Cropper , and John Fogerty were inducted into the Songwriters Hall of Fame in 2005 in recognition of writing scores of notable songs for themselves, the duo Sam & Dave , Carla Thomas , and others. The hit song " Soul Man ", written by Hayes and Porter and first performed by Sam & Dave , has been recognized as one of the most influential songs of the past 50 years by the Grammy Hall of Fame .
William Harrison "Bill" Withers, Jr. (born July 4, 1938) is an American singer-songwriter and musician who performed and recorded from 1970 until 1985. He recorded a number of hits such as " Lean on Me ", " Ain't No Sunshine ", " Use Me ", " Just the Two of Us ", " Lovely Day ", and " Grandma's Hands ". His life was the subject of the 2009 documentary film Still Bill . [ edit ] Early life Withers was born the youngest of six children in the small coal-mining town of Slab Fork, West Virginia .
Bill Withers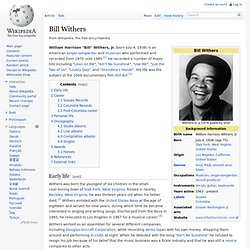 Bill Withers - Grandma's Hands (live at Carnegie Hall) [audio]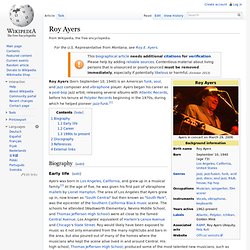 Roy Ayers
Roy Ayers (born September 10, 1940) is an American funk , soul , and jazz composer and vibraphone player. Ayers began his career as a post-bop jazz artist, releasing several albums with Atlantic Records , before his tenure at Polydor Records beginning in the 1970s, during which he helped pioneer jazz-funk . [ 1 ] [ edit ] Biography [ edit ] Early life Ayers was born in Los Angeles , California , and grew up in a musical family. [ 2 ] At the age of five, Lionel Hampton gave him his first pair of vibraphone mallets .
Roy Ayers - Searchin
Shuggie Otis - Strawberry Letter 23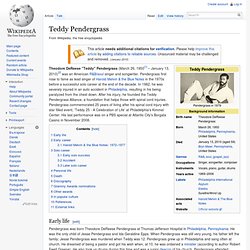 Theodore DeReese "Teddy" Pendergrass (March 26, 1950 [ 1 ] – January 13, 2010) [ 2 ] was an American R&B / soul singer and songwriter. Pendergrass first rose to fame as lead singer of Harold Melvin & the Blue Notes in the 1970s before a successful solo career at the end of the decade. In 1982, he was severely injured in an auto accident in Philadelphia, resulting in his being paralyzed from the waist down. After his injury, he founded the Teddy Pendergrass Alliance, a foundation that helps those with spinal cord injuries. Pendergrass commemorated 25 years of living after his spinal cord injury with star filled event, 'Teddy 25 - A Celebration of Life' at Philadelphia's Kimmel Center.
Teddy Pendergrass
Teddy Pendergrass - Love TKO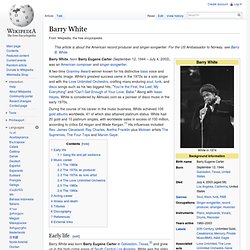 Barry White
Barry White , born Barry Eugene Carter ( ( 1944-09-12 ) September 12, 1944 – July 4, 2003 ( 2003-07-04 ) ), was an American composer and singer-songwriter . A two-time Grammy Award -winner known for his distinctive bass voice and romantic image, White's greatest success came in the 1970s as a solo singer and with the Love Unlimited Orchestra , crafting many enduring soul , funk , and disco songs such as his two biggest hits, " You're the First, the Last, My Everything " and " Can't Get Enough of Your Love, Babe ." Along with Isaac Hayes , White is considered by Allmusic.com as a pioneer of disco music in the early 1970s.
Barry White - Your Sweetness Is My Weakness
Barry White - Can't get enough of your Love, Babe
Mayer Hawthorne - Green Eyed Love
Eunice Kathleen Waymon (February 21, 1933 – April 21, 2003), better known by her stage name Nina Simone / ˈ n iː n ə s ɨ ˈ m oʊ n / , was an American singer, songwriter, pianist , arranger, and civil rights activist widely associated with jazz music. Simone aspired to become a classical pianist while working in a broad range of styles including classical , jazz , blues , folk , R&B , gospel , and pop . Born the sixth child of a preacher's family in North Carolina , Simone aspired to be a concert pianist. [ 1 ] Her musical path changed direction after she was denied a scholarship to the prestigious Curtis Institute of Music in Philadelphia , despite a well-received audition. Simone was later told by someone working at Curtis that she was rejected because she was black. [ 2 ] When she began playing in a small club in Philadelphia to fund her continuing musical education and become a classical pianist she was required to sing as well.
Nina Simone
Nina Simone - For All We Know
Nina Simone - Love Me Or Leave Me
Aretha Franklin
Aretha Louise Franklin (born March 25, 1942) is an American musician , singer , songwriter , and pianist . In a recording career that has spanned over half a century, Franklin's repertoire has included gospel , jazz , blues , R&B , pop , rock and funk . Franklin is known as one of the most important popularizers of the soul music genre and is referred to as the Queen of Soul , a title she was given early in her career.
Aretha Franklin - Respect / Dr. Feelgood / Think / Save Me - 7" EP Israel - 1968
The Weight - Aretha Franklin (1969)
Otis Redding
Otis Ray Redding, Jr. (September 9, 1941 – December 10, 1967) was an American singer and songwriter, record producer , arranger and talent scout. He is considered one of the greatest singers in popular music and a major artist in soul music and rhythm and blues . His singing style has been influential among the soul artists of 1960s and helped exemplify the Stax Sound . After appearing at the 1967 Monterey Pop Festival , he wrote and recorded " (Sittin' On) The Dock of the Bay " with Steve Cropper .
Otis Redding - I've Got Dreams To Remember.wmv
Curtis Lee Mayfield (June 3, 1942 – December 26, 1999) was an American soul , R&B , and funk singer, songwriter, and record producer. He is best known for his anthemic music with The Impressions during the Civil Rights Movement of the 1960s and for composing the soundtrack to the blaxploitation film Super Fly , Mayfield is highly regarded as a pioneer of funk and of politically conscious African-American music. [ 1 ] [ 2 ] He was also a multi-instrumentalist who played the guitar, bass, piano, saxophone, and drums. Mayfield is a winner of both the Grammy Legend Award (in 1994) and the Grammy Lifetime Achievement Award (in 1995), and he was a double inductee into The Rock and Roll Hall of Fame, inducted as a member of The Impressions into The Rock and Roll Hall of Fame in 1991, and again in 1999 as a solo artist. He is also a two-time Grammy Hall of Fame inductee. [ edit ] Early years and The Impressions
Curtis Mayfield
Curtis Mayfield - Superfly
Curtis Mayfield - So In Love
Curtis Mayfield ~ Freddies Dead
Sam Cooke
Samuel Cook [ 1 ] (January 22, 1931 – December 11, 1964), better known under the stage name Sam Cooke , was a North American gospel , R&B , soul , and pop singer, songwriter , and entrepreneur . He is considered to be one of the pioneers and founders of soul music . [ 4 ] He is commonly known as the King of Soul for his distinctive vocal abilities and influence on the modern world of music. His contribution in pioneering soul music led to the rise of Aretha Franklin , Bobby Womack , Al Green , Curtis Mayfield , Stevie Wonder , Marvin Gaye , and popularized the likes of Otis Redding and James Brown . [ 5 ] [ 6 ] [ 7 ] Cooke had 30 U.S. top 40 hits between 1957 and 1964, and a further three after his death. Major hits like " You Send Me ", " A Change Is Gonna Come ", " Cupid ", " Chain Gang ", " Wonderful World ", and " Twistin' the Night Away " are some of his most popular songs.
Sam Cooke - You Send Me
Sam Cooke - Summer time (w/ Lyrics)