]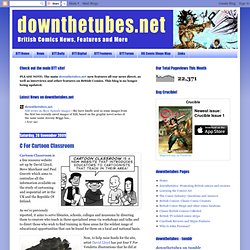 22/11/09
The weather gods seem to have it in for comics conventions. Hi-Ex is already infamous for its snow while this year, despite the rains that brought misery to Cumbria, Leeds was dry on the morning of Saturday 21 November but foggy – very foggy. The road layout in the centre of Leeds is, shall we say, challenging for non-locals but fortunately Saviles Hall is opposite the Royal Armouries museum in Clarence Dock so it was just a case of following the brown Armouries signs as they loomed out of the murk. It also seems like the flu gods had it in for convention reviewers. downthetubes Matt Badham, after all the good work he had put into promoting not just Thought Bubble but all the other comics conventions this year, was rewarded with a severe dose of the lurgy and couldn't make it. For that matter neither could Forbidden Planet International's Richard Bruton as he had been similarly afflicted. With the A team incapacitated, welcome to Plan B.
В этой статье я постараюсь поэтапно расписать порядок действий, позволяющий с минимальной потерей времени . Несмотря на то, что пользователь инструкции не получит привилегиий премиум акаунта и не сможет избавится от задержки перед скачиванием файла и между закачками, он избавится от этих проблем и совершенно не будет их замечать. Разбирать все буду на примере rapidshare. В общих чертах процесс скачивания выглядит следующим образом: добавили ссылки в программу для скачивания файлов и продолжаем заниматься своими делами.
Как скачать файл с rapidshare?
Vilppu Store: Selling all of Glenn Vilppu's drawing education materials
janvier 2012 : Tous les messages (Page 2) - PAUL CUVELIER - RAYMOND MACHEROT - FRANÇOIS CRAENHALS - LES FUNCKEN - ÉTIENNE LE RALLIC - ETC ...
timbres BD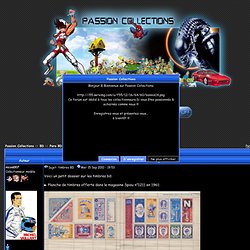 Voici un petit dossier sur les timbres bd: ► Planche de timbres offerte dans le magasine Spiou n°1211 en 1961: ► Spirou, 1988 (BELGIQUE): ► Natacha, 1993 (BELGIQUE): En 1999, la fête du timbre met à l'honneur la bande dessinée avec Astérix le Gaulois repris sous les formes habituelles de timbres de feuille et de carnet, mais aussi sur un bloc-feuillet représentant une scène habituelle du village de cette série. Par la suite, ont été utilisés :
Liens/Litterature - Didier Conrad
Didier CONRAD is one of the young cartoonists who revolutionized Belgian comics magazine Spirou in the 1980s with a number of popular comic book series: LES INNOMMABLES [The Unspeakables], co-created with writer Yann, tells of the bittersweet adventures of three colorful mercenaries in the Far East in the late 1940s/early 1950s; BOB MARONE, also co-created with Yann, is a hilarious parody of a French popular juvenile adventure series, Bob Morane; DONITO is about a young boy who lives during the times of the pirates, and can breathe under water; LE PIÈGE MALAIS [The Malaysian Trap] is a much-acclaimed saga about India during the Raj; TATUM is a cool and sophisticated parody of secret agents and science fiction films. Didier CONRAD has won the following AWARDS:
Didier Conrad's home page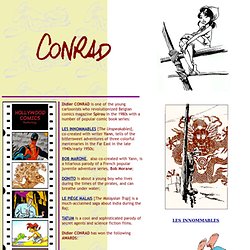 Par douze !
Ange et Diablesses (T1 & T2) - Stephen Desberg & Marc Hardy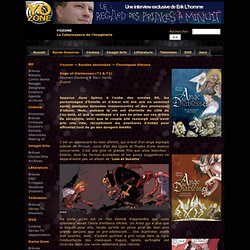 Apparus dans Spirou à l'aube des années 80, les personnages d'Estelle et d'Arkel ont été mis en sommeil après quelques épisodes mouvementés et des promesses d'album. Mais, puisque la vie est éternelle du côté de l'au-delà, et que la vieillesse n'a pas de prise sur ces drôles de séraphins, voici que le couple ailé ressurgit sans avoir pris une ride, récapitulant les aventures d'antan pour affronter tout de go des dangers inédits. C'est un adolescent du nom d'Arkel, qui a tout d'un ange espiègle mâtiné de Pirlouit, voire d'un des Quick et Flupke d'une maison concurrente. C'est une jolie et grande fille aux ailes blanches : Estelle, dont les formes avenantes et les poses suggestives ne dépareraient pas un album de "Lolo et Sucette".
(L'assassinat de l'Oncle Paul) Au début des années 80 (mon "âge d'or" personnel du journal Spirou), le fameux duo iconoclaste et sulfureux constitué par le scénariste Yann (Yannick Lepennetier) et le dessinateur Didier Conrad, à qui le rédacteur en chef, Alain de Kuyssche, avait demandé quelques temps auparavant de mettre un peu d'animation dans les pages du magazine (avec le succès que l'on sait), décidait une fois de plus de sévir en s'attaquant à une figure mythique de l'hebdomadaire : "Les Belles Histoires de l'Oncle Paul". Cette série fut imaginée en 1951 par l'immense scénariste Jean-Michel Charlier (créateur, entre autres, des Chevaliers du Ciel, Tanguy et Laverdure, de l'aviateur US Buck Danny, du pirate Barbe-Rouge, du lieutenant Blueberry ...), avant d'être reprise dès la même année par Octave Joly.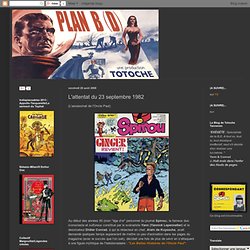 L'attentat du 23 septembre 1982
expressbd.fr — infos, entretiens d auteurs de BD, et extraits de bande dessinée
Conrad et Yann : Les Innommables - La Tigresse Blanche : Bande Dessinée Franco-Belge - Page 4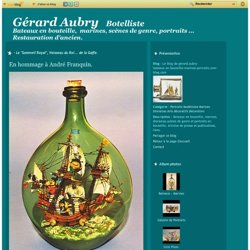 En hommage à André Franquin. "Le Sommeil Royal", Vaisseau pour rire, d'après un dessin original d'André Franquin. Définition : "Gaffe, de l'ancien provençal gaf, "crochet, perche", (attesté au XIVe siècle) dérivé de gafar, "saisir", lui-même du gotique gaffon, "id", ...
- Le "Sommeil Royal", Vaisseau du Roi... de la Gaffe. - Le blog de gerard.aubry-bateaux.en.bouteille-marines-portraits.over-blog.com
Forum TousCollectionneurs.com • Voir le sujet - Mes dernieres acquisitions - maxkaban
Télécharger Films, Jeux, Logiciels sur [MULTI] et en Streaming. - popples - Messages - Page 5
ToutSpirou tout sur le journal de Spirou accueil
Cтатья по тюнингу интерфейса PSP посвящена работе с файлами ресурсов прошивки – RCO. Редактировать их мы будем с помощью программы RCO Editor, которой вы уже пользовались, если пробовали заменять системные звуки. Программа эта очень мощная и позволяет изменять все значки XMB, весь текст, надписи при coldboot`е и gameboot`е, а так же цвет, расположение и размеры практически всех элементов оформления основного меню PSP.
Скачать Редактирование RCO файлов для PSP бесплатно - Тюнинг для PSP на Play-PSP
BDM Trésors de la bande dessinée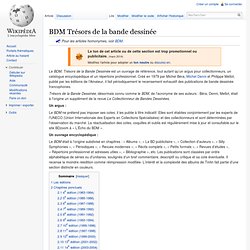 Un article de Wikipédia, l'encyclopédie libre. Pour les articles homonymes, voir BDM. Le BDM Trésors de la bande dessinée est un ouvrage de référence (de type argus) des collectionneurs de bandes dessinées édité par les éditions de l'amateur, mis à jour tous les deux ans depuis 1979, qui a pour but la recension exhaustive des publications francophones dans le domaine de la bande dessinée. Il a été créé par les critiques Michel Béra, Michel Denni et Philippe Mellot, qui en dirigent toujours la rédaction. Un argus[modifier | modifier le code]
how to sort image by name in psp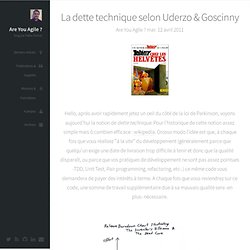 Hello, après avoir rapidement jetez un oeil du côté de la loi de Parkinson, voyons aujourd'hui la notion de dette technique. Pour l'historique de cette notion assez simple mais ô combien efficace : wikipedia. Grosso modo l'idée est que, à chaque fois que vous réalisez "à la vite" du développement (généralement parce que quelqu'un exige une date de livraison trop difficile à tenir et donc que la qualité disparaît, ou parce que vos pratiques de développement ne sont pas assez pointues -TDD, Unit Test, Pair programming, refactoring, etc-.) ce même code vous demandera de payer des intérêts à terme. A chaque fois que vous reviendrez sur ce code, une somme de travail supplémentaire due à sa mauvais qualité sera -en plus- nécessaire. Comme une vraie dette, celle-ci peut s'accumuler jusqu'à rendre complètement inerte une solution, un produit, etc.
Are you agile ? » Blog Archive » La dette technique selon Uderzo & Goscinny
AsterIX - Asterix Information eXchange • Foren-Übersicht
inspired « One1more2time3's Weblog
on my lecture trips over here in asia I have a chance to meet and talk to a lot of students. what you wanna know of course is, what inspires them, who are their favorite artists. maybe there is someone they admire and want to do something similar in their future. what is kind of depressing that I very rare get a clear answer. only very few have a raw model they wanna follow. even worse, only a few are even informed about successful artists in the animation field. the most I hear is – we love anime. well… I don't know what is going wrong, do I meet the wrong people? I would expect with all the information you can get through the internet there is a bit more enthusiasm. following I have collected some designs of the artists who inspired me when I was a student.
Je retrace à travers cette page l'historique des bandes dessinées du JBT. Car qui, dans son existence de motard n'a pas vécu un jour un épisode du Joe Bar Team lors d'une balade un peu soutenue ? Pour tout connaître sur l'historique du JBT et comprendre sa création, il vous faut le "Joe Bar Team Story"
Pour tout savoir sur le Joe Bar Team ...
The Forbidden Planet International Blog Log | The Best In Sci-Fi & Fantasy, News, Reviews, Graphic Novels, comics and more!
Blake, Jacobs et Mortimer
Pilote
Le blog de Louis-Hugues Jacquin
Le topic des anciennes dans les bandes dessinées - Anciennes Oldies - FORUM Anciennes - FORUM auto mythiques et d'exception
Erotic ComiXXX Collection
100 советов; paintingart.ru - сайт о живописи
Video tutorials for Flash, Flex, Illustrator, Photoshop, Toon Boom Animate, Blender, Dreamweaver, After Effects, Actionscript, iPhone, iPad, Mysql, PHP and more
Aventuras de Spirou | Libros y Tutoriales
Pen & Ink with Watercolor (9781581807547): George Olson
Animation Illustration Art: Book Review : Pen & Ink with Watercolor by George Olson
Inking
Baston Labaffe
June 2011
sondage ! après le sous marin !
Galerie-photos
Charles DEGOTTE : Les auteurs connus et moins connus du beau journal de Spirou
Planche, Gaston, Tome 19, Franquin André, Jidéhem, Degotte Charles, Delporte Yvan, Tome, Janry, Marsu Productions
De Stripspeciaalzaak -- StripFacts
[Tournoi n°5] Histoire/Géo : A la découverte de... : Archives
Dan VERLINDEN
Passion Collections
BD e-store
LE MONDE DE LA BD
unnamed pearl
Afficher le sujet - Lucky Luke - James Huth (2009)
Lens of Truth : Just telling the truth