Trends
Asia Scout Network. 10 trends that will shape consumer mindset and behavior in 2013. Uniqlo, H&M and Retail As the Third SpaceApril 15, 2014 | 4:30 pm "Retail As the Third Space," one of our 10 Trends for 2011, is rapidly accelerating: As digital commerce becomes habit for consumers, brick-and-mortar is increasingly focused around experiences, unique environments and customer service, giving shoppers new reasons to visit retail spaces.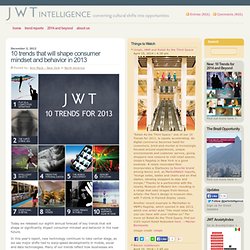 Uniqlo's flagship in New York is a good example. A newly renovated floor incorporates a Starbucks (a favorite brand among teens) and, as MarketWatch reports, "lounge sofas, tables and chairs and an iPad station, allowing shoppers to stay and mingle." Thanks to a partnership with the nearby Museum of Modern Art—resulting in a range that uses images from famous artists—the floor's design is museum-like, with T-shirts in framed display cases.Another recent example in Manhattan is H&M's flagship, which opened in late 2013, which one writer dubs "The most retail fun you can have with your clothes on." The future of User Interfaces. Advertising Lab. Futurismic - near-future science fiction and fact since 2001. Trend Hunter. Published: Jul 7, 2012 • References: It seems memes have escaped past the bounds of the Internet, with the help of the Nyan Cat scarf by TEIJDOS.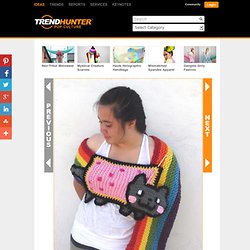 Express your love for hot Internet memes in hand-knitted style by this creative Etsy shop owner. With a knitted shrine to Nyan Cat, also known as the Pop Tart Kitty, you'll be able to wear your favorite meme in a comfy clothing form. Hand-knitted using bulky and chunky acrylic yarn, this meme-influenced wearable will be as soft as the little kitty cat it sports on the front. Media2mrw – your ideas for the future of media. World Future Society. Mark Coleran. Co.Design. Contagious. What's Next: Top Trends.
---