Entertainment
ZergNet - Discover Interesting Articles. Guide to online dating sites :: Features :: Around Town. First published on 31 Aug 2012.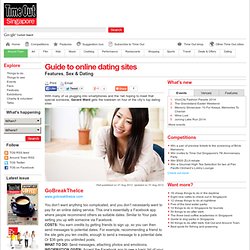 Updated on 31 Aug 2012. GoBreakTheIce www.gobreaktheice.com You don't want anything too complicated, and you don't necessarily want to pay for an online dating service.
Lifestyle. Humour. Comics. Movie or TV. RadIo. Porn. Indexed.
---