Web Stuff
Infographics Inspiration. I Can't Find My Phone. CatchFlash(beta) - The easiest way to download flash content. How to Re-enable Audio on Your Youtube Videos. Get More Out of Google. What do you love? The Top 100 Websites of 2011.
With plenty of favorites and new sites to explore, here's our annual look at the best the Web has to offer.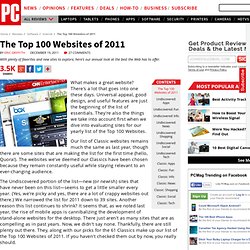 What makes a great website? There's a lot that goes into one these days. Universal appeal, good design, and useful features are just the beginning of the list of essentials. They're also the things we take into account first when we dive into evaluating sites for our yearly list of the Top 100 Websites.
---