Productivity
How to set reminders on your iPhone with Do Date. With Do Date, you can add reminders to your iPhone's Notification Center to help you keep track of important dates.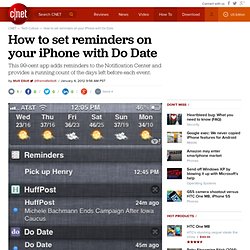 I like the idea of the pull-down Notification Center but I feel that Apple isn't making the best use of this tool. Unfortunately, the Quickpick app that added some great utility to the Notification Center was pulled from the App Store almost immediately after I wrote about it last month. Let's hope Do Date does not meet the same fate. Google Mobile Apps. Google Sync App. Reminders: Built-in Task Management With iOS 5. It's true that we review a lot of productivity apps over here on iPhone.AppStorm.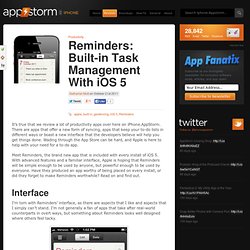 There are apps that offer a new form of syncing, apps that keep your to-do lists in different ways or boast a new interface that the developers believe will help you get things done. Wading through the App Store can be hard, and Apple is here to help with your need for a to-do app. Meet Reminders, the brand new app that is included with every install of iOS 5. Prioritize Differently With Any To Do. It seems like there's a new to-do list app on the market every day, and each of them tries to innovate the way you get things done by changing different aspects of the productivity process.
There are apps that try to streamline the task input process, or reinvent the way you organize your tasks into lists and folders. What is relatively uncommon, however, is putting more emphasis on the way apps are prioritized. For the most part, productivity apps handle the priority issue in one of a few ways: they allow you to flag or star a task as important, or in some cases allow you to assign a priority (1-9) to each task. Sticky Notes Pro for iPhone: Reminders, Alarms and More. If there's one big advantage that Android has over iOS, it's arguably the lock screen.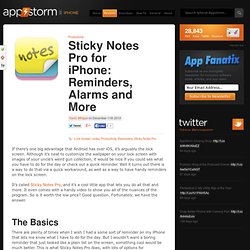 Although it's neat to customize the wallpaper on your lock screen with images of your uncle's weird gun collection, it would be nice if you could see what you have to do for the day or check out a quick reminder. Well it turns out there is a way to do that via a quick workaround, as well as a way to have handy reminders on the lock screen. TurboScan - $1.99. Description TurboScan for Android is available now!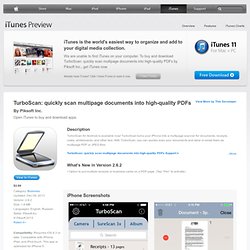 TurboScan turns your iPhone into a multipage scanner for documents, receipts, notes, whiteboards, and other text. With TurboScan, you can quickly scan your documents and store or email them as multipage PDF or JPEG files. #1 business app in the United States and 30+ other countries for 2 years! • "Unbelievably sharp.
---