Page 1
MOVE: Guy travels the world and shoots one second of footage in each location. Description 3 guys, 44 days, 11 countries, 18 flights, 38 thousand miles, an exploding volcano, 2 cameras and almost a terabyte of footage... all to turn 3 ambitious linear concepts based on movement, learning and food ....into 3 beautiful and hopefully compelling short films..... = a trip of a lifetime. move, eat, learn Rick Mereki : Director, producer, additional camera and editing Tim White : DOP, producer, primary editing, sound Andrew Lees : Actor, mover, groover All Music composed and performed by Kelsey James Music Recorded and mixed by Jake Phillips Colour Grade : Edel Rafferty and Roslyn Di sisto Online Edit : Peter Mirecki Assistance in titles and production design : Lee Gingold, Jason Milden, Rohan Newman Big Ups to Michelle, Kiri, Renee, Hana, Andre, Ross, Bernie & Julie for your patience and support and awesomeness.....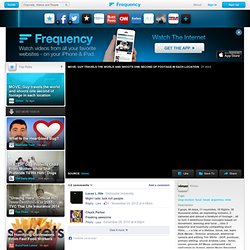 One year in 40 seconds. Parrot Dances to "Another One Bites the Dust" from That Happened! Natural Hallucinogen. Ladybug plays with sprinkles! Kittens on a Slide. Sword Fights: En garde! Bagman. Morgan Freeman. Dubstep Juggling. What a wonderful world. Shapeshifting Octopus, amazing camouflage. 40 Great Movies Inspirational Speeches in 2 Minutes.
Hallucinogenic Video. Left 4 Dead - Fan made film by Airsoft GI - Geeky.ly. Like Left 4 Dead this is a little bit mental.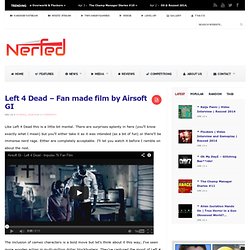 There are surprises aplenty in here (you'll know exactly what I mean) but you'll either take it as it was intended (as a bit of fun) or there'll be immense nerd rage. Either are completely acceptable. I'll let you watch it before I ramble on about the rest. The inclusion of cameo characters is a bold move but let's think about it this way; I've seen more wooden acting in multi-million dollar blockbusters.
Watch People Get Flung Hundreds of Feet by a Human Slingshot Slip and Slide. Fireplace. Hulkamania.
---