Page 1
Description 3 guys, 44 days, 11 countries, 18 flights, 38 thousand miles, an exploding volcano, 2 cameras and almost a terabyte of footage... all to turn 3 ambitious linear concepts based on movement, learning and food ....into 3 beautiful and hopefully compelling short films..... = a trip of a lifetime. move, eat, learn Rick Mereki : Director, producer, additional camera and editing Tim White : DOP, producer, primary editing, sound Andrew Lees : Actor, mover, groover All Music composed and performed by Kelsey James Music Recorded and mixed by Jake Phillips Colour Grade : Edel Rafferty and Roslyn Di sisto Online Edit : Peter Mirecki Assistance in titles and production design : Lee Gingold, Jason Milden, Rohan Newman Big Ups to Michelle, Kiri, Renee, Hana, Andre, Ross, Bernie & Julie for your patience and support and awesomeness.....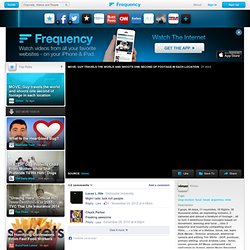 Parrot Dances to "Another One Bites the Dust" from That Happened!
Ladybug plays with sprinkles!
Kittens on a Slide
Sword Fights: En garde! on Vimeo
Bagman
Morgan Freeman
Dubstep Juggling
What a wonderful world
40 Great Movies Inspirational Speeches in 2 Minutes
Hallucinogenic Video on Vimeo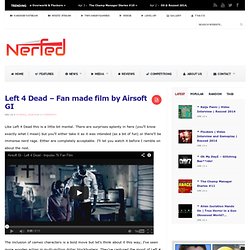 Left 4 Dead - Fan made film by Airsoft GI - Geeky.ly
Like Left 4 Dead this is a little bit mental. There are surprises aplenty in here (you'll know exactly what I mean) but you'll either take it as it was intended (as a bit of fun) or there'll be immense nerd rage. Either are completely acceptable. I'll let you watch it before I ramble on about the rest. The inclusion of cameo characters is a bold move but let's think about it this way; I've seen more wooden acting in multi-million dollar blockbusters.
Watch People Get Flung Hundreds of Feet by a Human Slingshot Slip and Slide
No. That was a different commercial. IIRC, the Mythbusters test was launching a self-propelled vehicle into the pond; this is being pulled down the slope and off the ramp by a bungee cord. I'm a little dubious that the quadracycle+rider is enough weight to get the traction you'd need to get good tension on the bungee cord, but there's only one 'strand', and the launch is downhill on a lubricated track, so the tension doesn't need to be that great. No, I definitely remember Adam going down a huge orange waterslide... Just looked it up; it was episode 145.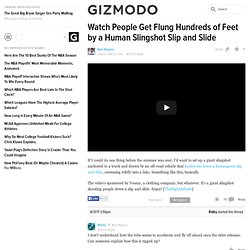 Hulkamania on Vimeo