DIY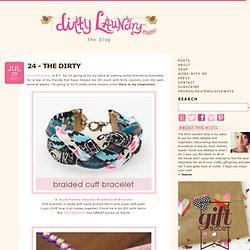 Friendship Day is 8/7. So I'm going to try my hand at making some friendship bracelets for a few of my friends that have helped me SO much with Dirty Laundry over the past several weeks. I'm going to try to make some snazzy ones!
Tiny Terrarium Inspiration — House*Tweaking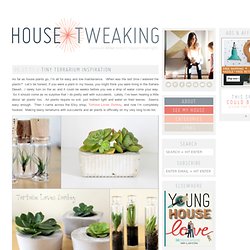 ...because home doesn't happen overnight. As far as house plants go, I'm all for easy and low maintenance. 'When was the last time I watered the plants?' Let's be honest, if you were a plant in my house, you might think you were living in the Sahara Desert…I rarely turn on the ac and it could be weeks before you see a drop of water come your way. So it should come as no surprise that I do pretty well with succulents. Lately, I've been hearing a little about 'air plants' too.
I Could Do That / Use suger starch and form doilies around a balloon. Dry, prick the ballon and remove.
If you've got paint chips sitting around begging to be made into something, try folding them into boxes for paperclips, thumbtacks, party favor candies, or tiny gifts. I made these from Behr swatches, available at Home Depot. You'll need paint swatches, double-stick tape, an X-acto knife, ruler, and cutting mat. For the box bottom, cut a 1/2" strip off each of the two rounded ends of the swatch.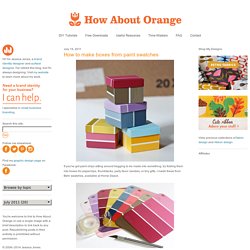 My husband and I both have cell phones. And both of us have phone chargers. And that means lots of obnoxious cords. You never know when one of us may be moving phone cords around, to give our phones an extra charge while we're chatting away……… or trying to charge our phones up before running errands or something. Needless to say, those phone cords seem to be everywhere…..and are generally in the way and hanging all over the floor. (Okay, and how about when you're in a hotel or visiting family/friends.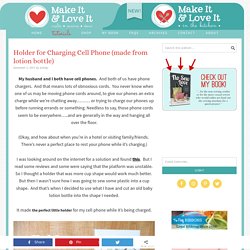 I hope you all had a great weekend and if you're a mommy, I hope you had a wonderful Mother's Day. I had a beautiful day as my kiddies had made me feel loved and so very special with little homemade gifts they had worked so hard to make. The most beautiful part of it all was at the end of the day when the kiddies sat me down on the couch and then 'performed' a song they had written. My Bella sang while Tristan played the piano, to the best of his abilities. The words to the song - although simple - made me cry tears of joy because they get it. They get what family and loving one another means and that is priceless...
Fresh and succulent...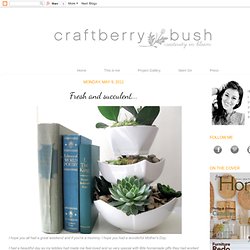 Difficulty Rating: Beginner I love using photos of my friends as well as vintage images, and for this project I decided to use an image of Lina Cavalieri, a famous opera singer from the early 1900s. Usually I use photos of my friends in my craft projects, but no one I know is pretty enough for something this size. Just kidding! I love using photos of my friends as well as vintage images, and for this project I decided to use an image of Lina Cavalieri, a famous opera singer from the early 1900s.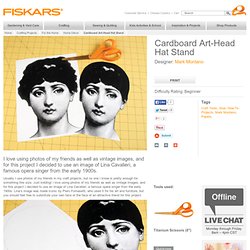 Cardboard Art Head Hat Stand / Mark Montano
Difficulty Rating: Beginner I think this project is beautiful in it's simplicity - I like how it effortlessly fits in to any décor! But that said, this Spring Flora Punch Gromo Lamp would look amazing with different colors of flowers and perhaps some branches cut in wood grain.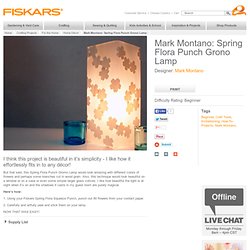 Spring Flora Punch Grono Lamp / Mark Montano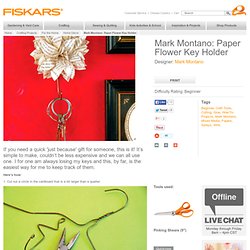 Difficulty Rating: Beginner Tags If you need a quick 'just because' gift for someone, this is it! It's simple to make, couldn't be less expensive and we can all use one. I for one am always losing my keys and this, by far, is the easiest way for me to keep track of them. Here's how:
Jessica of Wednesday Inc shows us how to make those gorgeous twine chandeliers from the inspiration shoot she shared with us this morning. Using balloons, glue and twine, you can also make these lanterns for your wedding – and then bring it home and use it as your very own mid century lampshade. What you will need are: balloons, glue, yarn, tray for glue, corn starch 1/2 cup of Corn starch, 1/4 cup of Warm water, clear fast drying spray paint, hanging lamp cord or fishing line (depending on your desired final product), and a lighting kit if you're looking for a fully functional lantern. Jessica recommends using a sharpie to mark on the inflated balloon how much room you need to leave for the lighting cord.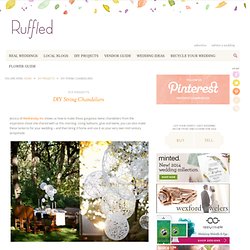 Curbly-Original In my bedroom I have a small, awkward wall. Nothing fits there but my vintage library chair, and it has become the neglected space in the room.
How to: Make a DIY Modern Silhouette Cuckoo Clock » Curbly | DIY Design Community « Keywords: DIY, clock, stencil, paint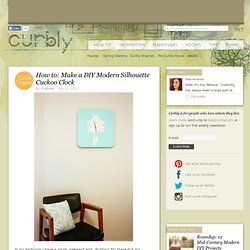 First that outdoor deck/daybed makeover and now these outdoor star lanterns... I think it's safe to say we're itching for warmer weather! While sunshine and blue skies are still a few weeks (or months) off, that doesn't mean we can't start perfecting our paper-folding skills. I, for one, am definitely going to try my hand at these paper star lanterns!
How To: Make a DIY Folded Paper Star Lantern! » Curbly | DIY Design Community « Keywords: DIY, Craft, outdoor, lantern
An occasion for dispensing confetti doesn't present itself too often, so why not do it with appropriate aplomb? As if we didn't already know that black-and-white, bold graphics, and a dash of sparkle are a surefire route to a memorably festive visual statement, along come these confetti poppers—a DIY project — Continue reading Talk about a gem of a DIY project! This shimmering, beautifully faceted holiday ornament, which we discovered on the unfailingly industrious site, A Beautiful Mess, was fashioned at home with the help of standard craft staples: balsa wood, X-Acto knife, gold paint—and, yes, a dose of motivation which (we admit) — Continue reading We were immediately struck by the moody prettiness of this Christmas tree, only to find that we were fooled by a terrific home-made optical illusion—and the most artful no-fuss tree we've seen in a while.
I am a meal planner. I refuse to go grocery shopping without my week's worth of meals planned out and list made. (It's either that or wander aimlessly around the grocery store for two hours and then make ten more trips back during the week to get things I forgot.) Once I get the groceries unloaded, I usually forget what I planned for, so I put together this super easy wipe-off menu board to keep track of what's for dinner each night! Wipe-Off Menu Board Tutorial
DIY Wall Art / Pretty :)
DIY Wall Art / From Artwallonline
Diy and Crafts / repurposing bottles- so cute and simple!
DIY Wall Art / great (easy) Art II
DIY Wall Art / DIY Hanging picture frame vases. Frames.
Traded in all your CDs for MP3s? Rather than tossing those plastic covers in the trash, where they'll likely linger for decades — most aren't recyclable — mount them on your walls with this resourceful project from Photojojo! Insanely Great Photo Projects and DIY Ideas ($21.99; Potter Craft). You'll need little more than 20 CD cases, a computer, Velcro tape, and, of course, a favorite photo. STEP 1: On a computer, open a high-resolution photo of your choice in an image-editing program like Adobe Photoshop.
DIY Wall Art - Clear CD Case Art Project
Diy and Crafts / Strictly Simple Style: Rushing into Spring
$5 DIY Artwork
Clip It Display a rotating exhibit of your favorite postcards, prints, and pictures. To make it, you'll need a piece of medium-density fiberboard (MDF) and an oversize white crafts clothespin (both are available at crafts stores). Paint the MDF and clothespin white. When the paint is dry, attach a picture hanger to the back of the MDF and use wood glue to secure the clothespin to the front.
Diy and Crafts / dip old utensils into paint-love this idea for thrift store finds!
Diy and Crafts / flower ball
Diy and Crafts / Love this centerpiece from @Shanty 2 Chic!
Framed Objects
Big list of DIY wall art ideas
Diy and Crafts / DIY: Mini Doily-print Bowl by Sodapop Design - Home - Creature Comforts - daily
Diy and Crafts / Got to try this! Of course I will have to eat a lot of cupcakes to get enough liners....
Diy and Crafts / Simple Paint Updates for Everyday Home Accessories
Tutorial Library