Makeup
The Best Makeup for Your Eye Color | Makeup.com. Not sure which shadow will pop those baby blues or which liner will best bring out your gorgeous green?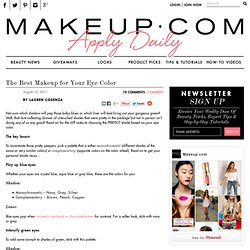 Well, that dust-collecting drawer of untouched shades that were pretty in the package but not in person isn't doing any of us any good! Read on for the cliff notes to choosing the PERFECT shade based on your eye color. The key lesson To accentuate those pretty peepers, pick a palette that is either monochromatic (different shades of the same or very similar colors) or complementary (opposite colors on the color wheel). Makeup 101- Basic Makeup Techniques & Makeup Geek - Tips, Video Tutorials, Reviews, & More! - StumbleUpon. How to Make Your Own Beauty Products from Scratch - Health - GOOD - StumbleUpon. Let's keep things simple this week.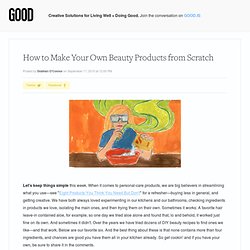 When it comes to personal-care products, we are big believers in streamlining what you use—see "Eight Products You Think You Need But Don't" for a refresher—buying less in general, and getting creative. We have both always loved experimenting in our kitchens and our bathrooms, checking ingredients in products we love, isolating the main ones, and then trying them on their own.
How to: pore strips - StumbleUpon. You know those Biore pore strips you buy at the drugstore for about $12 a pop? Yeah, those. Today I'm going to teach you how to make your own homemade pore strips. Why?
---