Village Ideas
Getting Along with Your College Roommate. She was a nightmare!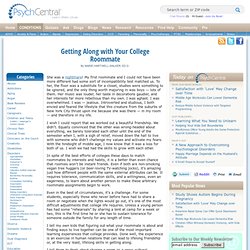 My first roommate and I could not have been more different had some sort of incompatibility test matched us. To her, the floor was a substitute for a closet, studies were something to be ignored, and the only thing worth majoring in was boys — lots of them. Her music was louder, her taste in decorations gaudier, and her interests far more rebellious than my own. I was aghast. I was overwhelmed. Commercial dishwashers in the home-long idosyncratic post - General Chowhounding Topics. I've never seen a posting on this, so wanted to share my experience with chowhounds.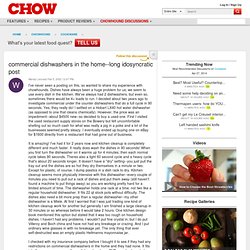 Dishes have always been a huge problem for us; we seem to use every dish in the kitchen. We've always had 2 dishwashers, but even so, sometimes there would be 4+ loads to run. The Rupert Coalition - Rupert Residential Community Services Inc. Dedication Only two days before Christmas, December 23, 1989, 10 men and women lost their lives in a fire at the single-room occupancy rental building named the Rupert Hotel.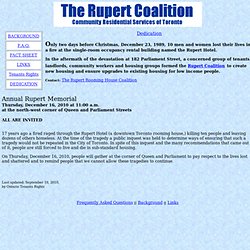 In the aftermath of the devastation at 182 Parliament Street, a concerned group of tenants, landlords, community workers and housing groups formed the Rupert Coalition to create new housing and ensure upgrades to existing housing for low income people. Contact: The Rupert Rooming House Coalition Annual Rupert Memorial Thursday, December 16, 2010 at 11:00 a.m. at the north-west corner of Queen and Parliament Streets. Kelowna Wedding Planner « Jessica Zais Photography. Man oh man was I excited to collaborate on this project with Stage Right Etc!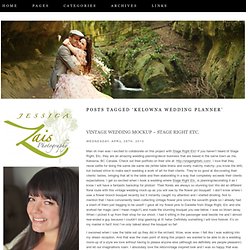 If you haven't heard of Stage Right, Etc, they are an amazing wedding planning/decor business that are based in the same town as me, Kelowna, BC Canada. Check out their portfolio on their site at: Affordable Housing Design Advisor. Dwelling Types Overview Although the single-family house, freestanding on its own lot, is often characterized as the typical American dwelling, as a nation we have always lived in a diversity of dwelling types.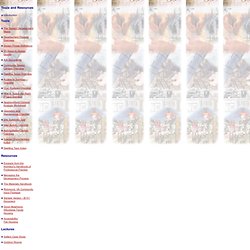 Even in small communities, there may be a mixture of different dwelling types, including freestanding houses, attached houses, units above one another as "walk-ups" or flats and housing over stores. Amos Hall Floor Plan. Smart Communities Network: Green Buildings: Affordable Housing. Green Buildings -- Affordable Housing In addition to being less harmful to the environment, creating healthy indoor air quality, and utilizing renewable resources, green building technologies can be affordable.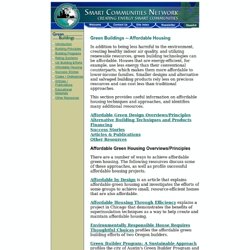 Houses that are energy-efficient, for example, use less energy than their conventional counterparts, which makes them more affordable to lower-income families. Smart Communities Network: Green Buildings Articles/Publications. Articles/Publications Northwest Report January 1996 Shared living communities can alleviate urban sprawl and provide social, economic, and environmental benefits.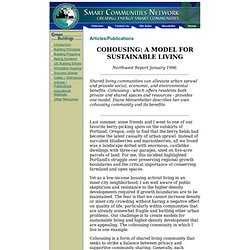 Cohousing - which offers residents both private and shared spaces and resources - provides one model. Diane Meisenhelter describes her own cohousing community and its benefits. Pub-rev. Advantages and Disadvantages of Co-housing for Familes - Co-Housing. The following information was obtained via survey and personal interview with residents of Great Oak Co-Housing Community in Ann Arbor Michigan, May 15, 2010.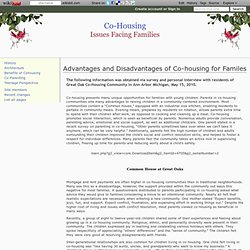 Co-housing presents many unique opportunities for families with young children. Parents in co-housing communities site many advantages to raising children in a community-centered environment. Most communities contain a "Common House," equipped with an industrial size kitchen, enabling residents to partake in community meals. Evening meals, prepared by residents on rotation, allows parents extra time to spend with their children after work, as opposed to cooking and cleaning up a meal. Co-housing promotes social interaction, which is seen as beneficial by parents. Winners | Curry Stone Design Prize. Nesting Houses: Whole Prefab Home Housed in a Huge Box. Ever step outside, see how hot (or cold) it is, and wish you were still indoors?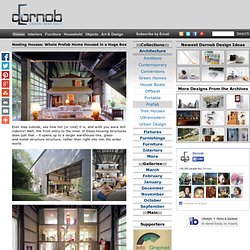 Well, the front entry to the inner of these housing structures does just that – it opens up to a larger warehouse-like, glass-and-metal structure structure, rather than right into into the wider world. Across the way? No neighbors, per se. Instead: a series of nine shipping containers form a stark contrast to the traditional white siding, brown shingles and standard-sized windows of the core house. Homes Inside Houses: Pictures of a Multi-Home Mega-House. Blending big and small, modern forms and cultural norms, this design project is part multifamily housing complex and part meta-home – a series of unique living spaces packed inside of a larger structure made to look like a conventional A-frame house on the outside (albeit made of creative and unconventional materials), and a cutting-edge converted industrial loft space within.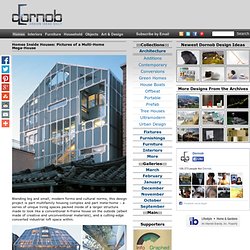 HyoMan Kim of IROJE KHM Architects has created something almost like a self-contained mini-city, complete with outdoor passages, horizontal gardens and vertical circulation spaces. These serve as places of interaction for residents who each individually occupy a part inside of the whole. Alternating layers of transparent and opaque material allow selective views and opportunities to look out while still inside, balanced with maintaining security and privacy within each unit.
---