Tips
meaning - "Covered with" vs "covered in" vs "covered by"
The meanings are very similar, and these three prepositions can be used almost interchangeably, particularly in the context of your "The mountain is covered with/in/by snow" example. But some subtle nuances may apply. When referring to a substance that sticks to another, use in or with, but not by: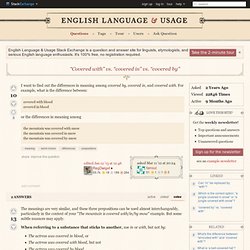 by Mark Nichol You've done it. You've finally, triumphantly, typed out "The End." Congratulations!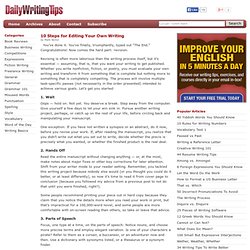 10 Steps for Editing Your Own Writing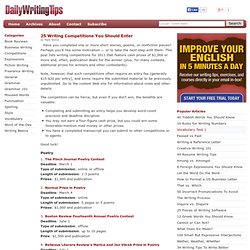 25 Writing Competitions You Should Enter
by Mark Nichol Have you completed one or more short stories, poems, or nonfiction pieces? Perhaps you'd like some motivation — or to take the next step with them.
TheMakingOfALiteraryTranslator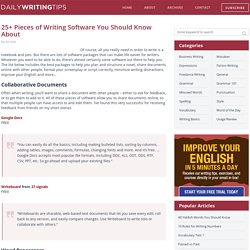 25+ Pieces of Writing Software You Should Know About
by Ali Hale Of course, all you really need in order to write is a notebook and pen. But there are lots of software packages that can make life easier for writers. Whatever you want to be able to do, there's almost certainly some software out there to help you.
by Mark Nichol Abbreviations deriving from Latin terms and phrases can be troublesome for us non-Latin speakers. Here's the long and short of the most common short forms adopted into English from the classical language: 1. e.g. This abbreviation of exempli gratia ("for example") is not only often left bereft of its periods (or styled eg.), it's also frequently confused for a similar abbreviation you'll find below.
10 Latin Abbreviations You Might Be Using Incorrectly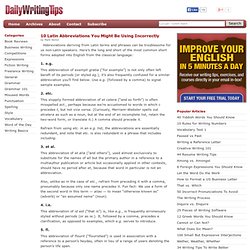 Get Your Eagle Eye On: 10 Tips for Proofreading Your Own Work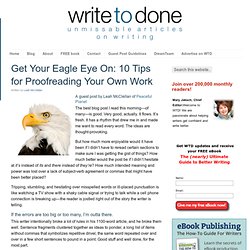 A guest post by Leah McClellan of Peaceful Planet The best blog post I read this morning—of many—is good. Very good, actually. It flows. It's fresh.
As a blogger, I need to write a lot of articles. Fast. Not only do I need a flow of good ideas, I also need time to turn the initial ideas into useful blog posts. It's sometimes a struggle. Do you want to write faster – without losing quality?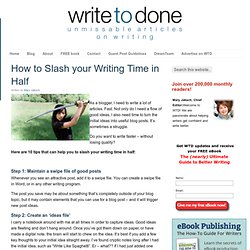 How to Slash your Writing Time in Half
How to Nurture Your Creativity
Novel Ideas
6 Key Steps To Finding Your Passion As A Writer
A guest post by Barrie Davenport of Live Bold and Bloom. By definition, writers are passionate creatures. Your days are spent huddled over a keyboard, tap tap tapping out portions of your soul and nuggets of your imagination. If you don't truly love writing, it is darn near impossible to be a good writer. As writers, we are among the fortunate few who are actually doing something we love.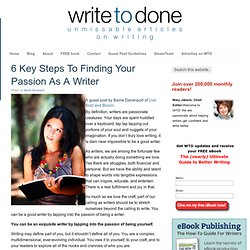 The 10 Commandments Of Resume Writing - Yahoo! Finance
15 Professional Details that Can Land You More Work
Why Having a Pen Name Can Be a Risky Move