Animals
unnamed pearl
Birdwatchers are rushing to Avebury, near Marlborough, Wiltshire to hopefully catch a glimpse of a rare albino jackdaw.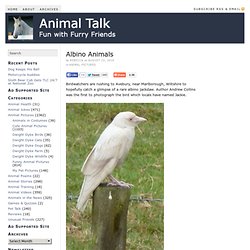 White killer whale 1st ever filmed in wild - Technology & Science
A team of Russian marine scientists is sailing the North Pacific on a quest to find Iceberg, the world's only known all-white male killer whale. Researchers with the Far East Russia Orca Project (FEROP) revealed on Monday that they succeeded in filming the elusive creature in 2010, but held back on publicizing the rare find until now, as they wanted to study him further. They have been looking for Iceberg ever since. The possibly albino mammal is believed to be the first one ever observed in the wild.