Middle Easter
Get flash to fully experience Pearltrees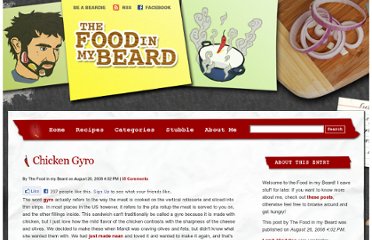 The word gyro actually refers to the way the meat is cooked on the vertical rotisserie and sliced into thin strips. In most places in the US however, it refers to the pita rollup the meat is served to you on, and the other fillings inside. This sandwich can't traditionally be called a gyro because it is made with chicken, but I just love how the mild flavor of the chicken contrasts with the sharpness of the cheese and olives. We decided to make these when Mandi was craving olives and feta, but didn't know what she wanted them with. We had just made naan and loved it and wanted to make it again, and that's when I realized the naan is very similar to the Greek flatbread the gyro is served on.
Alright everyone, get ready for a monumental news flash – I now have a new favorite dinner. It is these chicken gyros. While this title was previously held by a simple cheesy pasta dish, the gyros now reign supreme. To prove it, I will say this – I made these twice in the last week. I almost made them again this week (and I probably will make them again next week)…and I almost never repeat recipes within the same month, because I just have too many that I still want to try. The first night I made them, I made them with store-bought pitas and they were fabulous.
I was so looking forward to pigging out at my favorite Mediterranean cafe but they were closed for the holidays. So I decided to make my own falafels, baked not fried, as part of my healthier 2009 eating initiative. I thought they came out pretty good. They're different than the ones I've gotten at restaurants, probably because 1.