WRITING STUFF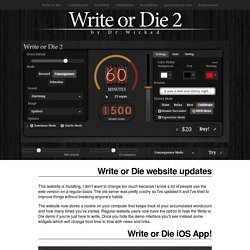 Introducing Write or Die 2 Write or Die is an application for Windows, Mac and Linux which aims to eliminate writer's block by providing consequences for procrastination and, new to this version, rewards for accomplishment. Historically Write or Die has specialized in being the stick in the carrot/stick motivation continuum, but it's time to experiment with encouragement. Please play with the user interface, check out what new options are available, then read this quick intro. I hope you enjoy the new features. Visual Stimulus
Write or Die by Dr Wicked
one word. so little time.
The Novel Generator
Welcome
Novel Writing Tips & Fundamentals - Storyfix.com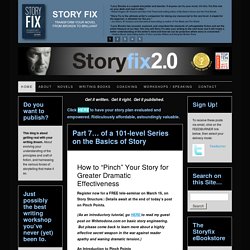 If you aren't familiar with Art Holcomb, use the search function (right column) and be amazed. He's a regular contributor to Storyfix, with some of the best content here or anywhere else. The advice business for writers can be a minefield. Some things work, some don't. But we always seek to give writers bits of knowledge that will mean something when the moment comes and they need inspiration the most. I'm no different.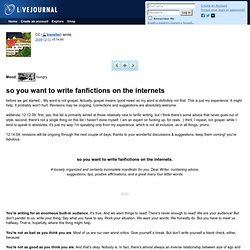 before we get started... My word is not gospel. Actually, gospel means 'good news' so my word is definitely not that. This is just my experience. It might help.
So You Want To Write Fanfictions on the Internet..
I Love Reading And Writing! (Kurt Vonnegut's 8 Rules For Writing
Updated Mar. 18th 2009 The following is a self-discovered list of elements contained in an excellent story: An interesting and intriguing main character, an individual with a unique past that has made him who he is at the time of the story. Be sure to explain the important aspects of this backstory where appropriate. This main character must have a story goal: a mission to accomplish, a mystery to solve, his past to reconcile, a villain to overthrow, a treasure to find, a person to save, etc.
Elements of Story - UPDATED by =illuminara
The Single Most Powerful Writing Tool You'll Ever See That Fits
And now for the continuing run of yesterday's milestone post: A bold claim, that. But I challenge you to read this stuff — which, when printed, really does fit onto one page — and then argue that you've seen a more empowering checklist of must-haves gathered in such a condensed space.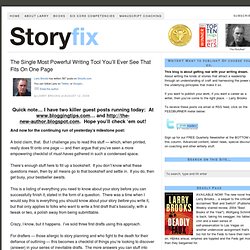 Mechanics of Writing + Writing TIps
Okay, yall, I need more fandom-specific resources, but tell me what you think. Also, if you have any suggestions/complaints about the layout or anything, let me know. Mechanics of Writing / Writing Tips