Quilting
Mod-Mood Quilt 6 ~ Get Your Curve On | daintytime ~ Sherri Lynn Wood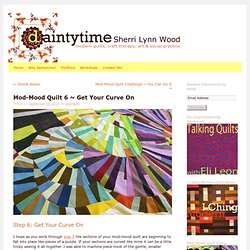 Step 6: Get Your Curve On I hope as you work through step 5 the sections of your mod-mood quilt are beginning to fall into place like pieces of a puzzle. If your sections are curved like mine it can be a little tricky sewing it all together.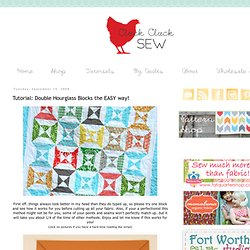 First off…things always look better in my head than they do typed up, so please try one block and see how it works for you before cutting up all your fabric. Also, if your a perfectionist this method might not be for you, some of your points and seams won't perfectly match up…but it will take you about 1/4 of the time of other methods. Enjoy and let me know if this works for you!
Tutorial: Double Hourglass Blocks the EASY way!
I knew that simply cutting up your fabric wouldn't keep y'all at bay for too long. Are you ready to make some blocks?? Over the next four posts, I am going to show different variations on the wonky log cabin block: The "standard" wonky log cabin blockWonky quarter log cabin blockWonky squares-in-squaresWonky "bento box"-like blockIf you want to try out all four types but aren't sure yet which you want to use in your quilt, you may want to make one of each with some scrap fabrics. Of course, you might want to use all 4 types in your quilt, in which case you can use your "real" fabrics.
Quilt Dad: Quilt Along | 3. Wonky Log Cabin Block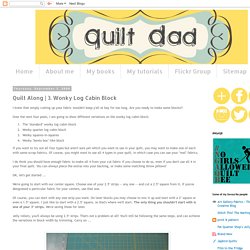 Tutorial: A Baby Clothes Quilt from start to finish
Step 1: Determine what size quilt you are going to make. Smaller quilts are faster, but a twin size will grow with them. I picked a twin size for mine because Aubrey didn't have a larger sized quilt and I had a lot of clothes to choose from. I had clothes I ended up not using. Check out this quilt size guide to get you started.