Kid's Crafts
Easy Kite Making Instructions for Preschool Kids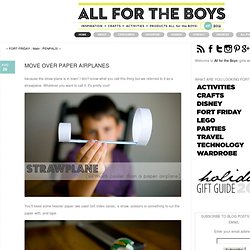 because the straw plane is in town! I don't know what you call this thing but we referred to it as a strawplane. Whatever you want to call it, it's pretty cool! You'll need some heavier paper (we used 3x5 index cards), a straw, scissors or something to cut the paper with, and tape. You will need to cut 3 pieces of paper about 1" wide and 5" long. Tape two of the pieces together "long ways" and then tape to form a circle.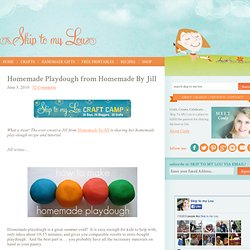 What a treat! The ever creative Jill from Homemade by Jill is sharing her homemade play-dough recipe and tutorial. Jill writes… Homemade playdough is a great summer craft!
Homemade Playdough Recipe
If your kids like playing with dough like Play-Doh or molding clay, they will love making sculptures with homemade wood dough. Homemade wood dough dries to a wood finish and can be sanded down smooth with sandpaper. You can also paint or stain wood dough sculptures. To paint them, you can use any of the homemade paint recipes I have at the bottom of this article. To stain them, you can make a stain by adding 6 drops of food coloring to 1 tablespoon of water.
Homemade playdough always brings back great memories for us. In winter, our preschool teacher would often treat us to a fresh batch of homemade playdough. Here's a simple recipe from While She Naps...Ingredients: 3 cups flour, sifted1 1/2 cup salt6 teaspoons cream of tartar3 1/4 cup water3 tablespoons oilfood coloring (she uses the gel) Whisk all the dry ingredients together in a large pot until no lumps remain. Whisk in the wet ingredients (except for the food coloring) and stir until no lumps remain.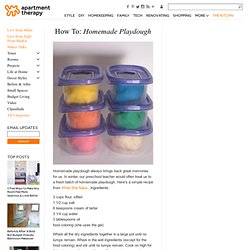 How To: Homemade Playdough
The first time I made a batch of playdough for my son I was amazed. Amazed that the recipe worked, amazed at how quick and easy it was and, mostly, amazed at how much nicer it was than the kind that comes in a can. Smooth, supple and soft, even months later.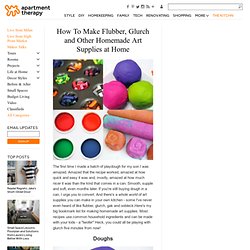 The Gamer's Alphabet: A Children's Book |
The Gamer's Alphabet is an art project undertaken by Penny Arcade forum member El Jeffe. The dedication implies he made it for some kind of young relative, who is not yet old enough to get any of these references. The cover is below, and I've posted each of the alphabet pages below. I have to wonder, will kids understand any classic franchises at all that don't stick around forever like Mario Bros? Will they even understand how to play something as rudimentary as an 8-bit game?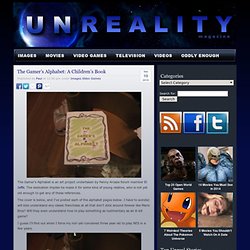 How To: Animal Art Templates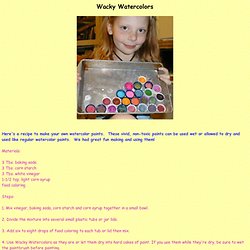 Wacky Watercolors Here's a recipe to make your own watercolor paints. These vivid, non-toxic paints can be used wet or allowed to dry and used like regular watercolor paints. We had great fun making and using them! Materials: