Hair
Triple Max Tons: EASY HOLIDAY HAIR. Side Chignon 1.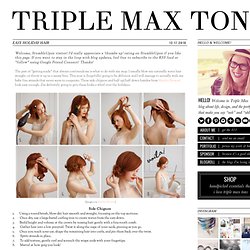 Using a round brush, blow-dry hair smooth and straight, focusing on the top sections. 2. Once dry, use a large-barrel curling iron to create waves from the ears down. 3. Perfect easy messy bun. A messy bun is a hairstyle that is not only easy but fast and looks good.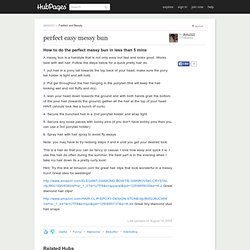 Works best with wet hair. Follow the steps below for a quick pretty hair do. 1. put hair in a pony tail towards the top back of your head, make sure the pony tail holder is tight and will hold. 2. Put gel throughout the hair hanging in the ponytail (this will keep the hair looking wet and not fluffy and dry) Korean Bun. D.I.Y. Curls // How To Rag Roll Your Hair - A Beautiful Mess - StumbleUpon. I love the look of naturally curly hair!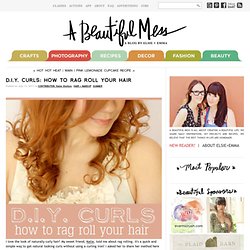 My sweet friend, Katie, told me about rag rolling. It's a quick and simple way to get natural looking curls without using a curling iron! I asked her to share her method here on A Beautiful Mess because I knew you'd be itching to learn like I was! Hair at All Women Stalk. 30 hairstyles in 30 days challenge.
10 Summer Hair Looks : whoorl. McLaughlin Designs · DIY: Double Strand Lace Headband. Braids | Braiding tutorials | Hairstyles with braides Braided hair. How To Style Maiden Braids. Last month I did a makeover story with Kelsie and had many requests for a maiden braid tutorial.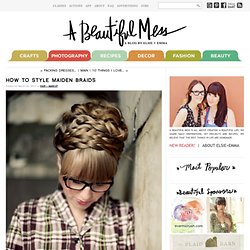 Yesterday she came in and we photographed these simple step by steps. Kelsie has extremely long and thick hair, but anyone with shoulder length or longer can do these braids (see my photo below for an example). Steps 1-2: Braid two strands on each side of a center part. Steps 3-5: Wrap braids around the crown of your head and pin in place with one pin each. Step 6: Arrange braids so that they cover the front of your head like a headband.
...love Maegan: Messy Rope Braids and Low Bun Hair Tutorial... - StumbleUpon. These little rope braids are a fun way to add a little style with your own hair, creating a sort-of headband of sorts.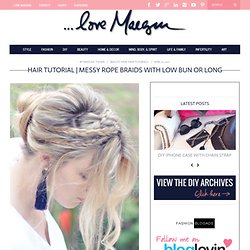 Your hair doesn't need to be extremely long, but you do need some length to cover the top of your head with. If you have layers, you could instead create a tiny French Braid where the hair is shorter and closer to your head, if that makes sense. But it's a fun and cute braided hair style that's just a little different. How To Style Maiden Braids. The first lime...: DIY: Waterfall braid. How to Create a Bohemian Fishtail Braid. Obsession : Fishtail braids. Beauty Articles: Braids.
---