Frugal Living
bRTcL.jpg (JPEG Image, 740 × 2210 pixels) - Scaled (29. Holder for Charging Cell Phone (made from lotion bottle) My husband and I both have cell phones.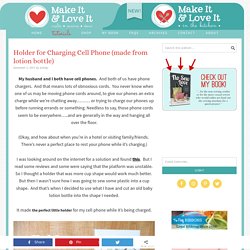 And both of us have phone chargers. And that means lots of obnoxious cords. You never know when one of us may be moving phone cords around, to give our phones an extra charge while we're chatting away……… or trying to charge our phones up before running errands or something. Needless to say, those phone cords seem to be everywhere…..and are generally in the way and hanging all over the floor. (Okay, and how about when you're in a hotel or visiting family/friends. DIY Clean eyes!
Eye make-up remover is so darn expensive!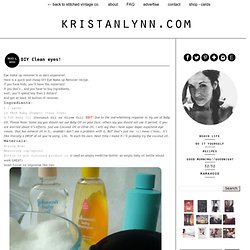 Here is a quick and cheap DIY Eye Make-up Remover recipe. If you have kids, you'll have the materials! If you don't… and you have to buy ingredients, well, you'll spend less than 3 dollars! When is the Best Time to Buy Almost Everything? This post is from GRS staff writer April Dykman.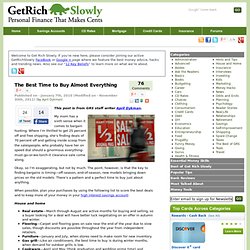 My mom has a sixth sense when it comes to bargain hunting. Where I'm thrilled to get 25 percent off and free shipping, she's finding deals of 70 percent off and getting inside scoop from the salespeople, who probably have her on speed dial should a ginormous everything-must-go-or-we-torch-it clearance sale come along. Okay, so I'm exaggerating, but not by much. The point, however, is that the key to finding bargains is timing—off-season, end-of-season, new models bringing down prices on the old models. There's a pattern and a perfect time to buy just about anything. Visual Tutorial | A Natural, Non-Toxic Way to Polish Silver : Pancakes and French Fries.
---