Crafty Things
Do-it-Yourself DIY String Wedding Lanterns Yarn Chandeliers. Jessica of Wednesday Inc shows us how to make those gorgeous twine chandeliers from the inspiration shoot she shared with us this morning.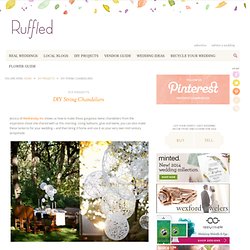 Using balloons, glue and twine, you can also make these lanterns for your wedding – and then bring it home and use it as your very own mid century lampshade. What you will need are: balloons, glue, yarn, tray for glue, corn starch 1/2 cup of Corn starch, 1/4 cup of Warm water, clear fast drying spray paint, hanging lamp cord or fishing line (depending on your desired final product), and a lighting kit if you're looking for a fully functional lantern. Jessica recommends using a sharpie to mark on the inflated balloon how much room you need to leave for the lighting cord. Unique Gifts & Unusual Gift Ideas.
Chalkboard Wall Calendar - Martha Stewart Home & Garden. Thanks to paint that dries into a chalkboard finish, your board can be whatever size you desire and placed wherever you like.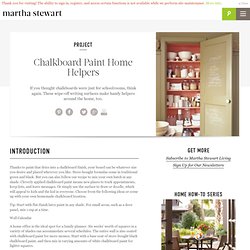 Store-bought formulas come in traditional green and black. But you can also follow our recipe to mix your own batch in any shade. Cleverly applied chalkboard paint means new places to track appointments, keep lists, and leave messages. Or simply use the surface to draw or doodle, which will appeal to kids and the kid in everyone. Tutorials.
Mason Jars crafts. ArtFire.com - Premier handmade marketplace to buy & sell handmade crafts, supplies, vintage and art. 10 Beautiful Fabric Flower Tutorials. It is spring!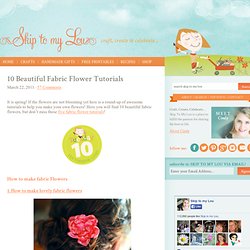 If the flowers are not blooming yet here is a round-up of awesome tutorials to help you make your own flowers! Here you will find 10 beautiful fabric flowers, but don't miss these five fabric flower tutorials! 1. How to make lovely fabric flowers. Live Green - Ditch the Traditional Planter and Hang Your Plants Like Artwork! Turn your walls into living pieces of art with these plants in a pocket!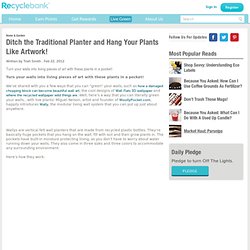 We've shared with you a few ways that you can "green" your walls, such as how a damaged chopping block can become beautiful wall art, the cool designs of Wall Flats 3D wallpaper and where the recycled wallpaper wild things are. Well, here's a way that you can literally green your walls…with live plants! This to That (Glue Advice)
Inspiration and original craft ideas for weddings, parties, children, such as home decoration, gifts, cards, personal accessories and templates.
---