Ingenuity
Heike Weber Installations. 11 Pencil Vs. Camera Images. I Have a (Puzzling) Dream. Ric stultz 2012. Rashad Alakbarov Paints with Shadows and Light. This is kind of flying all over the internet right now, but I couldn't resist sharing.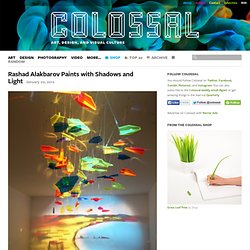 Artist Rashad Alakbarov from Azerbaijan uses suspended translucent objects and other found materials to create light and shadow paintings on walls. The jaw-dropping light painting above, made with an array of colored airplanes is currently on view at the Fly to Baku exhibition at De Pury Gallery in London through January 29th. (via art wednesday, fasels suppe) Before I Die. What is important to you 2011 After Candy Chang lost someone she loved, she went through a long period of grief and depression.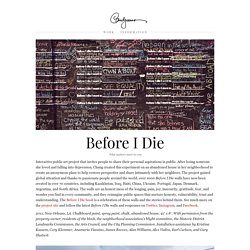 With time she felt gratitude for the time they had together and eventually she found clarity in her life by contemplating death so much. But she struggled to maintain this perspective. It's easy to get caught up in the day-to-day and forget what really matters to you. She wanted a daily reminder and she wanted to know what was important to the people around her. Tall Painting. Lorenzo Duran - Designaside.com.
L'artista spagnolo Lorenzo Duran si avvale delle foglie come tela per le sue incisioni.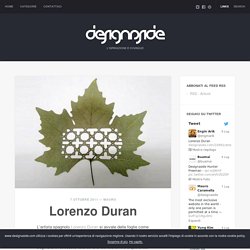 Dopo il lavaggio e l'essiccazione, rimuove con precisione chirurgica ed estrema cura i segmenti in eccesso, usando una tecnica simile a quella del tradizionale paper cutting. Quest'ultimo passo è ovviamente il più difficile vista la fragilità del materiale scelto, il risultatò di questo processo è una serie di affascinanti disegni geometrici incredibilmente belli e dilicati. Grazie a Francesca per il suggerimento. via: illusion.scene360.com.
---