Music
▶ "OI MY SIZE" ITCH IT UP SELECTA !!!! JUNGLETEK MIX by MANDIDEXTROUS JUNGLETEKNO
MANDIDEXTROUS JUNGLETEKNO's sounds on SoundCloud
Capdown [UK]
Capdown were a good skacore band from Milton Keynes, United Kingdom. Their first 2 albums "Civil Disobedients" & "Pound For The Sound" shoked me with their skacore with elements dub, punk, hc. Offensively, but the third album, which I waited so long, was not such as previous albums. In half a year after this release they disbanded. Releases:1999 - Time For Change EP2000 - Capdown & Link 80 - Split EP2000 - Civil Disobedients2001 - Christmas Fisting EP2001 - Pound For The Sound2003 - Act Your Rage (single)2003 - New Revolutionaries EP2005 - Live In M.K (Live)2006 - Home Is Where The Start Is (single)2006 - Keeping Up Appearances (single)2006 - Lockup Session ()2007 - Surviving The Death Of A Genre (single)2007 - Wind Up Toys2007 - Wind Up Toys (bonus) (Live EP)2008 - No Matter What (promo CDS)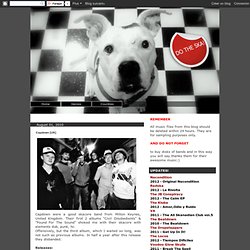 ‪Kings Of Convenience - Misread‬‏
Songs that make you feel better | tylr | 8tracks
Amazing Street drummer - One of the best ive seen.
Captain SKA - Liar Liar
The most amazing beat box video ever!!! 4 minutes hip hop history by Eklips...
Er7 Radio
archives
inudge.net - Nudge
Podcasts
Watch
Dobrodošla nazaj / T-Mobile / nenavadno presenečenje na letališču | Video | GenSpot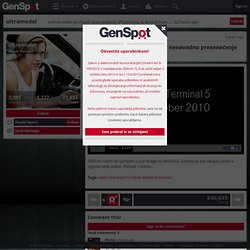 Obvestilo uporabnikom! Zakon o elektronskih komunikacijah (Uradni list št. 109/2012; v nadaljevanju ZEKom-1), ki je začel veljati v začetku leta 2013 in bo s 15.6.2013 prinesel nova pravila glede uporabe piškotkov in podobnih tehnologij za shranjevanje informacij ali dostop do informacij, shranjenih na računalniku ali mobilni napravi uporabnika. Naše spletno mesto uporablja piškotke, zato na tej povezavi prosimo preberite, kaj in katere piškotke (cookies) uporabljamo.
Shuffler
Cover Song Archive
Gnawa music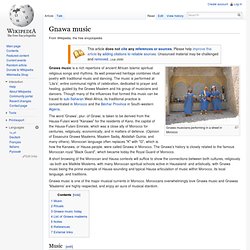 Gnawa musicians performing in a street in Morocco Gnawa music is a rich repertoire of ancient African Islamic spiritual religious songs and rhythms. Its well preserved heritage combines ritual poetry with traditional music and dancing. The music is performed at 'Lila's', entire communal nights of celebration, dedicated to prayer and healing, guided by the Gnawa Maalem and his group of musicians and dancers. Though many of the influences that formed this music can be traced to sub-Saharan West-Africa, its traditional practice is concentrated in Morocco and the Béchar Province in South-western Algeria.
36 songs that use the same 4 chords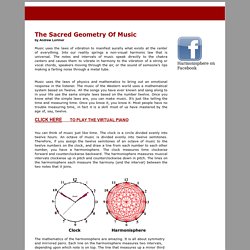 The Sacred Geometry Of Music
The Sacred Geometry Of Music by Andrew Lorimer Music uses the laws of vibration to manifest aurally what exists at the center of everything. Into our reality springs a non-visual harmonic law that is universal. The notes and intervals of music speak directly to the chakra centers and causes them to vibrate in harmony to the vibration of a string or vocal chords, speakers moving through the air, or the sound of someone's lips making a farting noise through a metal tube. Music uses the laws of physics and mathematics to bring out an emotional response in the listener. The music of the Western world uses a mathematical system based on Twelve.
Session Archives: Sorted Alphabetically
Jagos on Passion Radio