Desserts
Limoncello Cookies | in sock monkey slippers. A couple of years ago with a house full of Limoncello and Limoncino (an Italian lemon liquor) that my in-laws brought back from Italy, the Limoncello Cookie was born.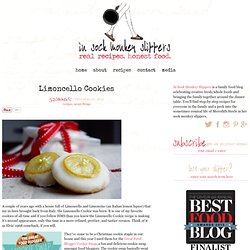 It is one of my favorite cookies of all time and if you follow ISMS than you know the Limoncello Cookie recipe is making it's second appearance, only this time in a more refined, prettier, and tastier version. Think of it as Elvis' 1968 comeback, if you will. They've come to be a Christmas cookie staple in our house and this year I used them for the Great Food Blogger Cookie Swap, a fun and delicious cookie swap amongst food bloggers.
The cookie swap basically went like this: I signed up, was given three names of food bloggers with addresses, baked 36 cookies (12 for each participant), and received 36 cookies back. Lemon Thins. Lemon Sherbet Recipe. Lemon Sherbet: In a measuring cup, stir together the lemon juice, lemon zest, cream, milk, and sugar.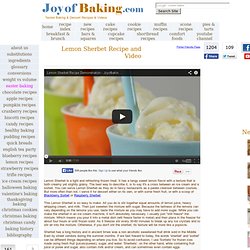 Taste and add more sugar if needed. There are two ways you can make this Sherbet. Method One: If you do not have an ice cream machine you can 'still freeze' the sherbet. Christmas Tree Meringue Cookies. I'm all over the place with desserts lately, aren't I?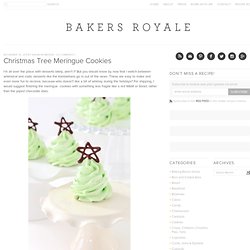 But you should know by now that I switch between whimsical and rustic desserts like the Kardashians go in out of the news. These are easy to make and even more fun to receive, because-who doesn't like a bit of whimsy during the holidays? For shipping, I would suggest finishing the meringue cookies with something less fragile like a red M&M or Sixlet, rather than the piped chocolate stars. Lime meltaway cookies recipe. Recipe: lime meltaways It's a good thing we didn't end up settling in the Bay Area, because I would have died a long time ago from eating way too much of the incredible food here – and I'm only talking about the Chinese food.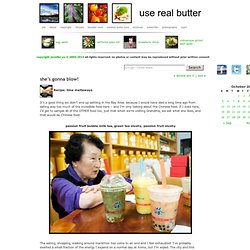 If I lived here, I'd get to sample all of the OTHER food too, just that when we're visiting Grandma, we eat what she likes, and that would be Chinese food. Pineapple upside-down cake recipe. Homemade Cinna Minis. It may be odd that some of my most vivid, and favorite, memories of childhood involve skipping school.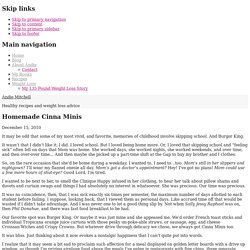 And Burger King. It wasn't that I didn't like it; I did. I loved school.
---