Garden
ecocirclegarden.jpg (1753×1240)
America's Gardens Are Warmer in 2012 - National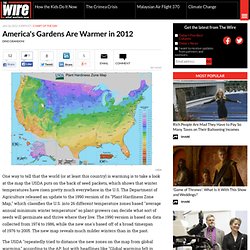 One way to tell that the world (or at least this country) is warming is to take a look at the map the USDA puts on the back of seed packets, which shows that winter temperatures have risen pretty much everywhere in the U.S. The Department of Agriculture released an update to the 1990 version of its "Plant Hardiness Zone Map," which classifies the U.S. into 26 different temperature zones based "average annual minimum winter temperature" so plant growers can decide what sort of seeds will germinate and thrive where they live. The 1990 version is based on data collected from 1974 to 1986, while the new one's based off of a broad timespan of 1976 to 2005. The new map reveals much milder winters than in the past.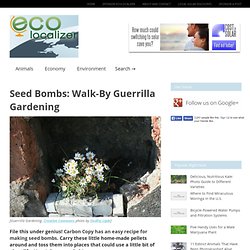 Seed Bombs: Walk-By Guerrilla Gardening : EcoLocalizer - StumbleUpon
Localization Published on December 23rd, 2008 | by Becky Striepe [Guerrilla Gardening.
Gardening - Advice: Pest and Disease Identifier
I got the idea to make these thumb controlled pots from the pottery ones I've seen at Historic Williamsburg.
Cool Thumb-controlled Watering Pot Made With Recycled Materials : Fun In The Making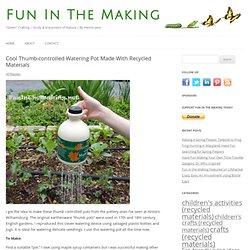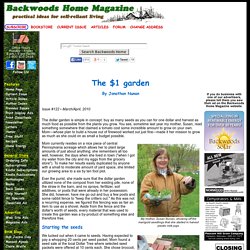 The dollar garden is simple in concept: buy as many seeds as you can for one dollar and harvest as much food as possible from the plants you grow. You see, sometime last year my mother, Susan, read something somewhere that claimed a tomato cost some incredible amount to grow on your own. Mom—whose plan to build a house out of firewood worked out just fine—made it her mission to grow as much as she could on as small a budget possible.