Python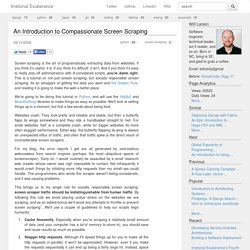 Screen scraping is the art of programatically extracting data from websites. If you think it's useful: it is .
An Introduction to Compassionate Screen Scraping
In this interactive tutorial, we'll cover many essential Python idioms and techniques in depth, adding immediately useful tools to your belt. There are 3 versions of this presentation: ©2006-2008, licensed under a Creative Commons Attribution/Share-Alike (BY-SA) license .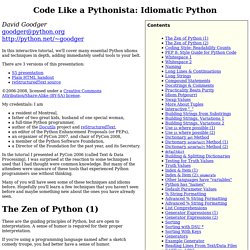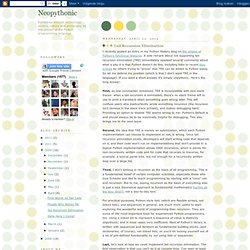 I recently posted an entry in my Python History blog on the origins of Python's functional features .
Tail Recursion Elimination
Documentation Index
Building Skills in Python — Building Skills in Python
A Programmer's Introduction to Python Legal Notice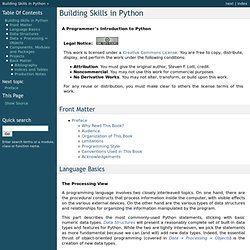 Basic Python Exercises - Google's Python Class - Google Code
ICPCWiki: Problem Resources
Quantitative Reasoning 20 Assignments
There will be weekly assignments listed here.
Python Warmup-1 sleep_in
By "structure" we mean the decisions you make concerning how your project best meets its objective. We need to consider how to best leverage Python's features to create clean, effective code. In practical terms, "structure" means making clean code whose logic and dependencies are clear as well as how the files and folders are organized in the filesystem.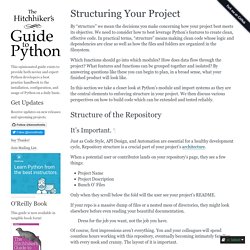 Structuring Your Project — pythonguide 0.0.1 documentation
Is there a way to access hardware directly in Python
| Did you know that?