Evaluation
Evaluation Headlines (aeaweb) on Twitter
Headlines and Resources for Evaluators - AEAWEB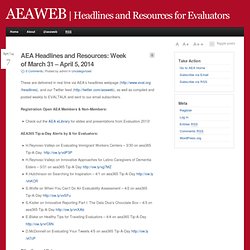 These are delivered in real time via AEA's headlines webpage (http://www.eval.org/headlines), and our Twitter feed (http://twitter.com/aeaweb), as well as compiled and posted weekly to EVALTALK and sent to our email subscribers. Registration Open AEA Members & Non-Members:
AEAWEB
American Evaluation Association - Non-Profit Organization - Fairhaven, Massachusetts
American Evaluation Association
Career Center AEA maintains both job and resume banks as a service to the evaluation profession. Use of the Career Center is free for viewing.
Career Center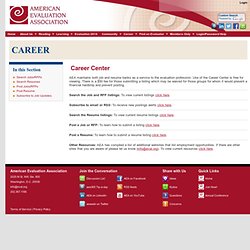 Consider subscribing to the job feed career center by sukist Aug 21
Library Documents List
Moving Beyond Bullets: Making Presentation Slides Compelling - John Nash on Vimeo
Please log in if you already have an AEA account.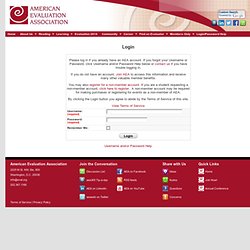 CBD056: Culturally Responsive Evaluation - Maurice Samuels & Erika Taylor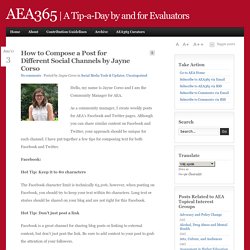 My name is Jonathan Margolin, and I am a senior researcher in the Education Program at American Institutes for Research, where I work primarily in the State and Local Evaluation Center.