Evaluation
Evaluation Headlines (aeaweb) on Twitter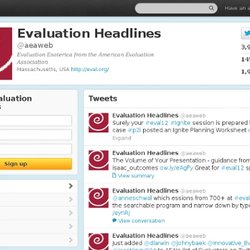 Have an account? Sign in New to Twitter? Join Today » Forgot password?
Headlines and Resources for Evaluators - AEAWEB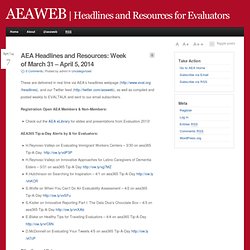 These are delivered in real time via AEA's headlines webpage (http://www.eval.org/headlines), and our Twitter feed (http://twitter.com/aeaweb), as well as compiled and posted weekly to EVALTALK and sent to our email subscribers. Registration Open AEA Members & Non-Members: Check out the AEA eLibrary for slides and presentations from Evaluation 2013! AEA365 Tip-a-Day Alerts by & for Evaluators:
AEAWEB
American Evaluation Association - Non-Profit Organization - Fairhaven, Massachusetts
American Evaluation Association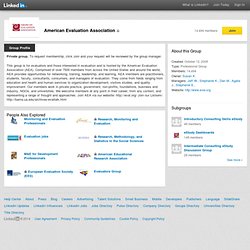 Group Profile Private group. To request membership, click Join and your request will be reviewed by the group manager.
The American Evaluation Association is an international professional association of evaluators devoted to the application and exploration of program evaluation, personnel evaluation, technology, and many other forms of evaluation. Evaluation involves assessing the strengths and weaknesses of programs, policies, personnel, products, and organizations to improve their effectiveness. AEA has approximately 7700 members representing all 50 states in the United States as well as over 60 foreign countries.
Career Center AEA maintains both job and resume banks as a service to the evaluation profession. Use of the Career Center is free for viewing.
Career Center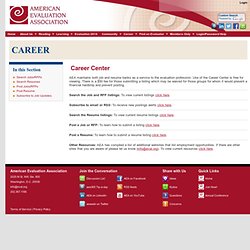 Library Documents List
Moving Beyond Bullets: Making Presentation Slides Compelling - John Nash on Vimeo
Please log in if you already have an AEA account. If you forgot your Username or Password, click Username and/or Password Help below or contact us if you have trouble logging in. If you do not have an account, Join AEA to access this information and receive many other valuable member benefits. You may also register for a non-member account. If you are a student requesting a non-member account, click here to register.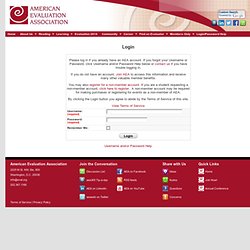 CBD056: Culturally Responsive Evaluation - Maurice Samuels & Erika Taylor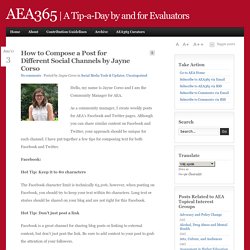 My name is Kylie Hutchinson. I am an independent evaluation consultant with Community Solutions Planning & Evaluation. In addition to evaluation consulting and capacity building, I tweet at @EvaluationMaven and co-host the monthly evaluation podcast, Adventures in Evaluation along with my colleague @JamesWCoyle. When I started out in evaluation 26 years ago, I was focused on being a good methodologist and statistician. After deciding to work primarily with NGOs I learned the importance of being a good program planner.