Evaluation
Evaluation Headlines (aeaweb) on Twitter
Headlines and Resources for Evaluators - AEAWEB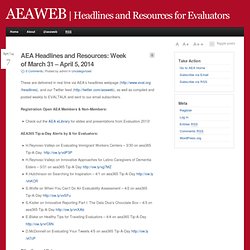 These are delivered in real time via RSS feed to our LinkedIn Group ( http://bit.ly/aealinkedin ), AEA's headlines webpage ( http://eval.org/aeaweb.asp ), and our Twitter feed ( http://twitter.com/aeaweb ), as well as compiled and posted weekly to EVALTALK and sent to our email subscribers. Registration Open AEA Members & Non-members:
AEAWEB
American Evaluation Association - Non-Profit Organization - Fairhaven, Massachusetts
American Evaluation Association
AEA maintains both job and resume banks as a service to the evaluation profession. Use of the Career Center is free for viewing. There is a $50 fee for those submitting a listing which may be waived for those groups for whom it would present a financial hardship and prevent posting.
Career Center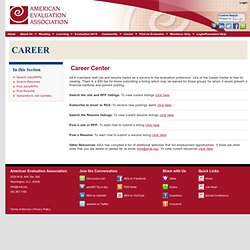 Consider subscribing to the job feed career center by sukist Aug 21
Library Documents List
Moving Beyond Bullets: Making Presentation Slides Compelling - John Nash on Vimeo
CBD056: Culturally Responsive Evaluation - Maurice Samuels & Erika Taylor
aea365
I am Susan Kistler , AEA's Executive Director and aea365's regular Saturday contributor.