Sites ressources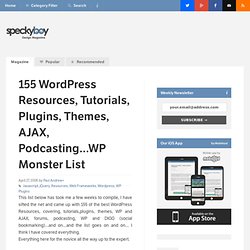 This list below has took me a few weeks to compile, I have sifted the net and came up with 155 of the best WordPress Resources, covering, tutorials,plugins, themes, WP and AJAX, forums, podcasting, WP and DIGG (social bookmarking)…and on…and the list goes on and on… I think I have covered everything.
155 Wordpress Resources, Tutorials, Plugins, Themes, AJAX, Podcasting…WP Monster List
In this post, I will show you a simple way to add a distraction-free "Reading Mode" to your blog. You can see the end result on this Reading Mode demo site (Click the highlighted "Reading Mode" link). The purpose of adding a feature like this is to enable a visitor to remove all the clutter of your site, and focus solely on the post itself.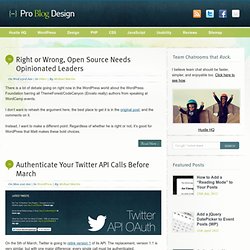 WordPress
Wordpress Spirit
CatsWhoCode.com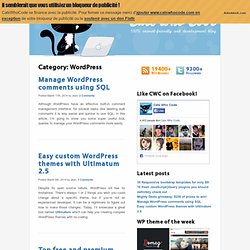 WordPress is my favorite tool for building blogs and websites. In this article, I have compiled the most useful resources for WordPress developers I came across in the past 3 years. Comments are a very important aspect of a blog because it is where the readers interact with the blogger. In today's article, I'm showing you lots of WordPress snippets, hacks and tips to enhance your blog comments section. Social networks are very important on the internet and can bring tons of traffic to your website.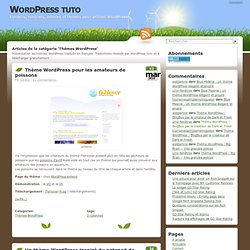 Voici donc un bien joli thème avec en particulier un pied « toujours visible » sur le thème du gazon. Ce thème serait d'ailleurs pas mal pour rafraichir cet horrible site sur les tondeuses et la pelouse. Remarquez aussi les gentils petits papillons qui ornent les titres des articles… Page du thème : chez Extend .
Nenuno creative
Web designers and developers are getting an increasing number of requests from clients for custom theme development, and a growing number of designers are also building their own themes to distribute for free or to sell as premium themes. With all of the WordPress development that is going on, there is a need for an organized collection of resources to educate, inspire and equip developers to improve the quality and efficiency of their work. This post provides all kinds of WordPress-related resources to do just that. 1.
WordPress Developer's Toolbox - Smashing WordPress