Project Based Learning
An Inside Look At How Project-Based Learning Actually Works
Project-based learning is one of the most popular terms in education innovation today. We talk about PBL all the time and how it, combined with flipped classrooms, can basically change the way education works. It's an exciting time to be sure. But I love to actually see how this kinda stuff works in real life.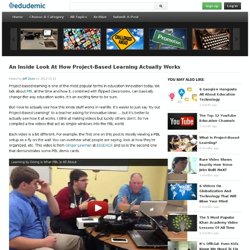 Internet Sites Supporting Project Based Teaching and Learning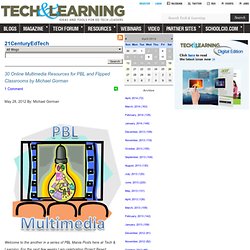 1 Comment May 28, 2012 By: Michael Gorman May 28
Project Based Learning Lesson Plans | Best Kids Educational Websites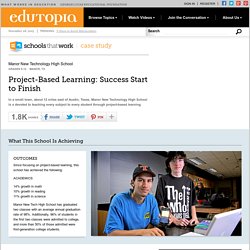 For this installment of Schools That Work, we chose Manor New Technology High School, a public high school that is part of the New Tech Network of schools. Located just outside of Austin in Manor, Texas, it is an entirely project-based learning school that has consistently achieved outstanding results since opening. We followed a project there for three weeks to find out what makes their model so effective. By Mariko Nobori
Rubrics are a beast. Grrrrrrr! They are time-consuming to construct, challenging to write and sometimes hard to use effectively. They are everywhere. There are rubrics all over the web, plus tools to create them, and as educators, it can overwhelm us. Rubrics are driven by reforms, from standards-based grading to assessment for learning.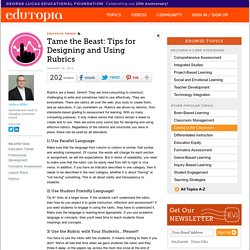 Tame the Beast: Tips for Designing and Using Rubrics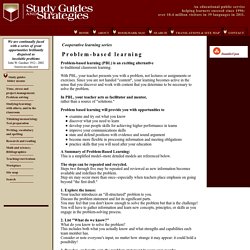 Problem-based learning (PBL) is an exciting alternative to traditional classroom learning. With PBL, your teacher presents you with a problem, not lectures or assignments or exercises. Since you are not handed "content", your learning becomes active in the sense that you discover and work with content that you determine to be necessary to solve the problem. In PBL, your teacher acts as facilitator and mentor, rather than a source of "solutions." Problem based learning will provide you with opportunities to examine and try out what you know discover what you need to learn develop your people skills for achieving higher performance in teams improve your communications skills state and defend positions with evidence and sound argument become more flexible in processing information and meeting obligations practice skills that you will need after your education