iPads
Discover Great iPad Apps on Apps Gone Free
Browsing or searching the App Store for free apps can be a time-consuming process. Apps Gone Free can save you time in your quest for free iPad and iPhone apps. Apps Gone Free is a free iPad app that serves up a new list of free apps everyday. The apps featured on Apps Gone Free are apps that normally require a purchase but have been made available for free download for a limited time. I used Apps Gone Free today to find a neat app that I think physical education teachers will like (blog post coming soon). Apps Gone Free recently added a new "app bump" option that allows you to recommend paid apps to others.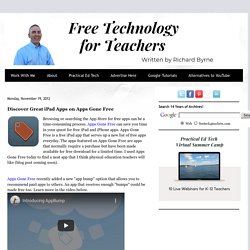 Create & Edit Documents in Google Drive for iPad
It was rumored last week on TechCrunch and today it is confirmed by Google , you can now create and edit Google Documents using the Google Drive app for iPad . Starting today if you update Google Drive on your iPad you will be able to create new documents and edit documents using Google Drive on your iPad or iPhone. File management just got easier to because now you can create folders and move files into folders using Google Drive for iOS.