Google Apps
Table Of Contents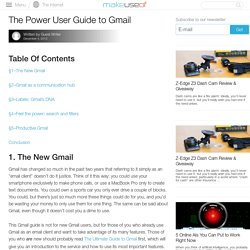 DOWNLOAD Beyond the Inbox: The Power User Guide to Gmail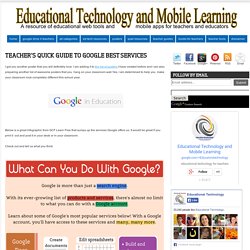 Teacher's Quick Guide to Google Best Services
I got you another poster that you will definitely love.
Creating Interactive Google Presentations
Google Apps Experts: Understanding Google Drive for Google Apps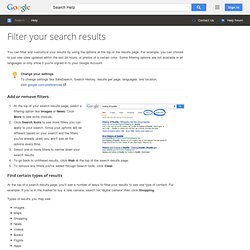 Sometimes you may want to limit your search results to a specific reading level.
Reading level - Web Search Help
5 Ways To Be A Better Public Speaker 7.16K Views 0 Likes If you've been asked to speak at a conference or host a seminar, you may be shaking in your boots. Not only is the thought of speaking in public nerve-wracking, but being in charge of a seminar that no one wants to at...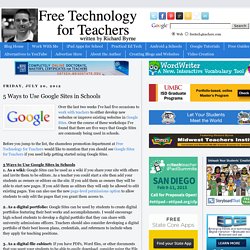 5 Ways to Use Google Sites in Schools
Over the last two weeks I've had five occasions to work with teachers to either develop new websites or improve existing websites in Google Sites. Over the course of these workshops I've found that there are five ways that Google Sites are commonly being used in schools. Before you jump to the list, the shameless promotion department at Free Technology for Teachers would like to mention that you should see Google Sites for Teachers if you need help getting started using Google Sites.
By Laura Turner Google continues to provide a wealth of useful easy-to-use tools that can be used well in the classroom.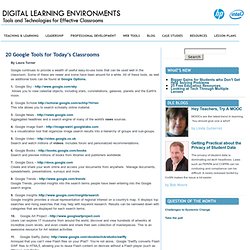 In nearly three years, Google has developed new products, discontinued a few, and offered new features, and more people have found great ways to save time with Google. So we've gone and found even more great tips for saving time with Google, and this time around, the list has made it all the way to 181 different tricks. Explore our collection of tricks to find new, faster ways to search, read email, manage your time, and more.
It's Google's world, we're just teaching in it. Now, we can use it a little more easily. With classes, homework, and projects–not to mention your social life–time is truly at a premium for all teachers, so why not take advantage of the wide world that Google has to offer? From super-effective search tricks to Google tools specifically for education to tricks and tips for using Gmail, Google Docs, and Google Calendar, these tricks will surely save you some precious time. Search Tricks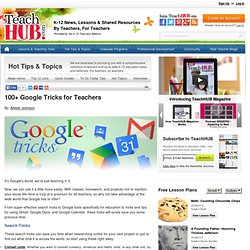 New 3D Photo Tours on Google Maps
Google Forms - More Than Just Multiple Choice
Google A-Z
Presentations in Google Docs
One of the few drawbacks to using Google Docs to create presentations has always been a lack of transition and animation options. Today, Google addressed that issue by introducing a new set of Google Docs presentation tools.
Google Across the Curriculum
Productivity Tips To increase efficiency, it helps to add any commonly-accessed websites, such as the Google eBookstore or Google Docs, to the home screen as a bookmark. This allows the shortcut to show up as an app icon, taking users directly where they need to go. To do this, tap the share button at the top of the screen and choose Add to Home Screen.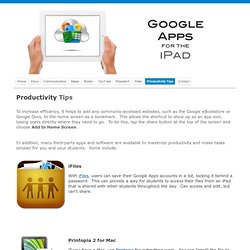 Earth User Guide for the iPad - Google Earth Help
This user guide describes Google Earth for the iPad. Welcome to Google Earth, on the go!
Google Earth A to Z