Pancakes
Get flash to fully experience Pearltrees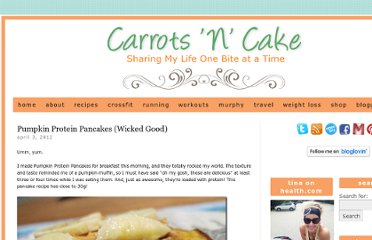 Umm, yum.
I'm one of those people who could be happy eating breakfast for every meal, even dinner . Warm and crispy waffles and pancakes are my favorites, and since they're not the healthiest choice on the menu, I like to make variations that offer more nutrition than your basic flapjacks.
Carrot cake is just one of the wonderful delicacies in life in my opinion. Moist, rich cake slathered with a creamy cream cheese frosting…Now that is my kind of dessert! So, in lieu of my love for carrot cake, I decided to re-create this ever popular cake into something that is excusable to eat for breakfast, Protein Pancakes! You can certainly top these 'cakes' with plain ol' maple syrup, but why would you want to if you could use cream cheese frosting!?!
By Lisa, on April 21st, 2010 If you even remotely like banana bread then you will absolutely love these pancakes. And if you don't like bananas then you can substitute another fruit (like blueberries or raspberries), but I think the banana is the secret ingredient that adds the right amount of sweetness to balance out the whole-wheat flavor.
Ingredients: 6 egg whites 1 cup rolled oats, dry 1 cup cottage cheese 2 teaspoons sugar 1 teaspoon cinnamon 1 teaspoon vanilla Instructions: In a blender, blend all ingredients until smooth. Heat a griddle or large non-stick skillet over medium-low heat.
I fucking LOVE spinning!! I was so cosy in bed thismorning and didn't want to get up and walk all the way to the gym but I hauled my ass up, made a bowl of oatmeal, had a cup of coffee and got there for the class. And it was so worth it !