Interesting Stuff
Build Your Own Portable Wind Turbine To Power Gadgets When Camping. Camping Wind Turbine. Camping's all about enjoying the outdoors; but let's face it - electronics are hard to power in the outdoors...There's nothing worse than pulling out your camera to snap a photo of a great view and finding out your battery's dead!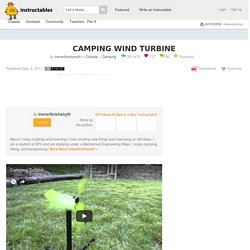 Generators are heavy and difficult to lug around, and so the perfect solution is a green source of free energy: the wind! Although this turbine -because of its small size and lightweight nature- isn't exactly going to run at 120V, it's capable of charging batteries and such. But when the whole thing weighs only 16 ounces, i'd say that's a fair trade off. With access to some fairly simple materials and tools, you can make your very own camping wind turbine! Camping Recipes - Camping never tasted so good! - StumbleUpon. Yurt Buildng - StumbleUpon. Here is a free copy of my book Build your own yurt, written in 1995, It has been used by a great many people who have built their own yurts.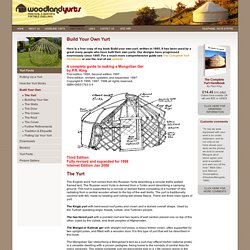 Our designs have progressed enormously since 1995. For a much more comprehensive guide see The Complete Yurt Handbook or see the rest of our website. Chalkboard Wall Calendar - Martha Stewart Home & Garden. Thanks to paint that dries into a chalkboard finish, your board can be whatever size you desire and placed wherever you like.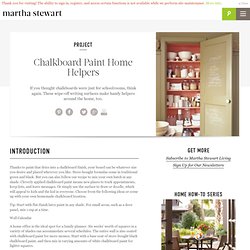 Store-bought formulas come in traditional green and black. But you can also follow our recipe to mix your own batch in any shade. Cleverly applied chalkboard paint means new places to track appointments, keep lists, and leave messages. Or simply use the surface to draw or doodle, which will appeal to kids and the kid in everyone.
Language of flowers. The language of flowers, sometimes called floriography, is a means of cryptological communication through the use or arrangement of flowers.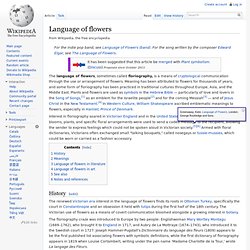 Meaning has been attributed to flowers for thousands of years, and some form of floriography has been practiced in traditional cultures throughout Europe, Asia, and the Middle East. Plants and flowers are used as symbols in the Hebrew Bible — particularly of love and lovers in the Song of Songs,[1] as an emblem for the Israelite people[2] and for the coming Messiah[3] — and of Jesus Christ in the New Testament.[4] In Western Culture, William Shakespeare ascribed emblematic meanings to flowers, especially in Hamlet, Prince of Denmark.
---