Education
Professional development. Best / great teacher. Teaching & learning resources. Web tools. YouTube videos. Flipped Classroom. Distance and online Learning. Learning / Taxomonies. Feedback. Team Collections - Education.
Collated by others - Education
TED-Ed. Teacher and Class Blogs. How To Get Involved in the Peeragogy Project. Hello and welcome!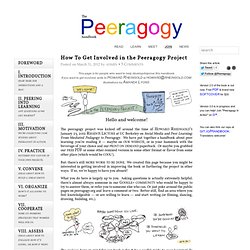 The peeragogy project was kicked off around the time of Howard Rheingold's January 23, 2012 Regents Lecture at UC Berkeley on Social Media and Peer Learning: From Mediated Pedagogy to Peeragogy. We have put together a handbook about peer learning: you're reading it — maybe on our website, or in your hammock with the beverage of your choice and our print on demand paperback. Or maybe you grabbed our free PDF or some other remixed version in some other format or flavor from some other place (which would be cool!). The Thinking Classroom: Ways of Thinking. Effective thinking-centered instruction aims to achieve two educational objectives: To cultivate the active use of knowledge, and To help students become self-regulated learners.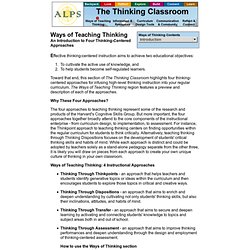 Toward that end, this section of The Thinking Classroom highlights four thinking-centered approaches for infusing high-level thinking instruction into your regular curriculum. The Ways of Teaching Thinking region features a preview and description of each of the approaches. Why These Four Approaches? This Will Make You Smarter: 151 Big Thinkers Each Pick a Concept to Enhance Your Cognitive Toolkit.
By Maria Popova The importance of "the umwelt," or why failure and uncertainty are essential for science and life.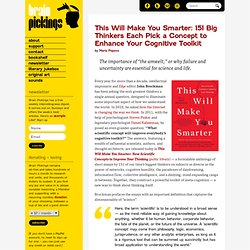 Every year for more than a decade, intellectual impresario and Edge editor John Brockman has been asking the era's greatest thinkers a single annual question, designed to illuminate some important aspect of how we understand the world. In 2010, he asked how the Internet is changing the way we think. In 2011, with the help of psycholinguist Steven Pinker and legendary psychologist Daniel Kahneman, he posed an even grander question: "What scientific concept will improve everybody's cognitive toolkit?" Cational Psychology: 20 Things Educators Need To Know About How Students Learn. 11 Reasons Teachers Should Make Their Own Videos. No Excuse List. C. M. Rubin: The Global Search for Education: More Arts Please. More Arts Please Sir (Photo Courtesy of Beechwood Sacred Heart School UK) "To lose our culture is to lose our memory.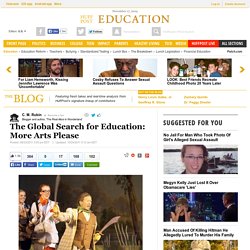 " More Leonardo da Vincis, more Martha Grahams, more Ludwig Van Beethovens, more Luciano Pavarottis, more Marlon Brandos, more Antoni Gaudis, more Coco Chanels, more Bob Dylans, more Zhang Xiaogangs, more William Shakespeares, more Julia Margaret Camerons, more Gustav Vigelands, more Andrew Lloyd Webbers, more Francis Ford Coppolas, more Meryl Streeps, more Alice In Wonderlands, more Anna Pavlovas, more Michael Jacksons, more Vincent van Goghs, more Harry Potters, more Phil Knights, more Rabindranath Tagores, more Pablo Picassos, more John Steinbecks... Please Sir - can we have some more? Sir Ken Robinson, PhD, is one of the internationally recognized leaders in the development of education creativity and innovation. He has received numerous honorary degrees from universities, and many awards from cultural organizations and governments, all over the world.
Sal Khan: the man who tutored his cousin – and started a revolution. Sal Khan has a simple mission: a free, world-class education for anyone, anywhere.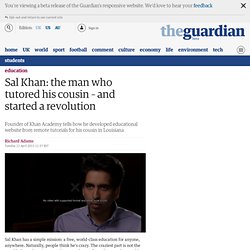 Naturally, people think he's crazy. The craziest part is not the "world-class education" part, because plenty of people want that. ICT-Atelier: MWUCE. Byrdseed Gifted Classroom Ideas. The Differentiator. Try Respondo!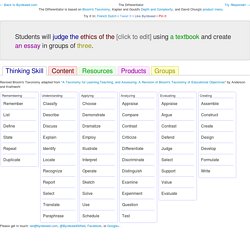 → ← Back to Byrdseed.com The Differentiator. US idea of 'cultural literacy' and key facts a child should know arrives in UK. What are your views on ED Hirsch?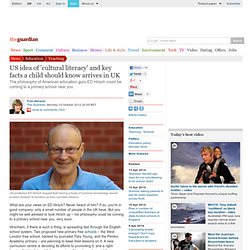 Never heard of him? If so, you're in good company: only a small number of people in the UK have. Schools find active kids make smarter students. When students at Meadowview Elementary in Farmington needed to improve their reading scores last fall, they were turned over to physical education teacher Joe McCarthy.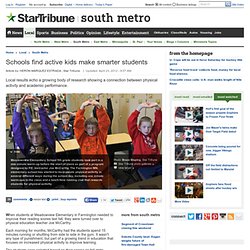 Each morning for months, McCarthy had the students spend 15 minutes running or shuttling from side to side in the gym. It wasn't any type of punishment, but part of a growing trend in education that focuses on increased physical activity to improve learning. The students were selected based on their scores on fall state assessments. When the kids took the tests again earlier this year, after McCarthy's exercise regimen, they showed the greatest improvement of any students at Meadowview, double the school average, McCarthy said. "And all we did was move more," McCarthy said. Why Learning Should Be Messy. Culture Teaching Strategies Flickr:mrsdkrebs The following is an excerpt of One Size Does Not Fit All: A Student's Assessment of School, by 17-year-old Nikhil Goyal, a senior at Syosset High School in Woodbury, New York.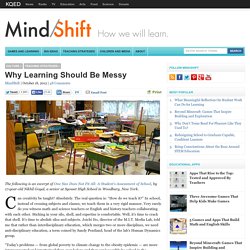 Donald Clark Plan B: Blog marathon: 50 blogs on learning theorists over next 50 days. The six secrets of a happy classroom - Schools - Education. Apparently it is the same minority of top pupils, usually sitting at the front, who raise their hands to answer questions, while the majority switch off and opt out.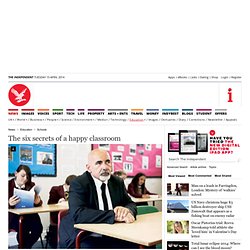 According to the education expert Professor Dylan Wiliam, this ingrained, almost sacrosanct, classroom habit is widening the achievement gap in our schools. "Only a quarter of pupils consistently put their hands up," he says. "They can't wait to take part, while others switch off completely. " Some sort of randomisation process is required, Wiliam long ago decided, and his unorthodox solution, as demonstrated in a new BBC2 series, The Classroom Experiment (part of the channel's very welcome School Season of programmes), is to write the pupils' names down on lollipop sticks, the teacher then pulling them at random from a pot. Tales of a 6th Grade Classroom. Elyse Eidman-Aadahl - Communities of Practice for Professional Learning: Connected Learning for Adults.
Top 5 tools for collaborative teaching « Learning Activist. This is a summary of the 5 tools that i have found most useful. Some have even been developed collaboratively over time by my team. Overview This is an essential document and it should show the sequence of units through the year. It should also include key mapped syllabus dot points and outcomes. One way to grow a networked teacher, is to grow a networked learner #pln. In my new role as Lecturer in Blended Learning, a part of my role is staff development.
Staff development has always been a part of my roles, both in how do you do staff development in a networked world? It was one of the big questions at the national AITD conference on training and development where I was invited to be a keynote. Much of the discussion in the keynotes and sessions where how traditional trainers/developers could adapt their traditional approaches capitalise on working and training in a networked world and in networked organisations. Virtual Community/Social Media Stanford 2012 Course Wiki. Welcome to the Social Media Issues Wiki A resource for Comm 182/282 Stanford, Autumn, 2013 Instructor: Howard Rheingold View this material as a Concept Map or Prezi (go ahead, try different views - that's what the course is about) Tuesday, 3:15-6:05 PM Classroom: Wallenberg 124 (60-124) Office: McClatchy 332 Office hours: McClatchy 332 Tuesday, 2-3 PM and by appointment Contact: howard@rheingold.com Welcome from the instructor <----- You commit to this when you apply for this class.
Expected Learning Outcomes Assignments, Expectations, and Grading. Articles. Tried and tested, and proving incredibly successful, these simple ways of integrating iPads into a lesson helps to keep pupils focused, organised, and engaged with their learning. These tips could be used in any lesson with any year group, but I will share examples of contemporary best practice from my role as Upper Key Stage 2 teacher and ICT Coordinator. A teacher does not even need a whole class set of iPads to be able to replicate these methods; one, six, or eight devices will also work well. 1. Towards alternative lifelong learning(s): what Freire can still teach us. Digitalstorytellingebook. Learning in a Digital Age - extending higher education opportunities for lifelong learning. Co-genT. Gazelle. Use Google Forms to Make Grading More Efficient. Untitled. Ed: what's the purpose of education? Join the debate. |
11 Tools to Turn Your Students Into Academic Superstars - Getting Smart by Guest Author - edchat, EdTech. How do you stop online students cheating?
---