Random Links
A Proposed SEC Rule Would Force Companies To Disclose Cyberattacks. Google's Music Beta first look: it's miserable. Google's Music Beta is supposed to provide users with a way to access the music anywhere, anytime as easily as physically possible.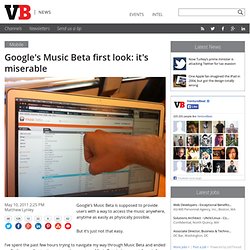 But it's just not that easy. I've spent the past few hours trying to navigate my way through Music Beta and ended up finding new frustrations at nearly every turn. Urban Outrage. Welcome to the future of video. Please stay a while. It's a Saturday and you want to watch your favorite YouTube star's show , a big Hollywood movie , a clip of your friend's weekend in Austin, a newly-released music video , a global sporting event , a live concert and breaking news from Japan .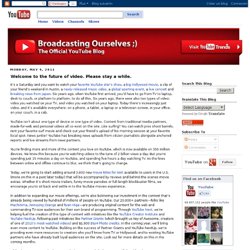 Six years ago, when YouTube first arrived, you'd have to go from TV to laptop, desk to couch, or platform to platform, to do all this. Six years ago, there were also two types of video: video you watched on your TV, and video you watched on your laptop. Male Gamers Put Women To Shame When It Comes to Shopping. Marshall Kirkpatrick, Technology Journalist » Fancyhands: A Review of My Last Two Months of Tasks. I am a big advocate of low-cost virtual assistant program Fancyhands: $35 per month for up to 15 tasks requested by email.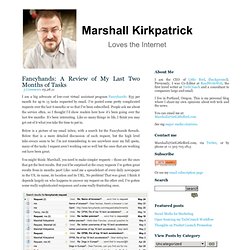 I've posted some pretty complicated requests over the last 6 months or so that I've been subscribed. People ask me about the service often, so I thought I'd show readers here how it's been going over the last few months. Why it's smart for consumer startups to grow first and make money later. I've had two recent conversations in which people have mentioned the "grow first, monetize later" philosophy as one of the signs of the coming bubble apocalypse, and this post is to argue why it's very smart and rational to focus on getting millions of users first.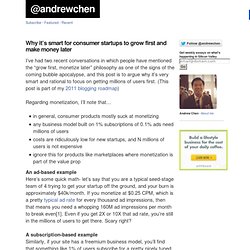 (This post is part of my 2011 blogging roadmap) Regarding monetization, I'll note that… in general, consumer products mostly suck at monetizingany business model built on 1% subscriptions of 0.1% ads need millions of userscosts are ridiculously low for new startups, and N millions of users is not expensiveignore this for products like marketplaces where monetization is part of the value prop An ad-based example Here's some quick math- let's say that you are a typical seed-stage team of 4 trying to get your startup off the ground, and your burn is approximately $40k/month.
Archaeologists Find 17 Pyramids, 1K Tombs, 3K Settlements Using Online Satellite Images. Exceeding the discovery of 2,000 new archaeological sites using Google Earth, scientists have now found 17 Egyptian pyramids, 1,000 tombs and 3,000 Nile Delta settlements previously lost to sand and time.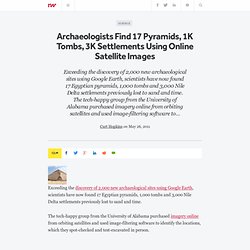 The tech-happy group from the University of Alabama purchased imagery online from orbiting satellites and used image-filtering software to identify the locations, which they spot-checked and test-excavated in person. Pulling down images from a satellite orbiting at a height of 400 miles but which can capture objects less than a yard across, the scientists used infrared imaging to highlight differences in soil density. Given their use of denser mud brick for much of their construction needs, the ancient Egyptians left clear evidence of structures no longer visible to the naked eye. SF Online Community MeetUp - Guest Speaker Randy Paynter, Care2.com - San Francisco Online Community Meetup Group (San Francisco, CA. May 25, 2011 · 7:00 PM This location is shown only to members SF Online Community MeetUp is the free monthly gathering of online community managers, enthusiasts, and innovators to meet and discuss tools and strategies for building and managing effective communities.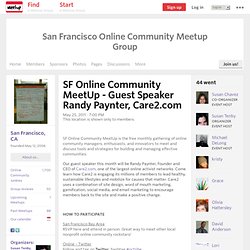 Our guest speaker this month will be Randy Paynter, Founder and CEO of Care2.com, one of the largest online activist networks. Come learn how Care2 is engaging its millions of members to lead healthy, sustainable lifestyles and mobilize for causes that matter. Care2 uses a combination of site design, word of mouth marketing, gamification, social media, and email marketing to encourage members back to the site and make a positive change. CBSNews.com to debut social show 'What's Trending' Next week, CBSNews.com will debut a new show called "What's Trending" that bridges a live, weekly webcast with social media interaction.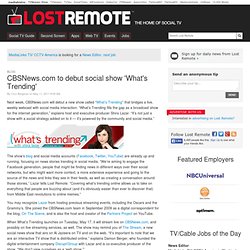 "What's Trending fills the gap as a broadcast show for the internet generation," explains host and executive producer Shira Lazar. "It's not just a show with a social strategy added on to it — it's powered by the community and social media." The show's blog and social media accounts (Facebook, Twitter, YouTube) are already up and running, focusing on news stories trending in social media. "We're aiming to engage the Facebook generation, people that might be finding news in different ways over their social networks, but who might want more context, a more extensive experience and going to the source of the news and links they see in their feeds, as well as creating a conversation around those stories," Lazar tells Lost Remote. Analyst Predicts Kindle Revenue To Hit $5.42 Billion In 2011 - eBookNewser. Women 2.0 - Founding Startups » Never Been a Better Time for Women Entrepreneurs.
Win Customer Loyalty By Supporting Your Community : Managing. A few weeks ago I wrote about United Linen, a professional laundry service.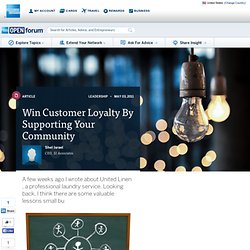 Looking back, I think there are some valuable lessons small businesses should learn from they way United embraces and supports their community. United shows a commitment to its physical community in various ways. For example, they began posting hometown team sports scores through their social media channels, and more recently, they started promoting the local symphony orchestra. During winter, United gets road conditions from their truck drivers and reports back to residents. In short, United uses social media to report on and champion their local community. A Simple #BlueKey Can Change the Lives of Thousands. Your Online Form Not Converting? Here's Why. Procter & Gamble Makes Donation to Special Olympics. May 11, 2011 (Close-Up Media via COMTEX) -- Procter & Gamble, a partner of Special Olympics, has given a gift of $250,000 to the Special Olympics to support local programs and services.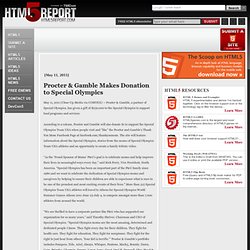 According to a release, Proctor and Gamble will also donate $1 to support the Special Olympics Team USA when people visit and "like" the Proctor and Gamble's Thank You Mom Facebook Page at facebook.com/thankyoumom. The site will feature information about the Special Olympics, stories from the moms of Special Olympics Team USA athletes and an opportunity to create a family tribute video. "As the 'Proud Sponsor of Moms' P&G's goal is to celebrate moms and help improve their lives in meaningful ways every day," said Kirk Perry, Vice President, North America.
False Allegations Upend Lives of 2 Muslims in Army. The 28-Day Challenge | Social Butterfly Guy. I'm somebody who needs a challenge.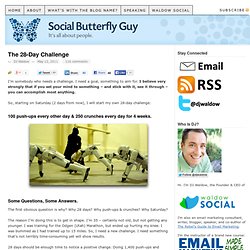 I need a goal, something to aim for. I believe very strongly that if you set your mind to something – and stick with it, see it through – you can accomplish most anything. So, starting on Saturday (2 days from now), I will start my own 28-day challenge: 100 push-ups every other day & 250 crunches every day for 4 weeks. Flipboard Triples Usage and Prepares New App for Power Users | Liz Gannes | NetworkEffect | AllThingsD.
Flipboard, the leading social news app for iPad, has tripled daily usage in the last two months, CEO Mike McCue said in a chat on Thursday. The app now sees eight to nine million daily "flips." Flips are Flipboard's swiping motion utilized to view additional content, so the figure could be taken as a loose equivalent for page views. Two months ago, Flipboard got three to four million flips per day, McCue said. McCue attributed the jump in usage to various factors that made his company's iPad app faster. March 10 was the release date of Flipboard's 1.2 version, which among other improvements boosted speed. Mini Keyboard With Built-in Touchpad Lets You Control All Your Devices.
iTablet is a mini Bluetooth keyboard with a rear-facing touchpad that takes advantage of the fact that humans have opposable thumbs. This versatile input device lets you control Windows 7 and XP PCs, iPads, iPhones, Android phones and tablets, interactive TV hardware and gaming consoles — just about anything with Bluetooth connectivity. On the back, there's a touchpad, so when you're using your thumbs to type, you can move the cursor around with your fingers on the other side of the device. It's shaped like a game controller, giving you a couple of easy places to grip the keyboard, while letting your thumbs and fingers perform two separate functions at the same time.
This makes a lot of sense. When you're holding a device in your hands that's tailor-made for keyboarding with your thumbs, you might as well give your fingers something to do. Time Warner CEO Jeff Bewkes On Netflix | Peter Kafka | MediaMemo | AllThingsD. 3 Keys for How Web Content Management & Web Engagement Work in the Real World. Okay, first of all let's cut to the chase. We marketers can get ourselves in a big frothy tizzy over new terms. And, Web Engagement Management is no exception.
PowerWomen: Raising a New Generation of Tech Gurus and Busting Stereotypes. Google Analytics Now Tracks Page Load Speeds to Help You Optimize Your Site. Watch: 14-Year-Old Blows Judges' Minds on 'Australia's Got Talent' with Whitney Houston Cover - Towleroad | #gay #news. Who's In? U.S. Solar Industry Bands Together To Cut Costs, Make Panels Better. Google's Plan To Win Location & Social. Pandora Hits 10 Billion Thumbs Up or Down. Infographic: What Congress Would Look Like If It Really Represented America - Politics.
How Female Influencers Communicate Online. » From Mangoes to Skype – A Kiva Fellow's Take on the Transformative Power of Technology. Why Apple Could Sell $1.6 Billion Worth Of Videogames In 2011 - Brian Caulfield - Shiny Objects. Machine Gunners and Gardeners. How I Organize Google Reader for Blog Commenting - Kikolani. Inbound Marketing Summit Home | New Media Marketing Conference. Celebrating Open Government: Sunlight Foundation Turns Five. How I Pwn* My Inbox At All Times. Crowd-sourced Drinking Fountain App Coming to Android Phones. Tendollarsandalaptop. Brands Should Create Long Term Experiences On Mobile Platforms. Never Be Left Out. Bianca Jagger Human Rights Foundation Appeals For The Immediate Release of Ai Weiwei. Can I Get Some Sustainability With That Shake?
Netflix CEO Reed Hastings: In Ten Years, "We Will All Have A Gigabit To The Home" BlogHer Study Shows the Continued Slide of Twitter Influence, Facebook Makes Gains.
---