PR2.0Chat
Kotex Campaign Uses Pinterest To Send Women Custom Goodie Bags. Israeli advertising agency, Smoyz, has created a clever and creative campaign for Kotex through the use of Pinterest.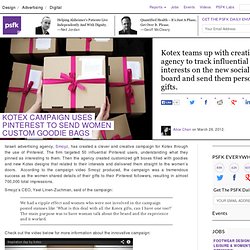 The firm targeted 50 influential Pinterest users, understanding what they pinned as interesting to them. Then the agency created customized gift boxes filled with goodies and new Kotex designs that related to their interests and delivered them straight to the women's doors. According to the campaign video Smoyz produced, the campaign was a tremendous success as the women shared details of their gifts to their Pinterest followers, resulting in almost 700,000 total impressions. Smoyz's CEO, Yael Linen-Zuchman, said of the campaign: How Mobile Video App Socialcam Used Facebook To Explode To 75 Million Users In 15 Months. Columbus, Ohio Account Manager Job at Geben Communication - Ragan Communications. The Stories I'm Looking (and Not Looking) to Write.
Even more than a journalist, I consider myself a storyteller.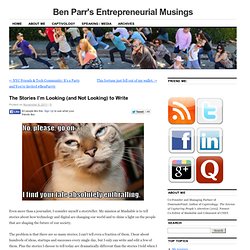 My mission at Mashable is to tell stories about how technology and digital are changing our world and to shine a light on the people that are shaping the future of our society. The problem is that there are so many stories; I can't tell even a fraction of them. Qantas Makes A Complete Hash Of Social Media Tweet Campaign | Steve Fogg: Clear & Simple. Just when I thought things couldn't get any worse for Qantas.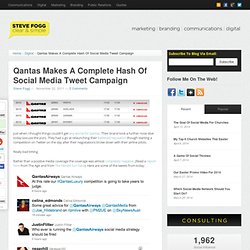 Their brand took a further nose dive today (excuse the pun). They had a go at relaunching their battered reputation though starting a competition on Twitter on the day after their negotiations broke down with their airline pilots. Really bad timing. Rather than a positive media coverage the coverage was almost completely negative. Adobe Communication - Matt Legend Gemmell. Adobe announced today that they won't be making any more versions of Flash Player for mobile devices, but as usual for large companies, you have to work hard to decipher what they've said.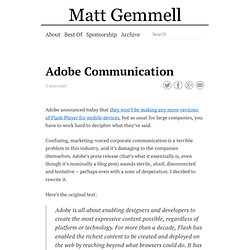 Confusing, marketing-voiced corporate communication is a terrible problem in this industry, and it's damaging to the companies themselves. Adobe's press release (that's what it essentially is, even though it's nominally a blog post) sounds sterile, aloof, disconnected and tentative – perhaps even with a note of desperation. Blogger Outreach Pitching Tips from #pr20chat! - storify.com. Trade, Not Aid. Tragedies happen around the world every day.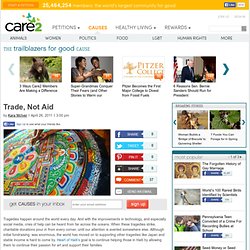 And with the improvements in technology, and especially social media, cries of help can be heard from far across the oceans. When these tragedies strike, charitable donations pour in from every corner, until our attention is averted somewhere else. Although initial fundraising was enormous, the world has moved on to supporting other tragedies like Japan and stable income is hard to come by.
Why Politicos And Corporate Communications Make Bad Bedfellows. 5 Measurement Resources +BlogWorld Panel Seeks Your Input. Next week, I'll be moderating a BlogWorld NYC panel about measurement.
Committed to digging deeper than just how to measure "fans" and "followers," the panelists — Shonali Burke, Johna Burke and Margot Savell — thought it would be helpful to start by understanding what measurement-specific challenges people are facing. What questions are your bosses or clients asking you about your PR and social media efforts? Sleazy PR Firm Throws Scummy Facebook Under The Sordid Bus. It's pretty rare for a story to be one part sad, one part fascinating, and twenty parts sleazy.
Luckily, Facebook and Burson-Marsteller have just handed exactly that to us on a silver platter. As you've undoubtedly seen by now, last night The Daily Beast's Dan Lyons' broke the story wide open about how the social network hired the PR firm to plant negative stories about rival Google in the press. As Mike wrote last night, it's "not just offensive, dishonest and cowardly.
It's also really, really dumb." Burson-Marsteller says it shouldn't have pitched negative Google stories secretly for Facebook | Technology | Los Angeles Times. Burson-Marsteller said that it shouldn't have accepted Facebook's request to secretly pitch journalists negative stories about Google Social Circle.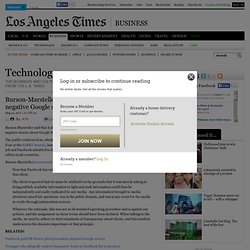 The public relations firm, which on Wednesday was honored as the North American Agency of the Year at the SABRE Awards, issued its statement Thursday after the news broke about the Facebook job and Facebook admitted to hiring Burson-Marsteller. The PR firm has 68 offices and 70 affiliate offices in 96 countries. Burson-Marsteller's statement: Now that Facebook has come forward, we can confirm that we undertook an assignment for that client.The client requested that its name be withheld on the grounds that it was merely asking to bring publicly available information to light and such information could then be independently and easily replicated by any media.
Google deflects PR firm's attack of Gmail privacy. By Byron Acohido and Jon Swartz, USA TODAY Updated 5/10/2011 2:14 PM | It's not as if Google lacks privacy controversies to quell.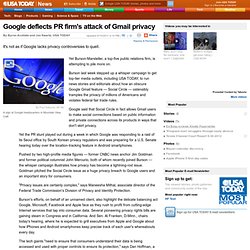 By Paul Sakuma, AP file By Paul Sakuma, AP file Yet Burson-Marsteller, a top-five public relations firm, is attempting to pile more on. The Story So Far: Will Sponsored Content and Creative Ads Save Digital Journalism? - Nathaniel Parish Flannery - Governance Perspective. Posterous learns a hard lesson in why businesses must keep customers informed. I'm a big fan of Posterous, the US-based blog service.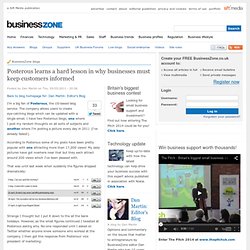 The company allows users to create eye-catching blogs which can be updated with a single email. I have two Posterous blogs; one where I post my random thoughts on all sorts of subjects and another where I'm posting a picture every day in 2011 (I've already failed!). According to Posterous some of my posts have been pretty popular with one attracting more than 17,000 views!
---