Photoshop
Create Social Networking Chicklets in Photoshop | Blue Lobster Art and Design - Sacramento Web Design and Graphic Design. Final chicklet A "chicklet" (as opposed to Chiclet, a yummy chewing gum) is a small button used to link to all kinds of things – social networks in particular.
Back in the day, they were short and wide rectangles with small text. The new trend is rounded squares with plenty of gloss.
Web 2.0 Glossy Gradient Box Photoshop Tutorial. Web 2.0 Button/Box This very sleek box can either be used to place in content or as a website button. 1.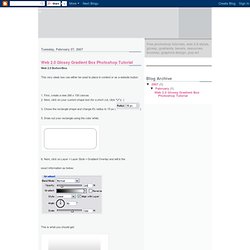 First, create a new 266 x 150 canvas2. Super Easy Neon Style in Photoshop. This past Friday was the Abduzeedo meetup here in my hometown of Porto Alegre.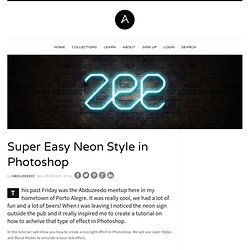 It was really cool, we had a lot of fun and a lot of beers! When I was leaving I noticed the neon sign outside the pub and it really inspired me to create a tutorial on how to acheive that type of effect in Photoshop.
Remove White Using Channels | Photoshop Basics. This tutorial works really well for anyone into photo manipulation because in this tutorial we are going to take a photograph with a white background and turn it into a transparent background without having to trace all around the object with the pen tool.
So ok we start off with a photo that was taken with a white background as I have below. We will select the hold image by clicking Ctrl + A, then Ctrl + C to copy the image. Now we will go into the Channels bar located in the pull down menu under windows on the top of Photoshop if you don't already have it up. Then click on the click on the Create new Channel at the bottom of the channels bar and click Ctrl + V to paste the image info this new channel layer. Now click Ctrl + I to invert the black and white image. Brush Set Three: 45 More Subtle Grunge Brushes. Product/Business Style Layout. Carbon Fibre Style Inset Navigation. Web 2.0 Professional Blog Layout Tutorial. Design A Minimalist Designs in Photoshop by Aaron Nichols.
Car Layout #3. Awesome digital bokeh effect in Photoshop. Our last Wallpaper of the Week was an image I had created using Pixelmator, and I really liked the outcome.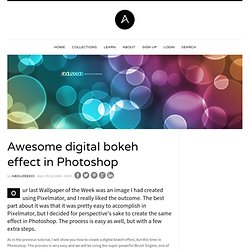 The best part about it was that it was pretty easy to accomplish in Pixelmator, but I decided for perspective's sake to create the same effect in Photoshop. The process is easy as well, but with a few extra steps. How a Simple Layout Can Be Mixed 'n' Matched with Patterns, Photos and Backgrounds. It's pretty amazing how much colour and background can change the look and feel of a website.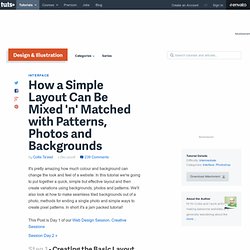 In this tutorial we're going to put together a quick, simple but effective layout and then create variations using backgrounds, photos and patterns. We'll also look at how to make seamless tiled backgrounds out of a photo, methods for ending a single photo and simple ways to create pixel patterns. In short it's a jam packed tutorial! How to Make a Creative Blog Layout. In this tutorial, we'll make a creative blog layout using mostly simple shapes, a few brush techniques, some images, and a dose of Photoshop ingenuity.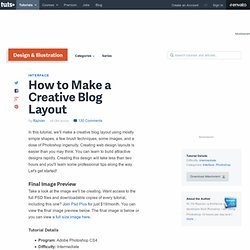 Creating web design layouts is easier than you may think. You can learn to build attractive designs rapidly. Creating this design will take less than two hours and you'll learn some professional tips along the way. Let's get started! How to Create a Highly Detailed Hi-Tech Power Button. With this tutorial we will create a hi-tech style button that can be used in splash pages, applications or Powerpoint presentations.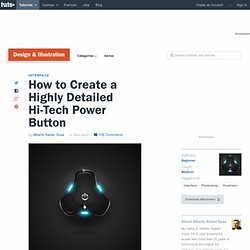 We will use Illustrator to create complex vectors and Photoshop to develop realistic effects. Step 1 Using Illustrator we create a rectangle with the size shown. With the Rectangle tool we click on the work area and a window will appear that will allow us to determinate the exact sizes for the object. How to Turn a Texture into a Seamlessly Tiled Background. Tiled backgrounds are great for both website backgrounds and in all kinds of Photoshop work.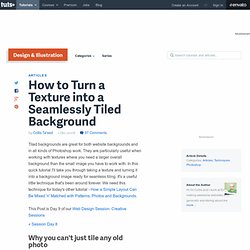 They are particularly useful when working with textures where you need a larger overall background than the small image you have to work with. In this quick tutorial I'll take you through taking a texture and turning it into a background image ready for seamless tiling. It's a useful little technique that's been around forever. 9 Photoshop Editing Tips Web Developers Should Know. There are quite a few reasons why having basic Photoshop skills beyond slicing PSD's to XHTML/CSS is essential to any web developer.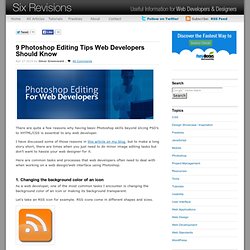 I have discussed some of those reasons in this article on my blog, but to make a long story short, there are times when you just need to do minor image editing tasks but don't want to hassle your web designer for it. Here are common tasks and processes that web developers often need to deal with when working on a web design/web interface using Photoshop. 30 Brilliant Photoshop Lighting Effects Tutorials. A current trend in design is adding lighting effects to enhance your digital art. In this article, you'll find 30 dazzling lighting techniques that you can use to add a bit of sparkle into your work. Expressive lighting effects Engulf photo subjects with glowing lights by following along this top-notch tutorial. 40 Useful Photoshop Web Layout Tutorials. Adobe Photoshop is the industry-standard when it comes to creating web page layouts. Photoshop's versatility, robust set of tools, and excellent workflow management make it the web designer's preferred application when creating designs for the web.
In this collection, you'll find 40 high-quality tutorials on creating web layouts from scratch using Photoshop. This article contains a copious variety of tutorials to help you learn and master the various techniques involved in creating beautiful web layouts. 1. Corporate WordPress Style Layout. How to Create a Clean Web 2.0 Style Web Design in Photoshop. In this Photoshop web design tutorial, you'll learn, step-by-step, how to create a stunning and clean web layout. You'll be using some basic to intermediate-level techniques to build your very own sleek "Web 2.0" style web design that uses the 960 Grid System. This is a two-part series that will teach you how to create the layout in Photoshop, and then how to convert it to a standards-compliant (X)HTML web design.
How to Create a Sleek and Textured Web Layout in Photoshop. In this Photoshop web design tutorial, you'll learn how to create a full web page layout that combines the sleek and textured look-and-feel using a combination of beginning to intermediate Adobe Photoshop techniques. Final Result Here's what you'll be working to create. You can view the large version here.
Download. Tutorials & Articles. Create a Simple Vibrant Light Effect in Photoshop. This post was originally published in 2009 The tips and techniques explained may be outdated. Starting away from the computer, we'll use a few household objects to create some photographic resources. Then follow this Adobe Photoshop tutorial to manipulate the images with various tools and techiques to produce a vibrant design made up of intense light streams effect. My previous How to Create Intense Light Streaks in Photoshop article turned out to become the most popular tutorial here on Blog.SpoonGraphics, so it seems to be quite a hot topic! It makes sense, therefore to take another look at the intense light effects area of design and experiment with a range of techniques to produce our own vibrant artwork. Create a Vibrant Modern Blog Design in Photoshop. Tech Hosting Layout.
---