Grunge
How to Create a "Worn Paper" Web Layout Using Photoshop. In this tutorial, you'll learn how to create a textured "worn paper" web design theme using some basic Photoshop techniques.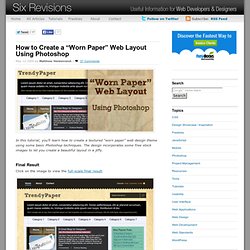 The design incorporates some free stock images to let you create a beautiful layout in a jiffy. Final Result Click on the image to view the full-scale final result. How to Create a Grunge Web Design Using Photoshop. In this step-by-step web design tutorial, you will learn how to craft a beautiful and eye-grabbing grunge-themed web layout using Photoshop.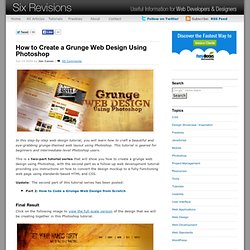 This tutorial is geared for beginners and intermediate-level Photoshop users. This is a two-part tutorial series that will show you how to create a grunge web design using Photoshop, with the second part as a follow-up web development tutorial providing you instructions on how to convert the design mockup to a fully-functioning web page using standards-based HTML and CSS. Update: The second part of this tutorial series has been posted: Part 2: How to Code a Grunge Web Design from Scratch. How to Design a Band Website Layout in Photoshop. In this tutorial, you'll learn step-by-step how to design an awesome band website that any rock and roller would be proud to call their own.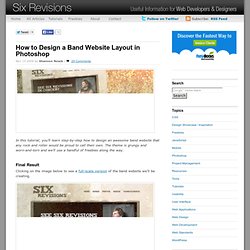 The theme is grungy and worn-and-torn and we'll use a handful of freebies along the way. Final Result Clicking on the image below to see a full-scale version of the band website we'll be creating. Create the Photoshop document. Photoshop a Paper Texture from Scratch then Create a Grungy Web Design with it! This year has seen a big increase in grungey / textured / hand-drawn styled website designs.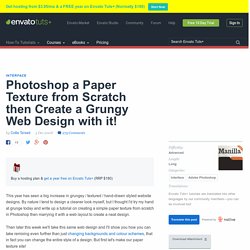 By nature I tend to design a cleaner look myself, but I thought I'd try my hand at grunge today and write up a tutorial on creating a simple paper texture from scratch in Photoshop then marrying it with a web layout to create a neat design. Then later this week we'll take this same web design and I'll show you how you can take remixing even further than just changing backgrounds and colour schemes, that in fact you can change the entire style of a design. How to Create a Grunge Web Design in Photoshop. Photoshop is often the right tool for web design, especially if you're creating a design using numerous images and brush effects.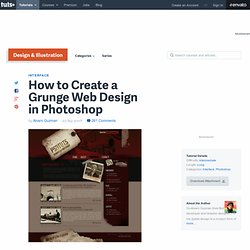 In this tutorial, I'll show you how to create a complete grunge home page design. We'll design the header, sidebar, body, footer, and style everything to work together in a heavily textured and worn design. Step 1 This time we're going to create a full web design in grunge style using Photoshop and a lot of stock images. As this is a intermediate to advanced level tutorial, I'll skip the explanation of some basic steps. How To Create a Green Grunge Web Layout | Web Design Dev. In this tutorial I will show you how to create a green grunge layout.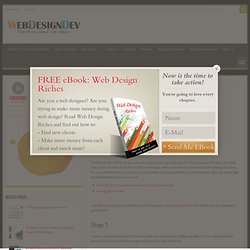 There are over 60 steps, so it may take quite a few hours to finish. Before we begin, take a moment to download some grunge brushes for use with Photoshop.
---