Grunge
How to Create a "Worn Paper" Web Layout Using Photoshop
In this tutorial, you'll learn how to create a textured "worn paper" web design theme using some basic Photoshop techniques.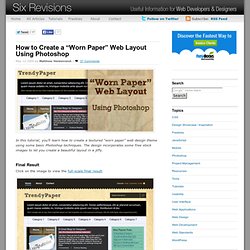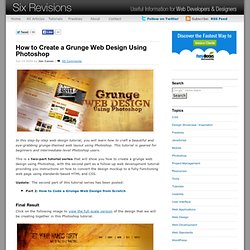 How to Create a Grunge Web Design Using Photoshop
In this step-by-step web design tutorial, you will learn how to craft a beautiful and eye-grabbing grunge-themed web layout using Photoshop.
How to Design a Band Website Layout in Photoshop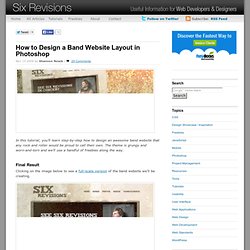 In this tutorial, you'll learn step-by-step how to design an awesome band website that any rock and roller would be proud to call their own.
This year has seen a big increase in grungey / textured / hand-drawn styled website designs.
Photoshop a Paper Texture from Scratch then Create a Grungy Web Design with it!
Photoshop is often the right tool for web design, especially if you're creating a design using numerous images and brush effects. In this tutorial, I'll show you how to create a complete grunge home page design. We'll design the header, sidebar, body, footer, and style everything to work together in a heavily textured and worn design.
How to Create a Grunge Web Design in Photoshop
How To Create a Green Grunge Web Layout | Web Design Dev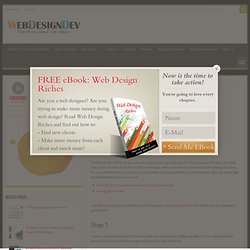 In this tutorial I will show you how to create a green grunge layout. There are over 60 steps, so it may take quite a few hours to finish. Before we begin, take a moment to download some grunge brushes for use with Photoshop.